Chestnuts roasting on an open fire… (seriously.. you don't want me to sing!)
Total honesty: I had never roasted a chestnut before today. I had heard the song and had them in dishes, but never roasted them myself or ate them naked. I needed to know how to roast chestnuts!

Ever wondered how to roast chestnuts? Here are step-by-step instructions on how to roast and peel chestnuts.
What I learned: I love knowing how things work and doing things myself, peeling chestnuts is hard! My hands had shell injuries similar to picking crabs. Was it all worth it? To make Chestnut Stuffing, it was!
There is a certain sense of accomplishment when you master a new skill and after 3 batches prepared differently, I felt confident in my chestnut roasting ability and pride in my dish.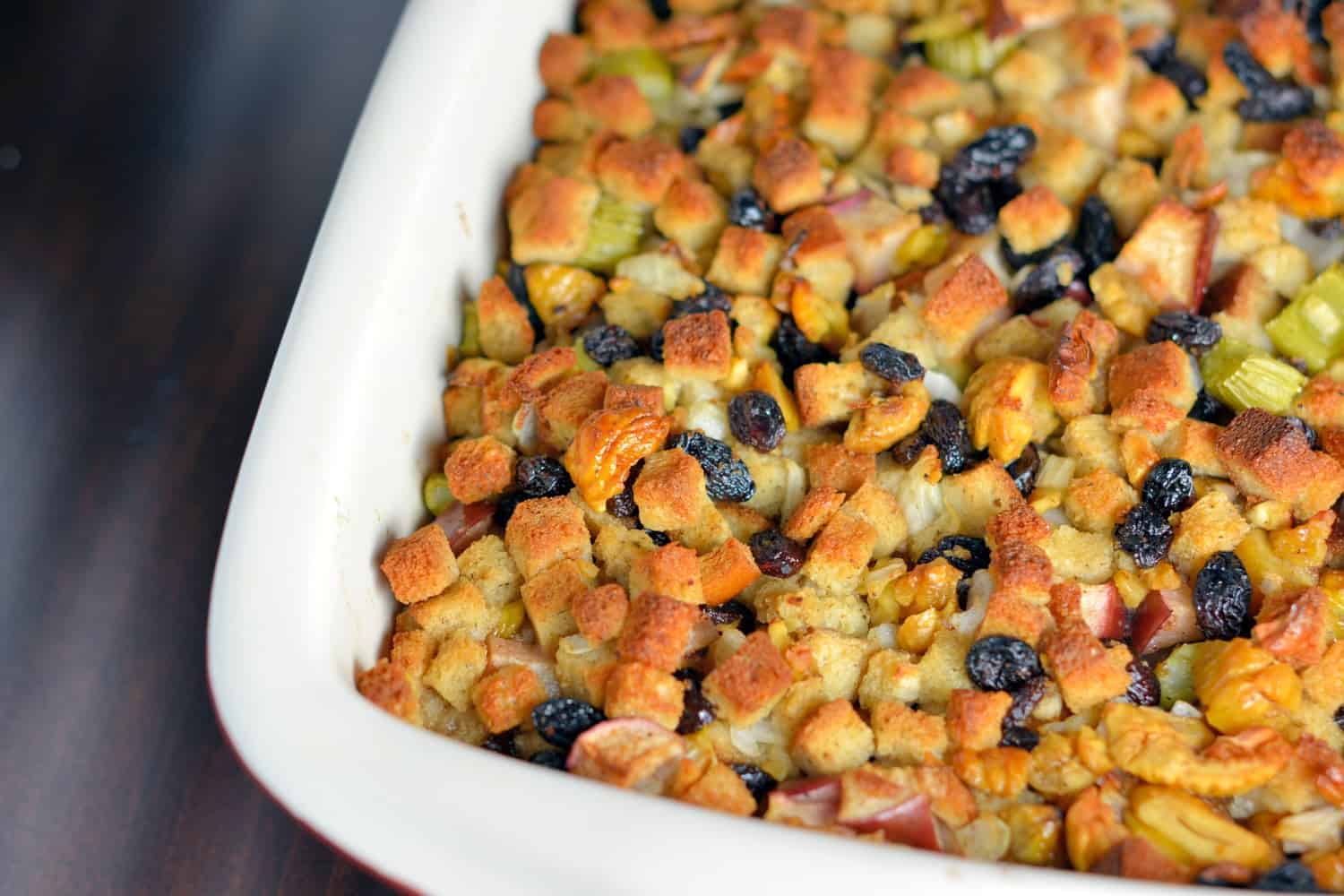 First, you must score the chestnut. Those little suckers have some tough skin! Actually two layers, a papery exterior with an insulin like wrapping before finally reaching the wrinkly center.
Some tutorials suggested carving an "X" but I found that one sturdy cut was enough to get the job done. Make sure you lay the nut on the flat side and use a very sharp knife, serrated worked well for me.
Be super careful, as they can easily slip… as I learned when carved off a slice of nail polish, only narrowly missing my finger. If you find any with pin holes or a messed up shell, toss them, as they are probably bad.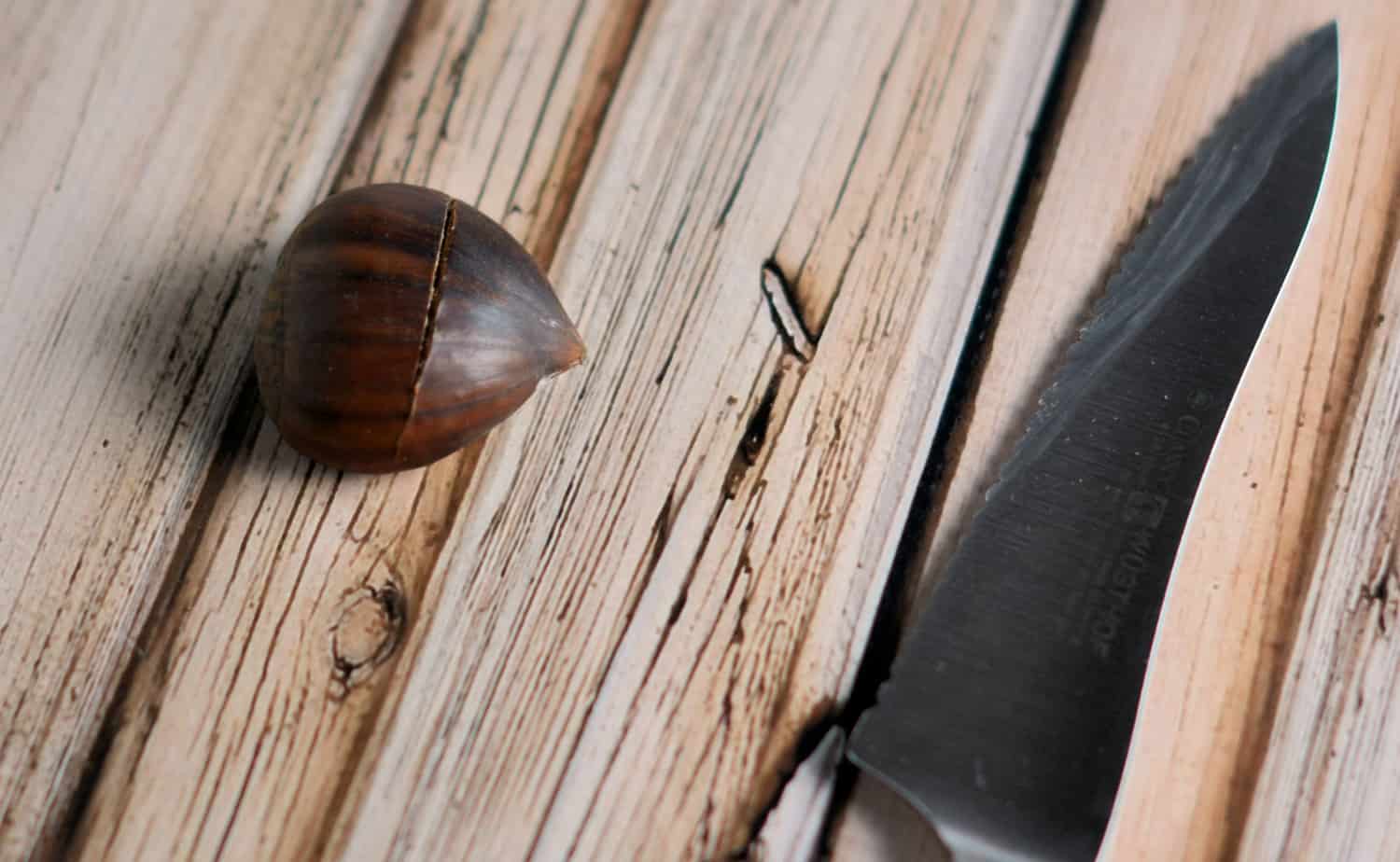 I tried dry roasting, parboiling and roasting. Ultimately, those that were boiled and then roasted were much easier to peel.
The biggest problem was with stubborn little shells that literally grow into the flesh of the chestnut.
I found using a grill skewer was helpful. Not all chestnuts remained whole after peeling, but for my purposes of Chestnut Stuffing, they were going to get coarsely chopped anyhow.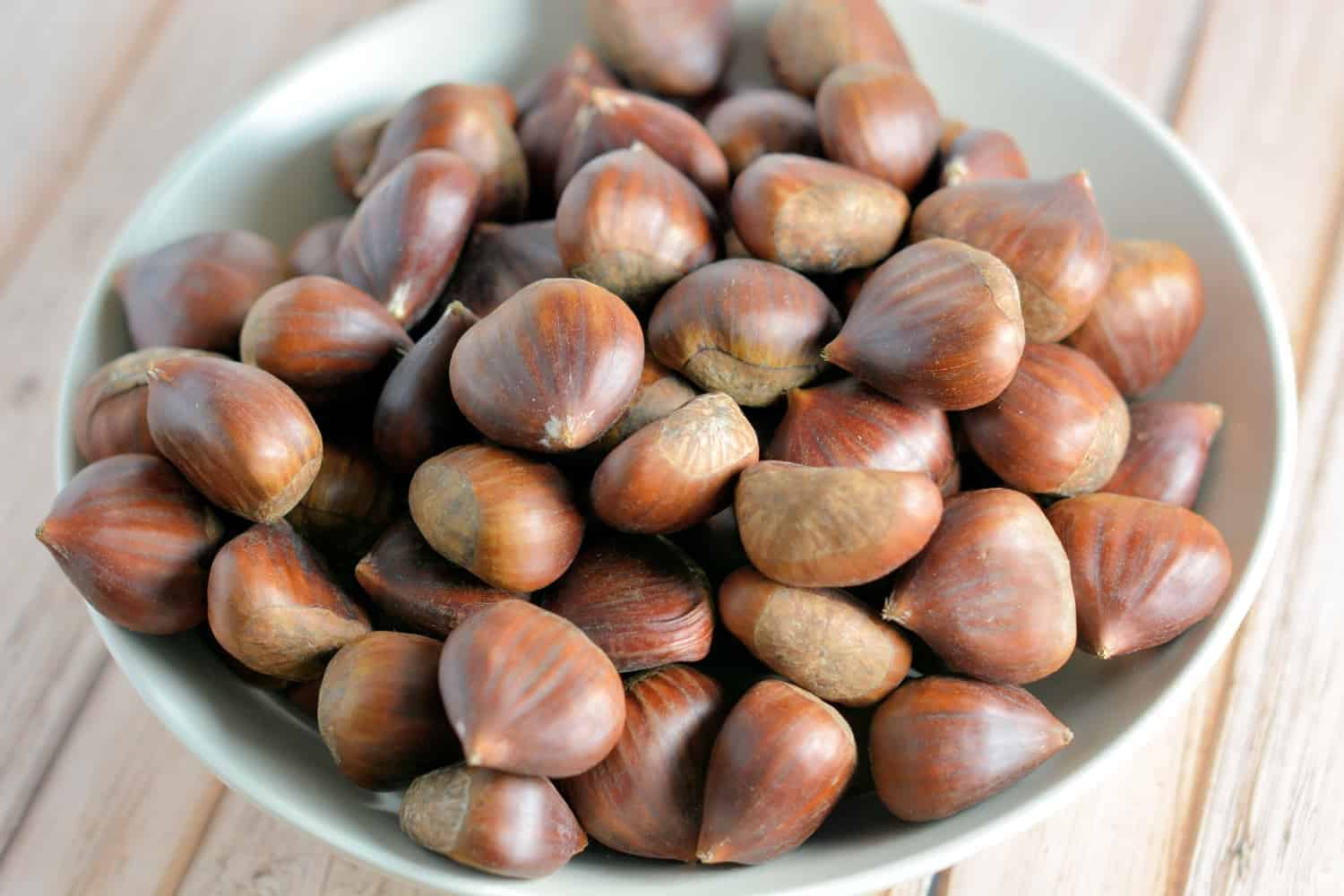 How to easily roast (and peel) chestnuts:
Score each nut with a sharp knife.
Boil water and add chestnuts.
Bake until skin splits.
Allow to cool and then peel.
So here are the basics, good luck and enjoy the intoxicating smell coming from your oven! Make sure you check out even more holiday recipes below (including my AH-mazing turkey!)
Happy holidays!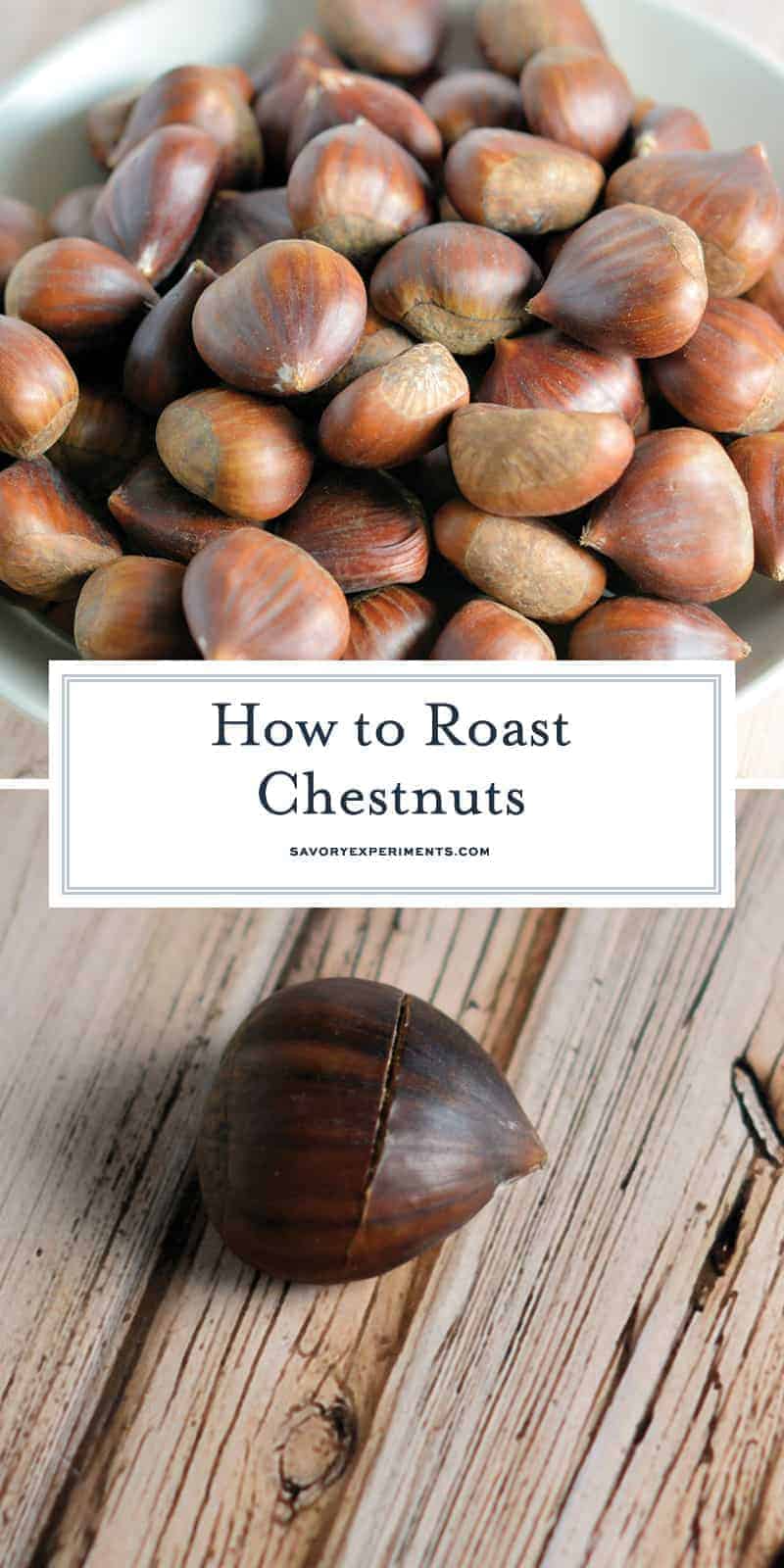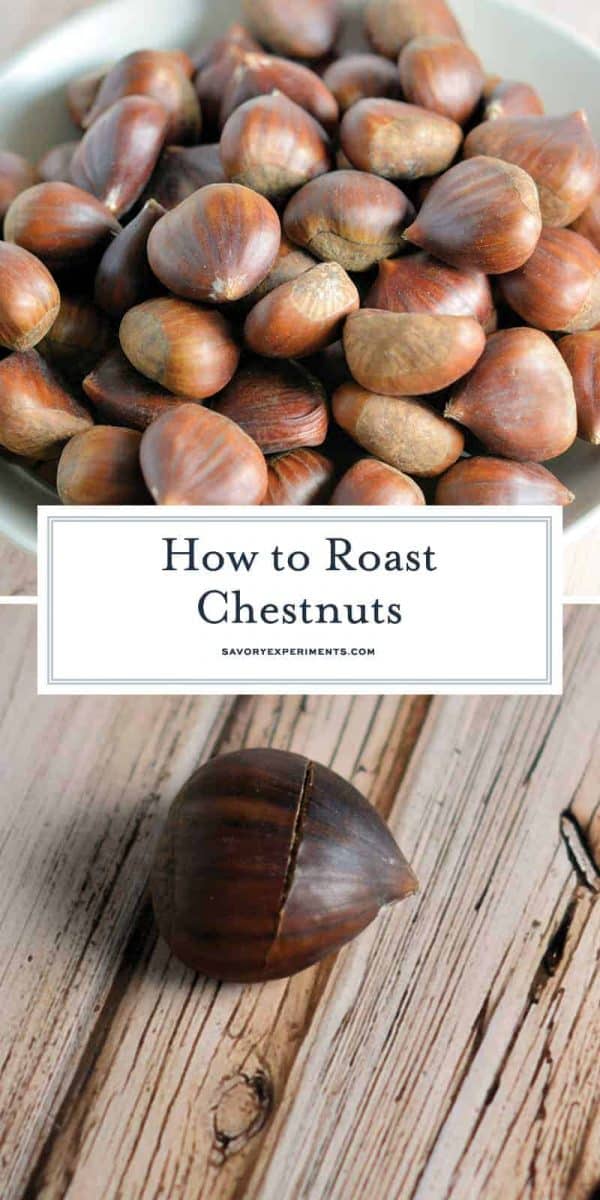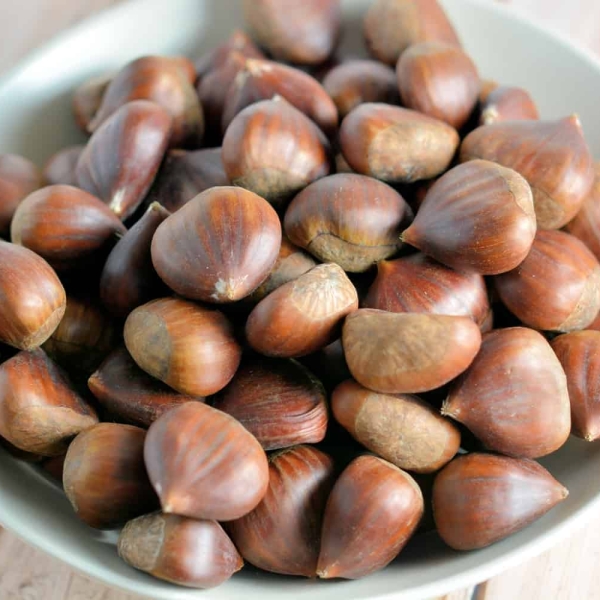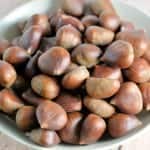 How to Roast Chestnuts
Ever wondered how to roast chestnuts? Here are step-by-step instructions on how to roast and peel chestnuts.
Ingredients
2

pounds

in-shell chestnuts
Instructions
Prepare a large pot half way with water. Preheat oven to 400 degrees.

When water comes to a boil, add chestnuts and stir for 3-4 minutes. Remove using a slotted spoon and place directly on a rimmed baking sheet.

Place into a preheated oven for 20-25 minutes. When you check on them, you will see the skin splitting and separating, then you know they are ready.

Allow to cool and then peel. You may need to use a sharp tool to coax out stubborn shell that has grown into the flesh of the chestnut. Chestnuts should be soft.

If you've tried this technique, come back and let us know how it went!
Nutrition
Calories:
1778
kcal
,
Carbohydrates:
400
g
,
Protein:
14
g
,
Fat:
11
g
,
Saturated Fat:
2
g
,
Sodium:
18
mg
,
Potassium:
4390
mg
,
Vitamin A:
235
IU
,
Vitamin C:
364.7
mg
,
Calcium:
172
mg
,
Iron:
8.5
mg
Red Wine Gravy | Easy Dinner Rolls | Fried Turkey | Pumpkin Cheesecake | The BEST Apple Pie | Orange, Anise and Thyme Turkey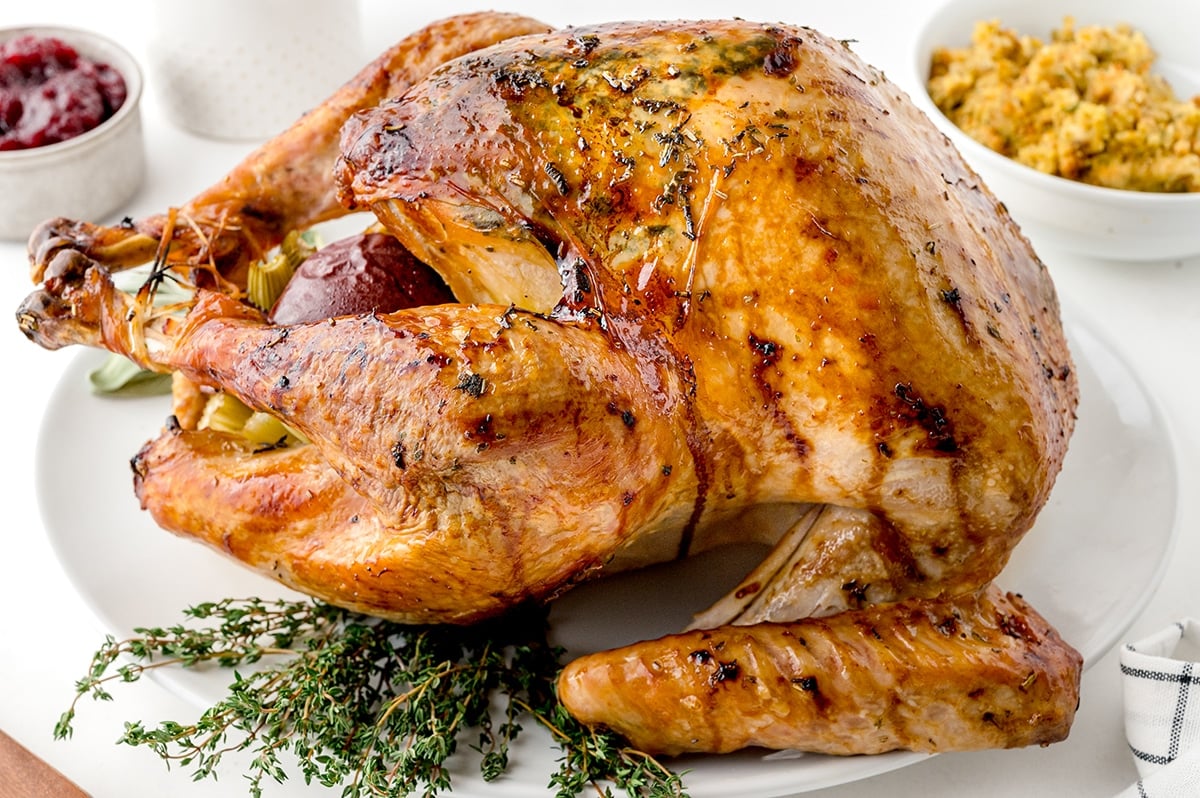 Cast Iron Sweet Potatoes with Honey and Cinnamon | Mascarpone Mashed Potatoes | How to (Safely) Fry a Turkey | Cranberry Relish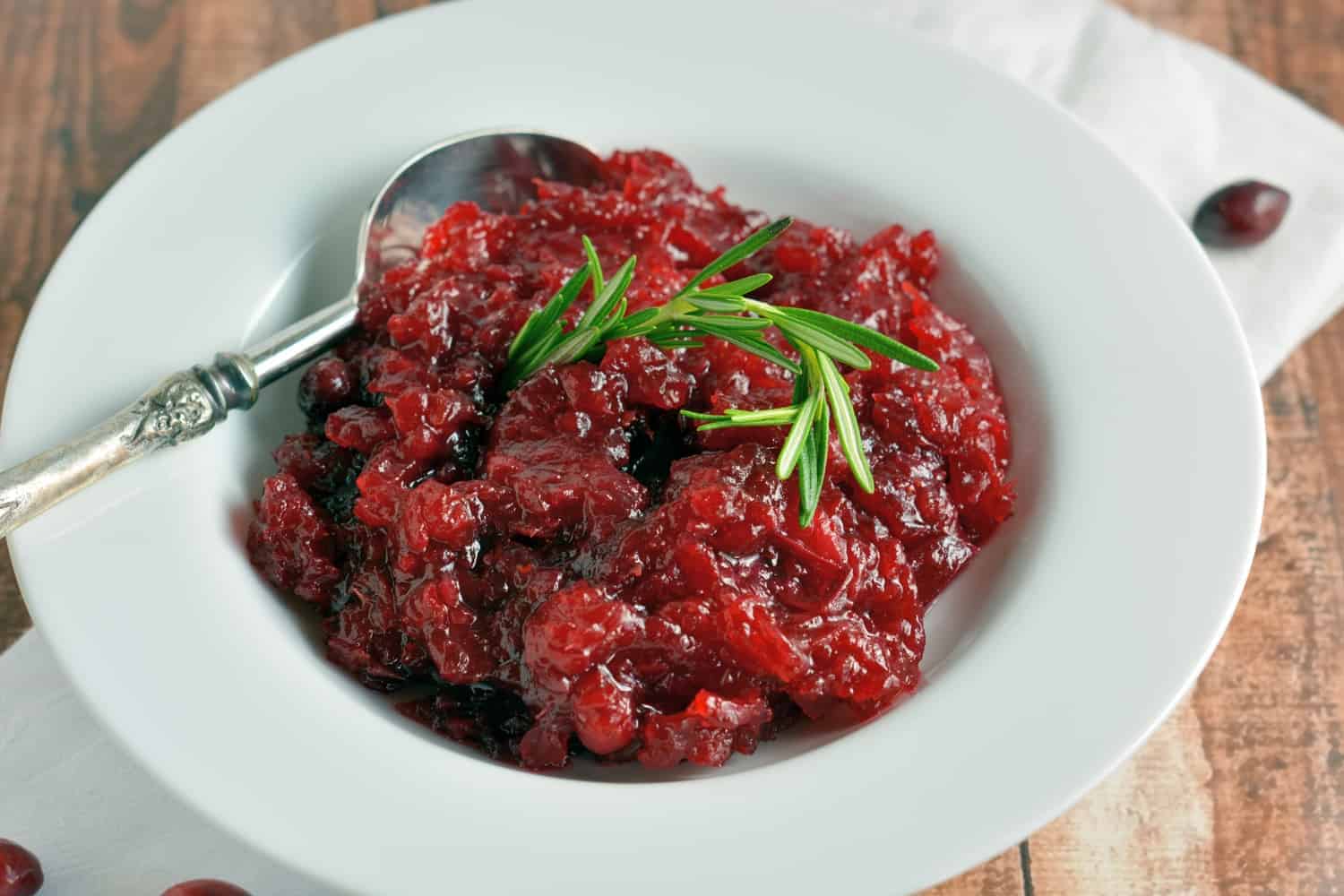 Green Beans with Mascarpone Cream Sauce | Cheese Chile Cornbread Casserole | Pumpkin Cheesecake | Chinese Sausage Stuffing | Garlic Butter Brussels Sprouts