Looking for an easy, but masterly flavorful vegetarian appetizer that will satisfy even the meatiest of meat-eaters? Look no further and try my Horseradish Cheddar Mushroom Flatbread!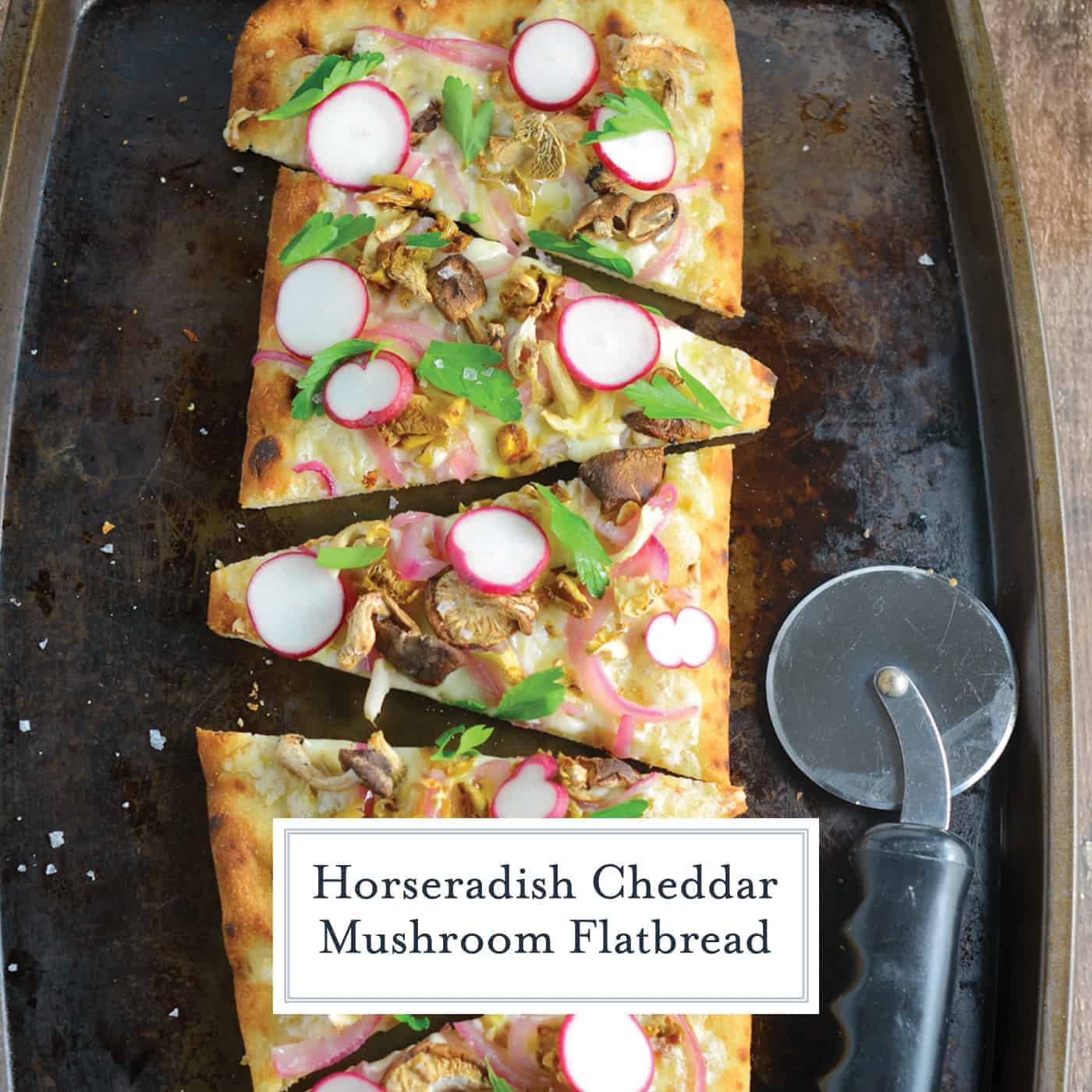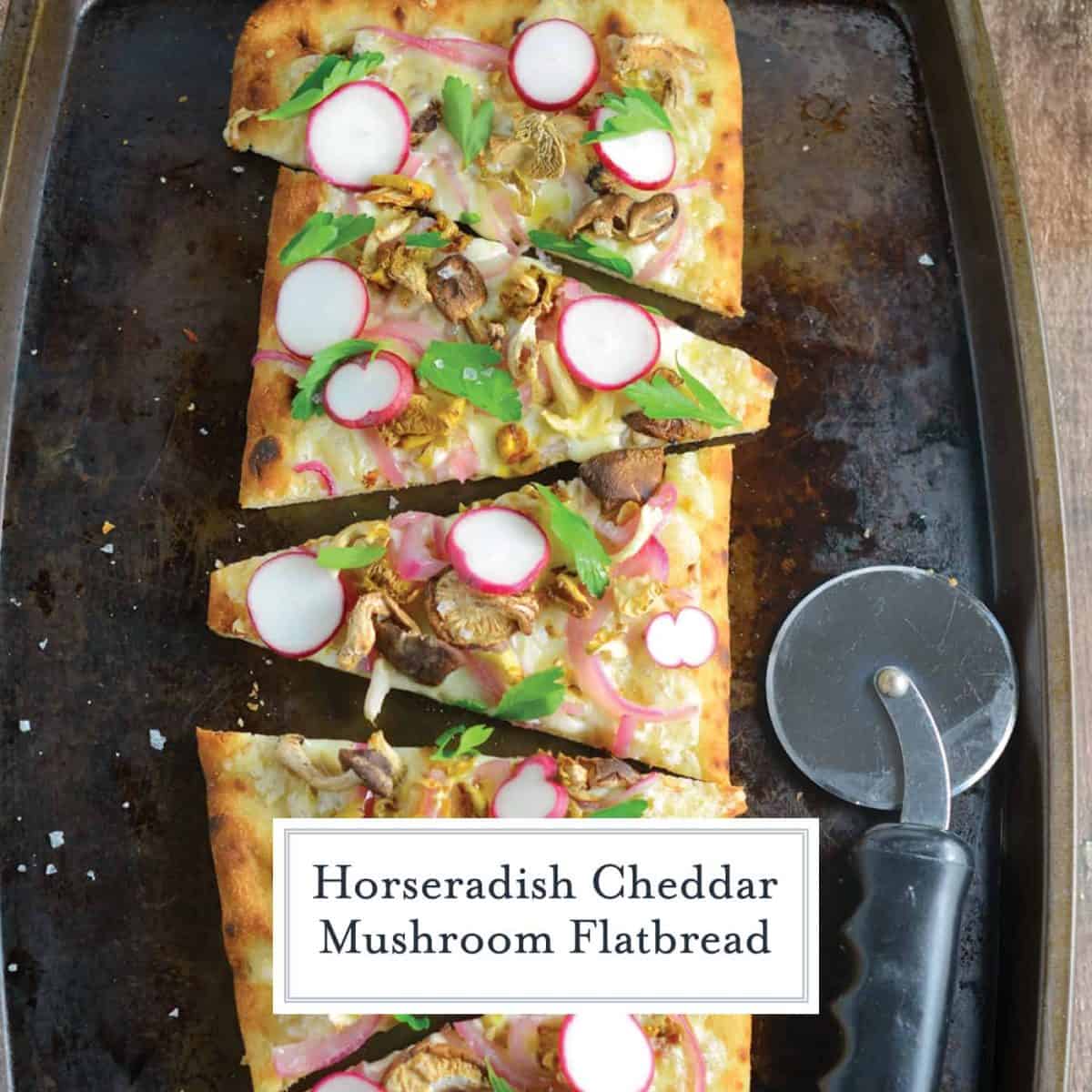 Horseradish Cheddar Mushroom Flatbread combines a mushroom blend, fresh radishes, pickled red onion, tangy horseradish cheddar cheese, Italian parsley, and Maldon sea salt. Delicious!
Horseradish Cheddar Mushroom Flatbread came about after hubby brought home a delicious horseradish cheddar cheese. It was heavenly.
We ate it on some crunchy, crispy crackers, but all the while I was thinking about what other recipes and dishes I might be able to incorporate it in.
The horseradish flavor was still pretty intense though which made it a not so subtle ingredient to add to other things.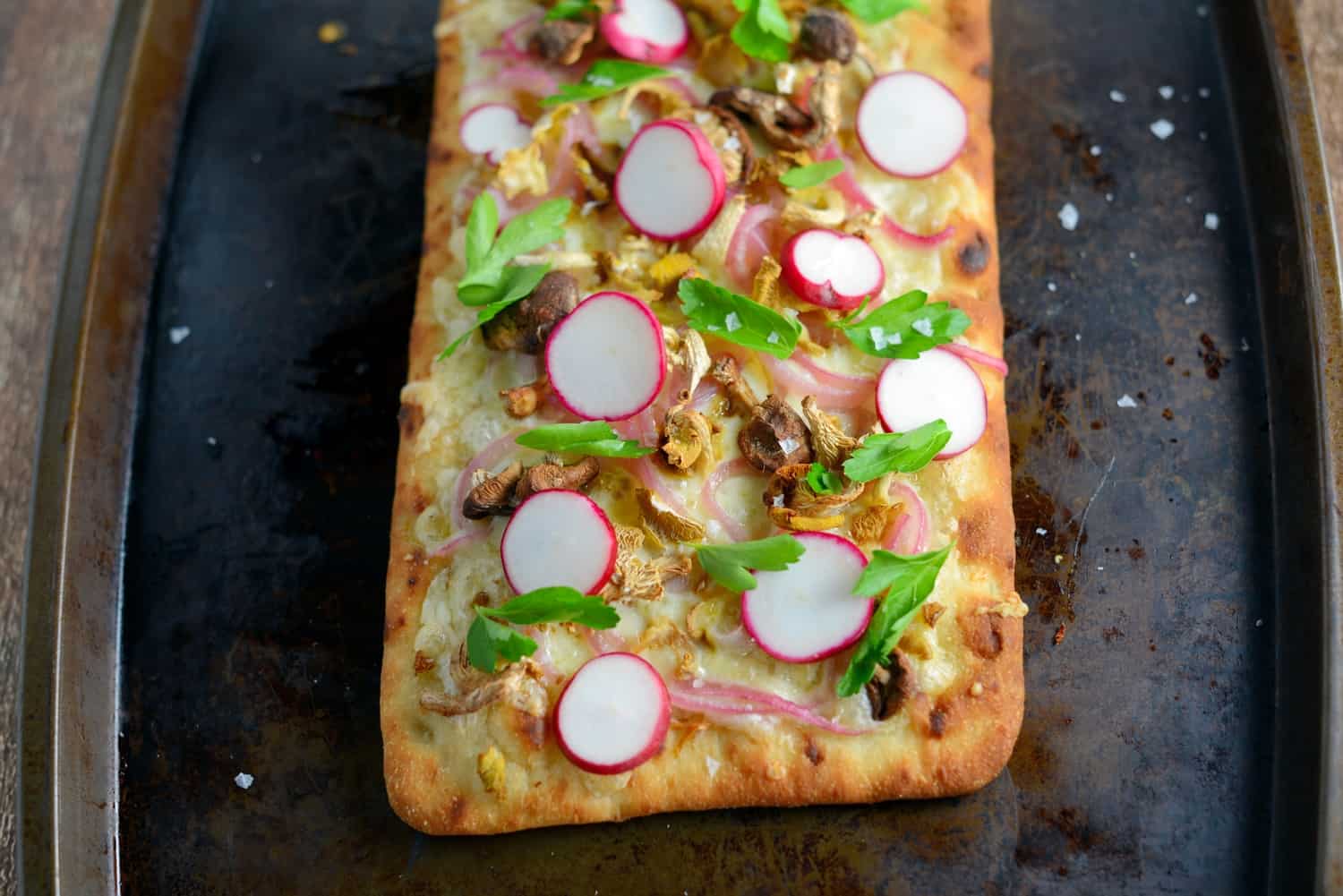 I love horseradish in general. Add it to mushrooms and I drool. I had some flatbread in the freezer and the idea struck.
What if I piled it on a crunchy flatbread and piled it with more toppings? I immediately went out and bought a mixture of fresh oyster and porcini mushrooms.
Oyster mushrooms have a delicate texture and a savory flavor. They grow in these really beautiful clusters. Be sure to cut the base of that and most of the stem away as it can be tough when you bite into it.
Porcini mushrooms almost look like a mushroom you would think of if it were to be drawn in a cartoon. Fat stems and a lovely round cap. These guys have more of a meaty texture and an almost nutty flavor.
Be careful when cleaning your mushrooms. They are basically natural sponges. If you soak them in water, they will absorb a lot of it which is not a great idea when you are making a flatbread.
Instead, trim the steams, rinse quickly if you must, and use a damp paper towel to wipe away any excess dirt.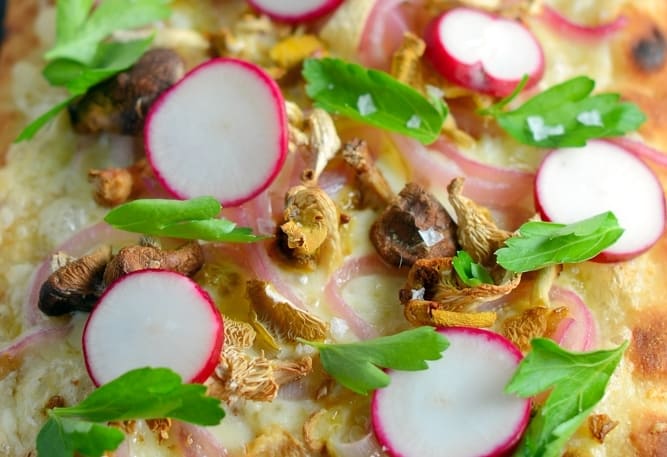 Tangy pickled onions, sharp and almost spicy radishes, fresh parsley, and a sprinkle of crunchy Maldon sea salt balance the flavor profile.
This dish is perfect for vegetarians, but I can guarantee it will satisfy those in your house that don't fall into that category. The mushrooms, the cheese, and the bread are hearty and satisfying enough that the carnivores won't even miss the meat.
Horseradish Cheddar Mushroom Flatbread can be served as an entree for lunch or dinner, an appetizer, finger food, or even a snack on game day.
It is great for parties too! Prepare and top your flatbreads ahead of time and then pop them into the oven when you are ready to start serving guests. Don't you just love a time saver?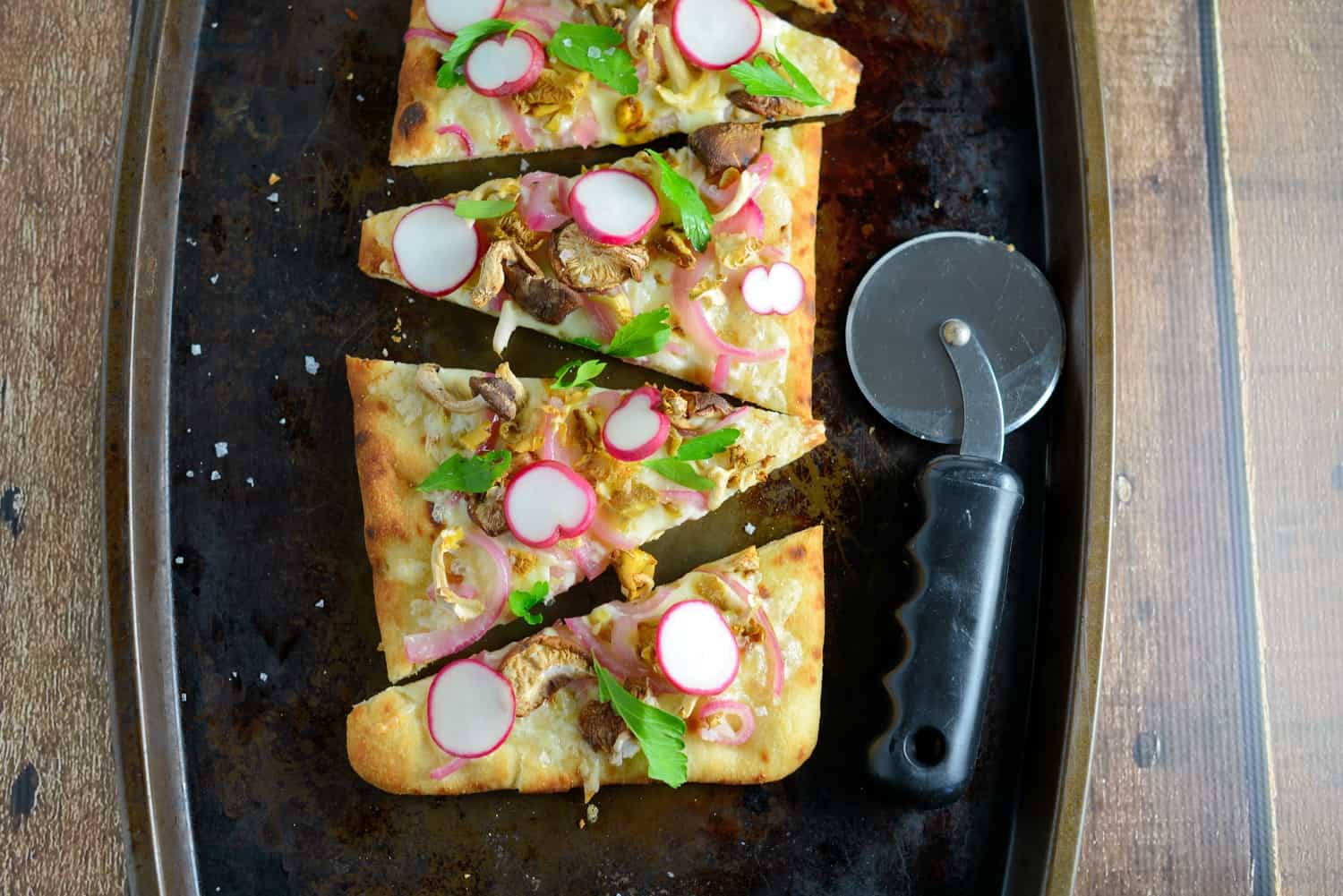 You can make them on any size of flatbread you'd like. Small and circular for individual portions or large and rectangular for a heartier portion. Anything goes!
A quick pro-tip if you are using previously frozen flatbread: spritz the defrosted flatbread with water or baste with olive oil or butter before topping. This reactivates ingredients in the bread, making it soft and chewy, leaving no sign that they were ever frozen.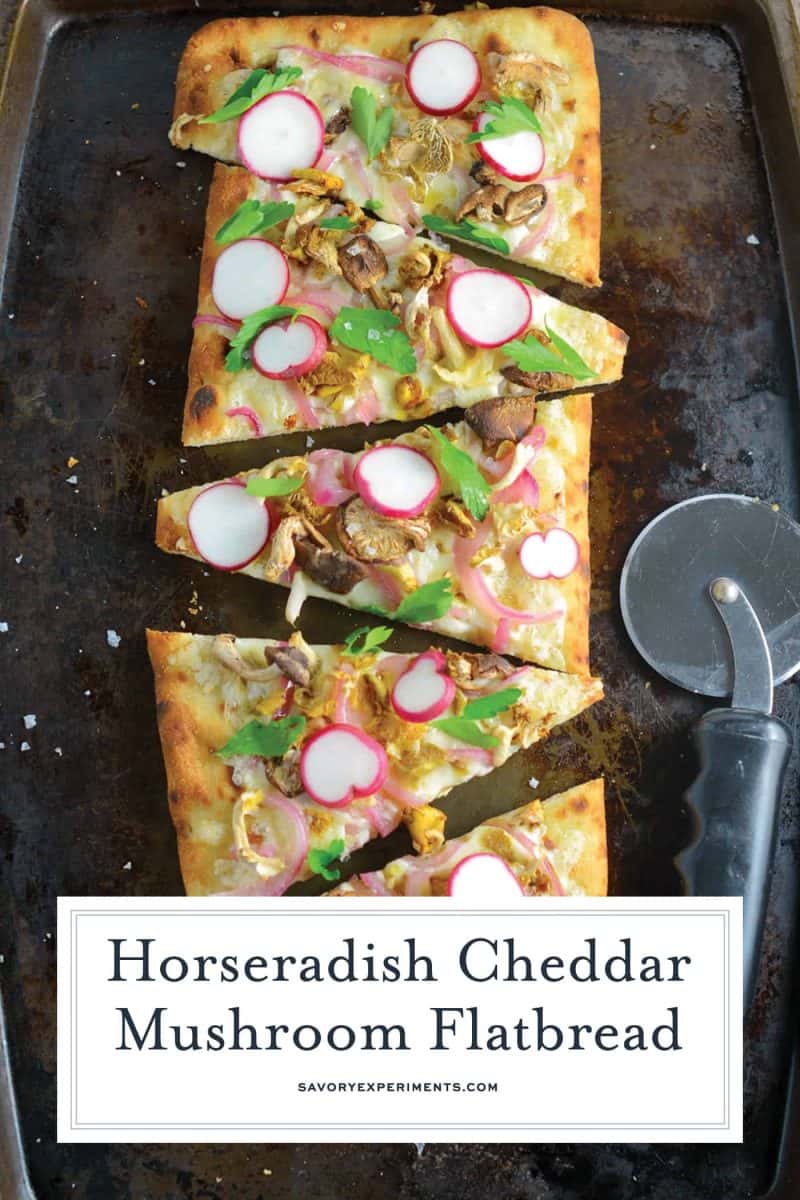 If you love mushrooms as much as we do, check these out!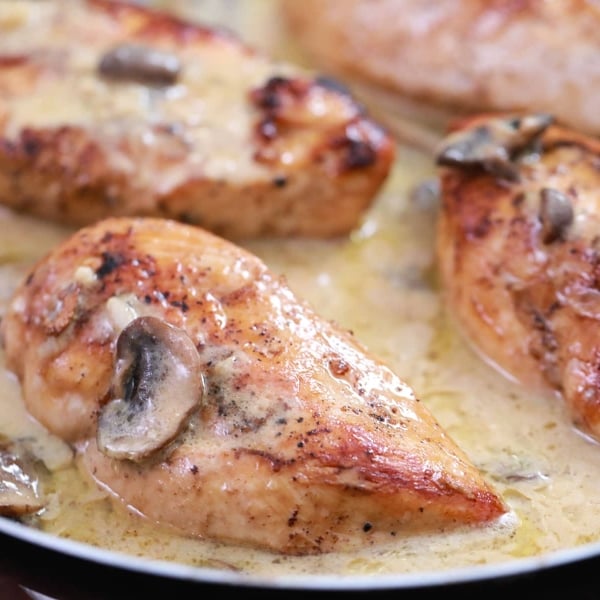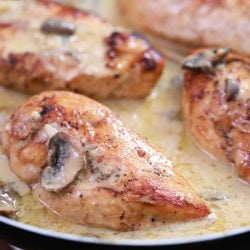 Chicken Marsala Recipe
This Chicken Marsala recipe is made in 1 pan in less than 30 minutes! Whip up this EASY dish with a rich creamy mushroom sauce on top of juicy chicken.
View this recipe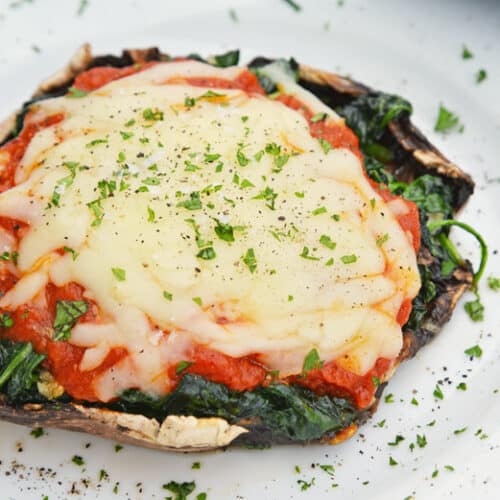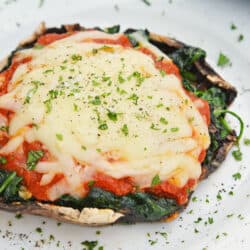 Spinach Stuffed Mushrooms
Does you partake in meatless Monday? These EASY Spinach Stuffed Mushrooms are so tasty and filling that you won't miss the meat at all! The BEST appetizer!
View this recipe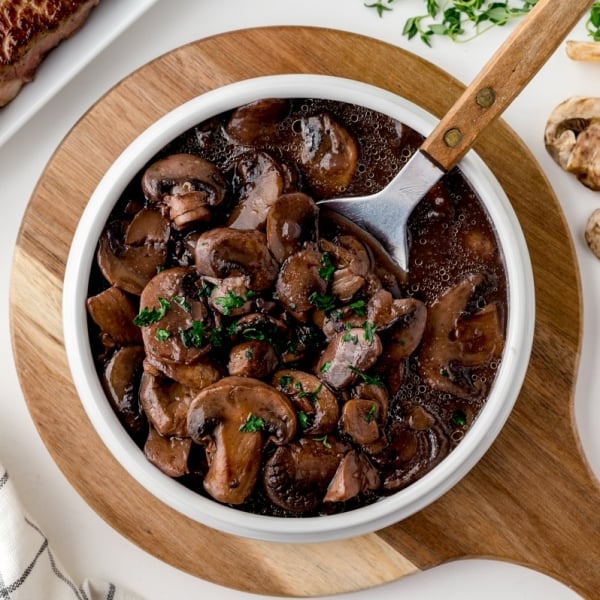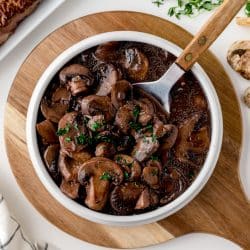 Mushroom Sauce for Steak
Homemade steak sauces don't get any better than this Mushroom Sauce! Not only does it taste great on steak, but you can add it to many other things, too!
View this recipe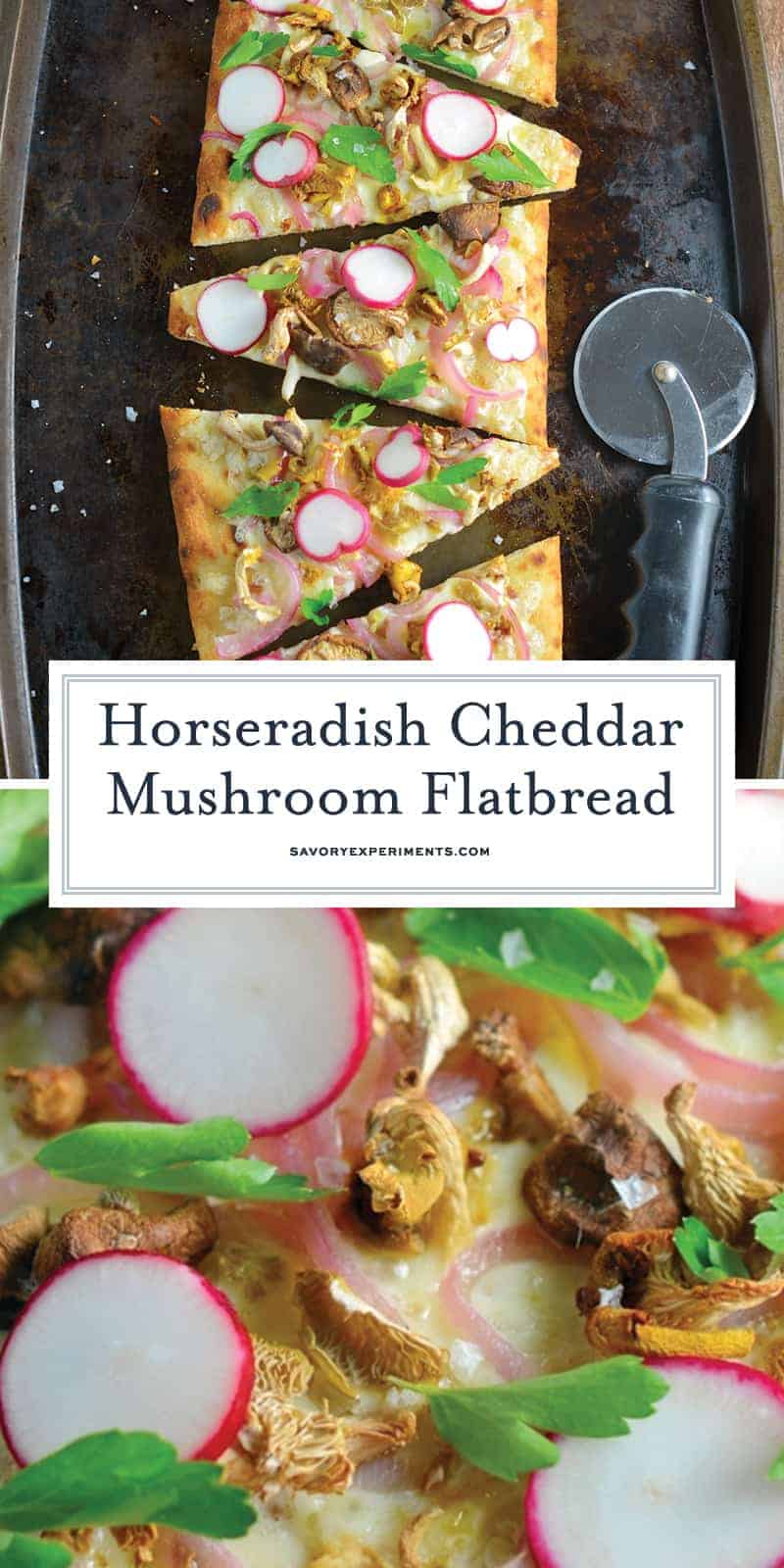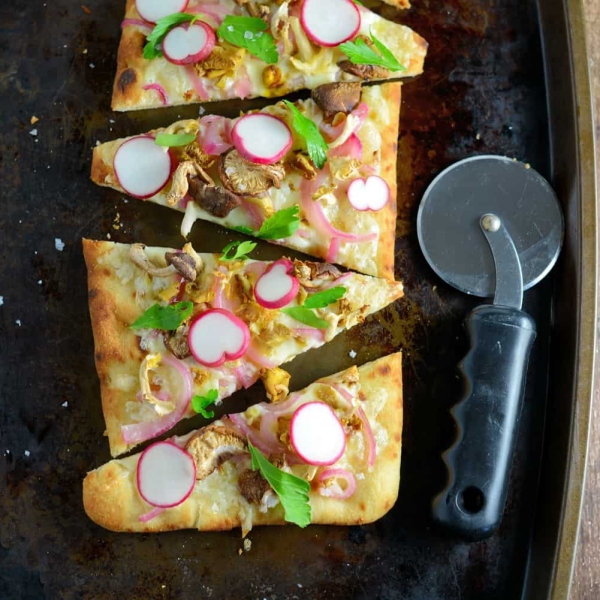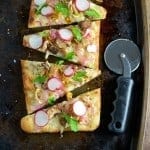 Horseradish and Mushroom Flatbread
Horseradish and Mushroom Flatbread combines a mushroom blend, fresh radishes, pickled red onion, tangy horseradish cheddar cheese, Italian parsley and Maldon sea salt. Delicious!
Instructions
Preheat oven to 400 degrees.

In a small sauce pan, bring apple cider vinegar and water to a low simmer. Add red onion and boil for 3-4 minutes, or until soft. Drain.

Place flatbreads on a baking sheet and baste will virgin olive oil. Sprinkle with shredded horseradish cheddar, followed by pickled red onion and coarsely chopped mushrooms.

bake fro 12-14 minutes, or until cheesy is bubbly.

Remove and top with radish slices, parsley and Maldon sea salt. Cut and serve.

If you've tried this recipe, come back and let us know how it was!
Nutrition
Calories:
150
kcal
,
Carbohydrates:
12
g
,
Protein:
6
g
,
Fat:
8
g
,
Saturated Fat:
3
g
,
Cholesterol:
14
mg
,
Sodium:
181
mg
,
Potassium:
135
mg
,
Fiber:
1
g
,
Sugar:
1
g
,
Vitamin A:
310
IU
,
Vitamin C:
3.8
mg
,
Calcium:
108
mg
,
Iron:
1
mg
<