I came to Porto, Portugal thinking I hated Port. I was honestly prepared to fake my excitement during tastings and was determined to find an alternative to the usually too sweet and very alcoholic tasting cordial.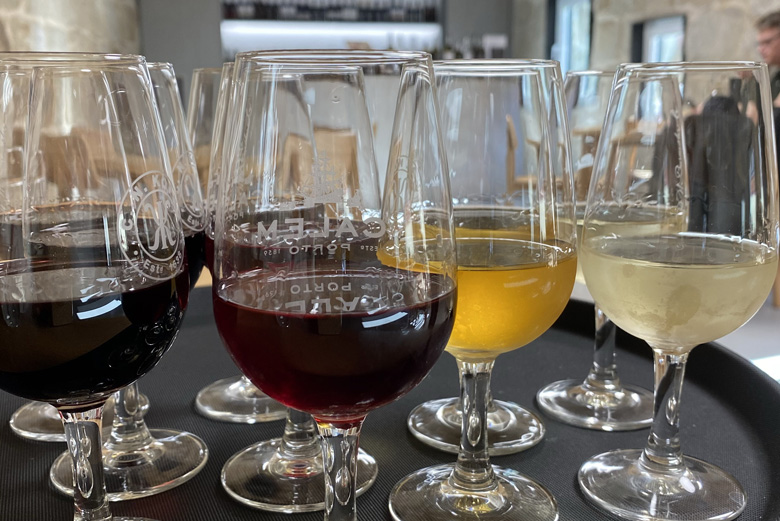 But after my first tasting experience, I realized that like with most things, there is a large range of port and maybe my previous experiences just had been with the cheap kind.
The first thing to know is that it is only port if it comes from the region of Porto, Portugal, actually the Douro Valley. Much like champanage coming from the champagne region of France.
The distinct flavor comes from the signature water from the Douro River, sediment in the dirt from the historic valley and the grape varietals. It is literally impossible to recreate elsewhere in the world.
Lots of imposters, but only a few authentics. I have a feeling my previous "port" experiences may have been inauthentic.
The second aspect is that there is a spectrum of port colors ranging from nearly clear white to tawny, a deep ruby red. The colors have to do with the grapes, of course, but also the length of time aged.
Port is barrel aged like wine, but then brandy is added at a specific point to make fortified wine and stop the fermentation process. The point in time at which this happens will dictate both color and flavor.
Recipes for port are kept secret which is why you'll find information on the region of production but not the grape varietal. Barrels are only used for a short period of time and then repurposed to whiskey distilleries.
Some ports are called vintage ports or "special reserve" and aged in bottles instead of barrels. Vintage ports take decades to come to full flavor, while oak aged might be ready in just 18 months.
What is Wine Port Wine?
Most people associate port with a tawny or red color, but just like non-fortified wine, it can also come in white. White Port is produced from a blend of different white wine grape varieties.
In addition to using white grapes, white port also has a shorter maceration period. Meaning that the fermentation process is stopped at a younger age.
White ports are served chilled and are usually a little sweeter even when labeled "dry". They often have a nutty flavor with hints of fruit and caramel.
White port is typically served alone as an apéritif (before the meal) or as an ingredient in cocktails.
What is Lagrima Port Wine?
Lagrima is a sweeter port wine that typically has a blond or butterscotch color. It has a high sugar content and is therefore a little sticky. It is best in small servings and is meant to be sipped.
When swirled, it will stick to the sides of your glass resembling tears, hence the name lagrima which translates to "tears".
It is best described as fresh, floral and fruity. It pairs well with desserts, especially dark chocolate or less sweet plates.
What is Rose Port?
Just like there is a rose or blush wine, there is also a blush colored port. Served chilled, it has flavors of cherry, raspberry, strawberry and caramel.
It is crispy, clean and also refreshing, so delicious during hot summer months after a light meal.
It is relatively new, only making it onto the scene in 2008, so you might not be able to readily find it, but be assured it exists.
What is Tawny Port?
Tawny port is what most people think of when they think of port wine. It is an amber color. The flavors will be a little oaky with nuts and fruits, but less sweet than lagrima or white port.
They get the signature color from oxidation they experience during their long maturation in porous wooden casks, typically a minimum of 10 years.
Tawny ports are put into three categories:
Colheita Port – made from grapes that were all harvested in the same year.
Crusted Port -unfiltered with visible sediment, best served when decanted for some time before serving.
Indicated Age – aged ports being 10, 20, 30, or 40 years old
These are usually served as a digestif, after the meal to aid in digestion, much like an Italian grappa.
What is Ruby Port?
Also served as a digestif, Ruby port is the youngest of the ports at around 3 years. This helps preserve its crisp, uncomplicated flavor and brilliant color.
It is also the least expensive and the most common due to the fact.
Make sure to check out the rest of our travels around Portugal: