Looking for a savory and sweet dip that will wake up your taste buds? My Guacamole with Balsamic Reduction fits the bill and it is a guacamole without tomatoes!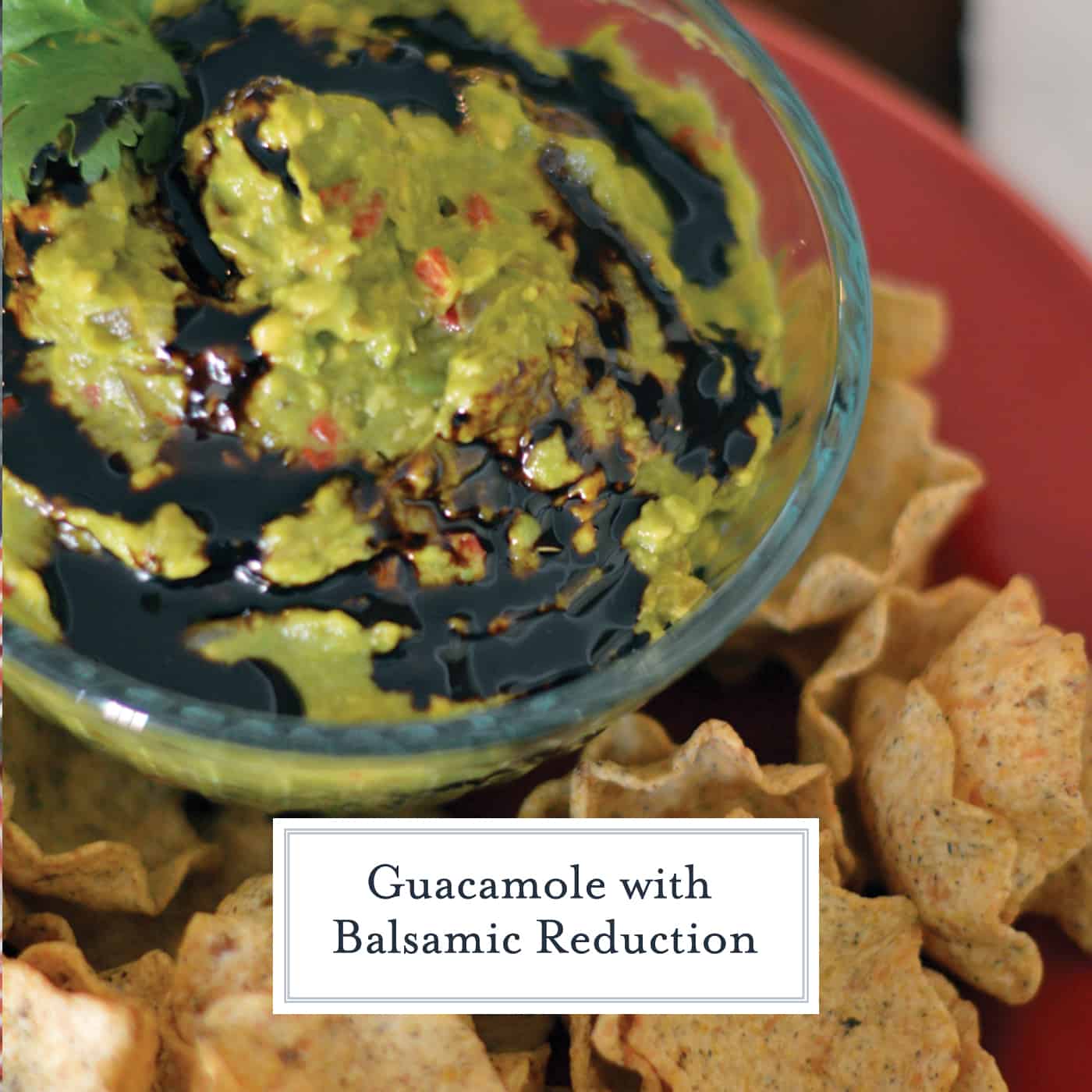 Guacamole with Balsamic Reduction is a great, new twist on an old favorite. Perfect for every party or just an afternoon snack.
Guacamole might seem like a trusty standby that can't be improved upon, but I like to think of it as a blank slate; an opportunity to experiment. To me, it can be a vehicle for new flavors and textures.
A new restaurant opened here in Baltimore recently. Since my initial visit, I have gone back two times. Not for the entrees, not for the service, not for the hand-crafted cocktails…for the gourmet guacamole!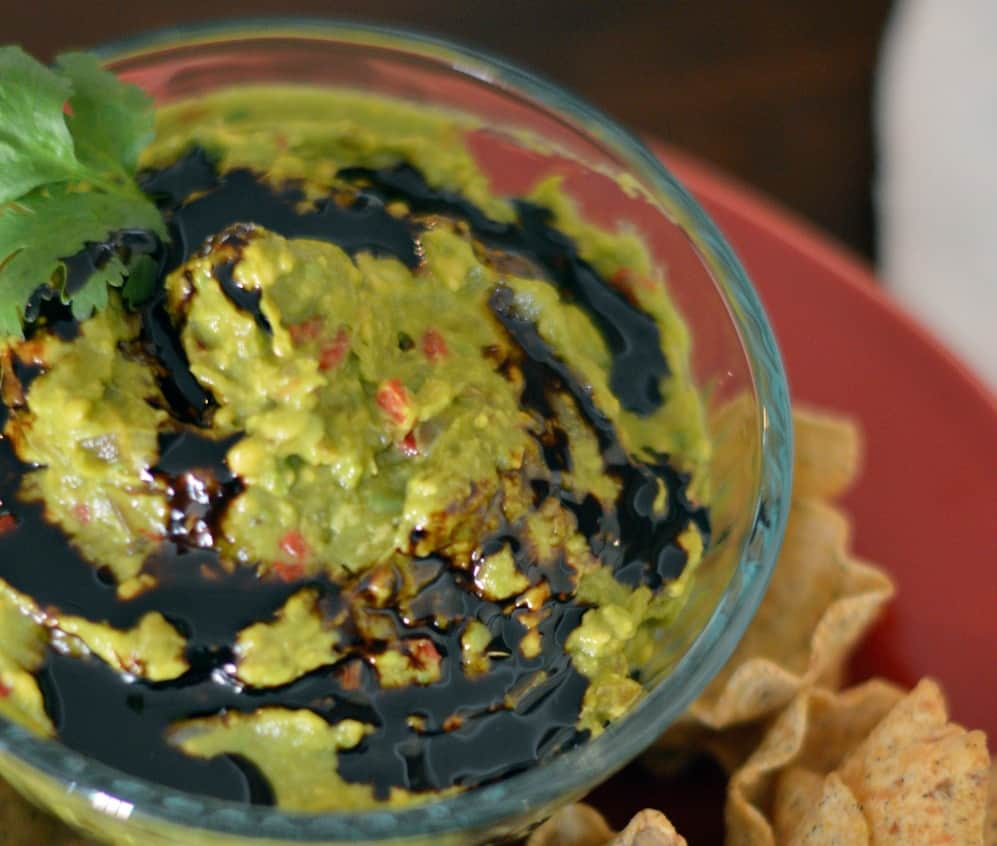 My eyes zeroed in on an appetizer and I had no choice but to order it for my entree. Their Guacamole with Balsamic Reduction (and their Bacon Salsa) were revolutionary. And to be honest, I didn't even miss the tacos.
It was so dang good, I just had to make my own version. And now, it is one of my most requested appetizer recipes. Truth be told, I made a few little changes to really amp up the flavor profile for this guacamole.
Instead of adding the usual suspects: tomato and onion, I added sauteed shallot, roasted red pepper, and roasted garlic. That paired with cilantro and a sweet balsamic reduction made for a winning combo.
When looking for avocados, make sure the skin is dark and that when you give them a gentle squeeze, each one gives a little. This means they are perfectly ripe. If they are too firm, you will find making your guacamole a bit challenging.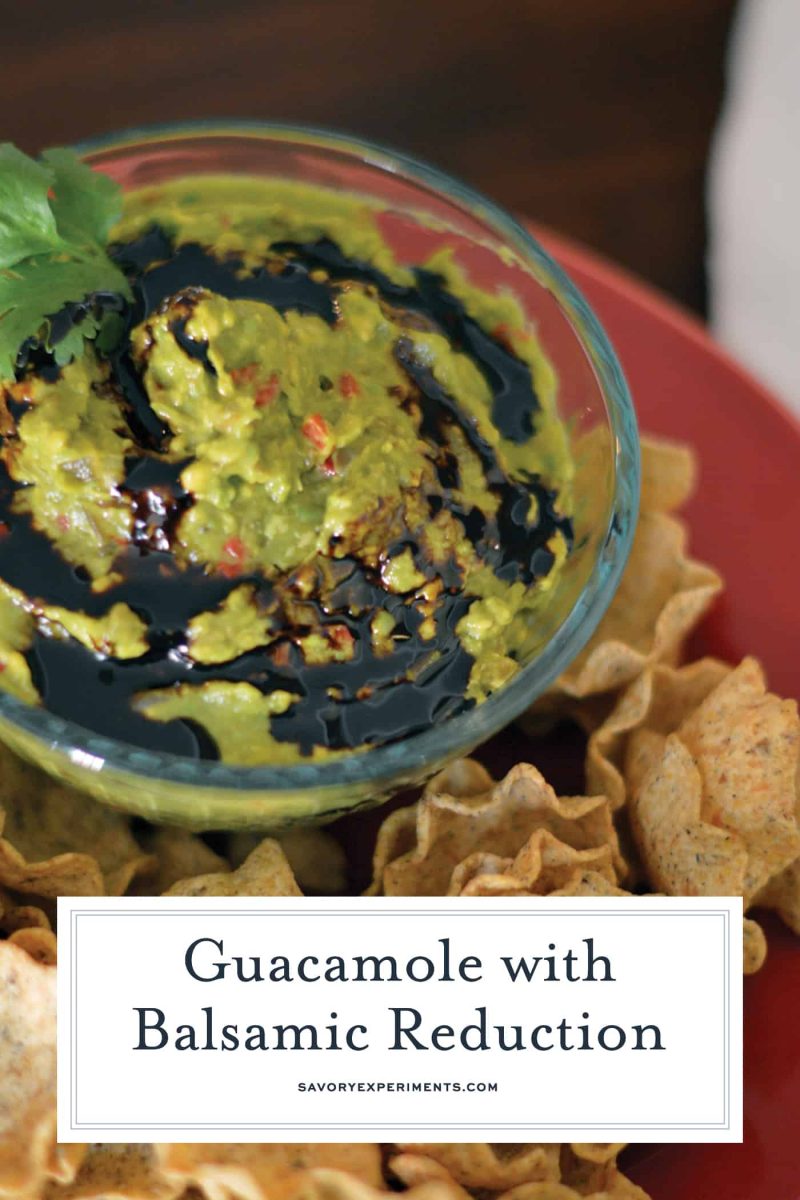 Use an inexpensive balsamic vinegar for the balsamic reduction, because you need to use more of it to allow it to concentrate and reduce. Leave your high-quality vinegar for salads and finishing dishes.
Homemade tortilla chips (as opposed to storebought) make it extra special, but they definitely are not a deal breaker.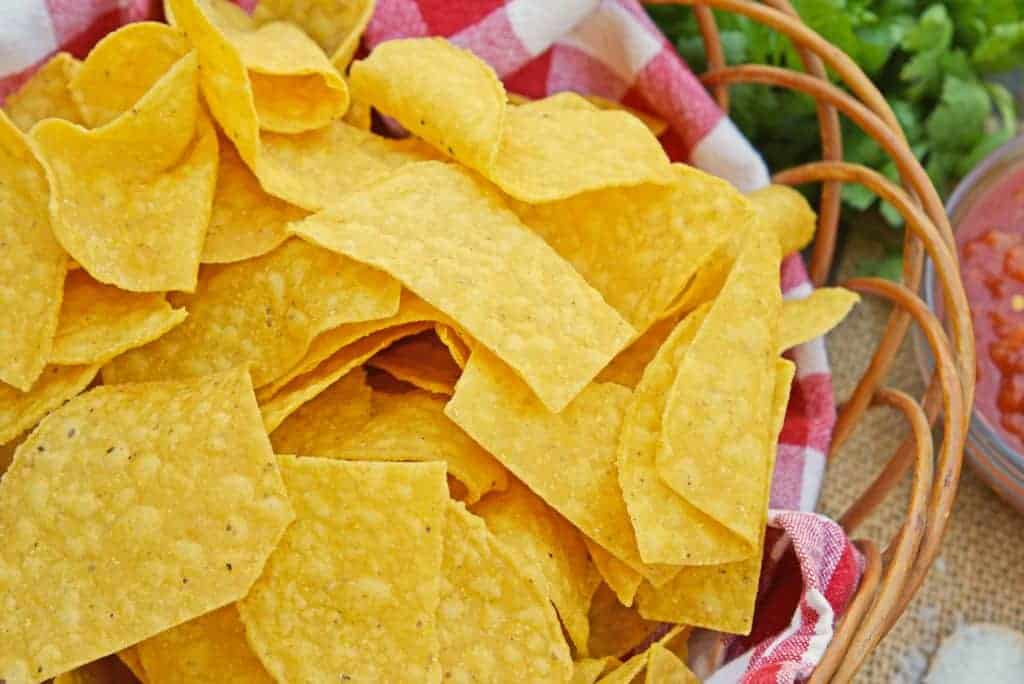 Try some of my other delicious chip dip recipes:
Chili Cheese Dip
If you are a fan of dips you need to make this 3 ingredient Chili Cheese Dip, whips up in under 10 minutes and is fool-proof!
Mexican Queso Dip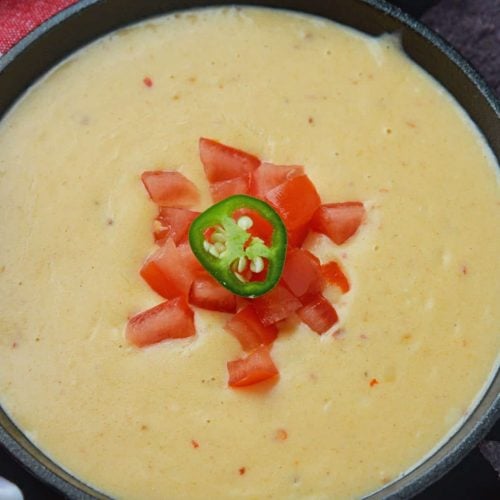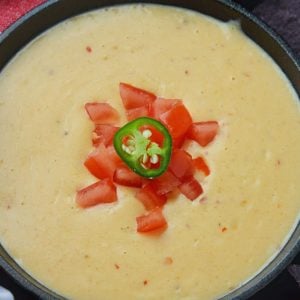 If you've ever wondered how to make queso dip, you're in luck. This queso recipe is super easy and only requires five ingredients!
Tools for making guacamole:
Wood cutting board – wood won't dull your knives like plastic and if treated properly, has natural antimicrobial properties.
Good knife – Global is my favorite! They are worth the price, I promise. I am kind of obsessed with them and store them tucked away so no one else can use them. Including hubby. Hands off my good stuff!
Mixing Bowls– make sure to check out my article on Using the Right Mixing Bowl, you'd be surprised how many people aren't!
Airtight Plastic Containers– Great for store any leftovers. Make sure you have a large enough set.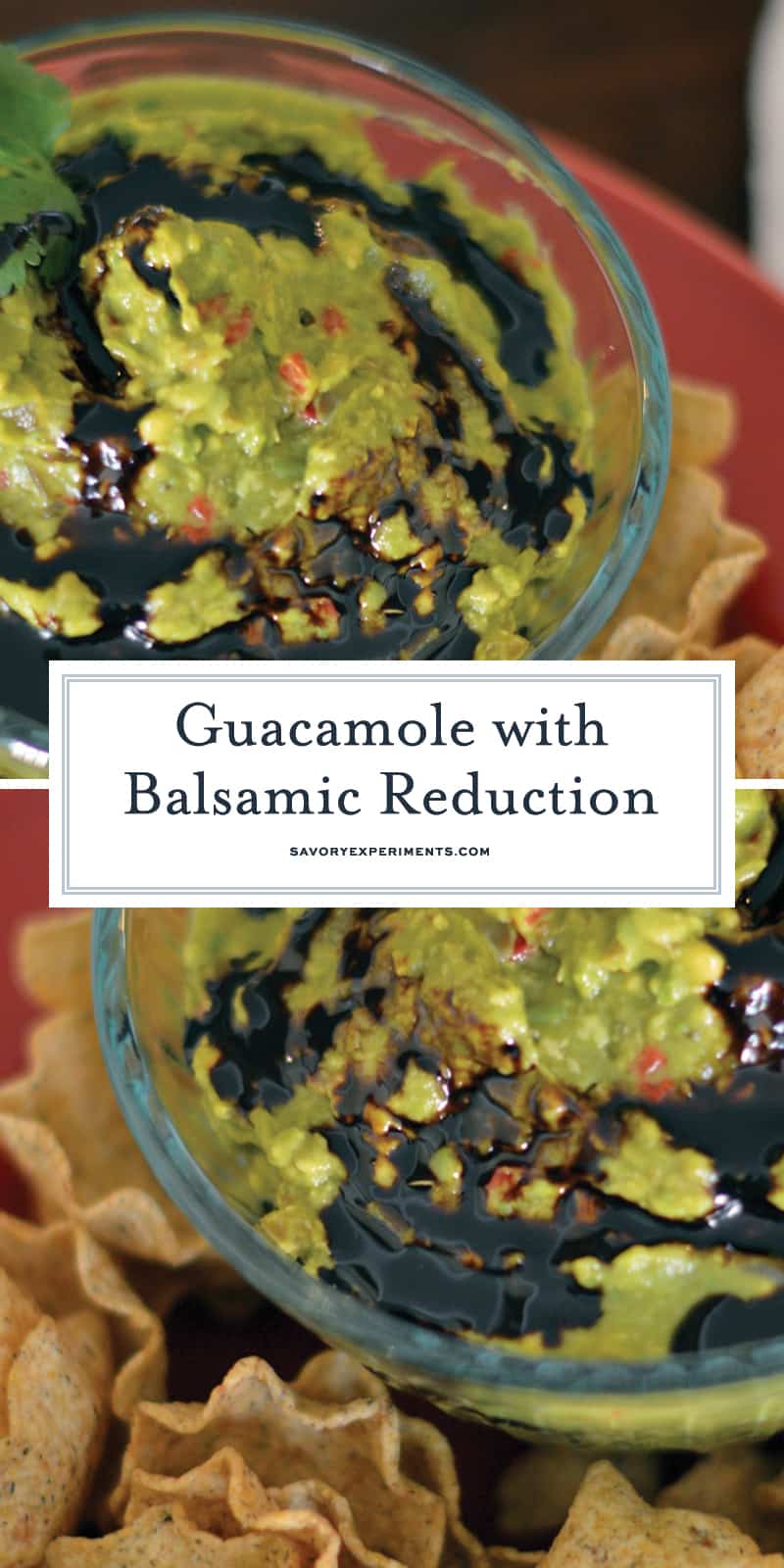 ---
---
Guacamole with Balsamic Reduction
Guacamole with Balsamic Reduction is a great, new twist on an old favorite. Perfect for every party or just an afternoon snack.
Instructions
In a small frying pan coated with cooking spray, saute minced shallots until soft and opaque. Remove from heat and set aside.

Remove garlic pulp from skins and mash with a spoon.

Combine minced roasted red peppers, sauteed shallots, avocado, cilantro, lime juice, and fine sea salt. Stir until well blended.

Transfer to serving dish and drizzle with balsamic reduction sauce. Serve with freshly made tortilla chips.

If you've tried this recipe, make sure to come back and let us know how it was!
Nutrition
Calories:
418
kcal
|
Carbohydrates:
25
g
|
Protein:
4
g
|
Fat:
36
g
|
Saturated Fat:
5
g
|
Sodium:
1080
mg
|
Potassium:
1085
mg
|
Fiber:
14
g
|
Sugar:
4
g
|
Vitamin A:
505
IU
|
Vitamin C:
42.3
mg
|
Calcium:
38
mg
|
Iron:
1.7
mg