While there are many cauliflower recipes out there, this Green Curry Cauliflower is one of the best! Super simple to make and packed with flavor.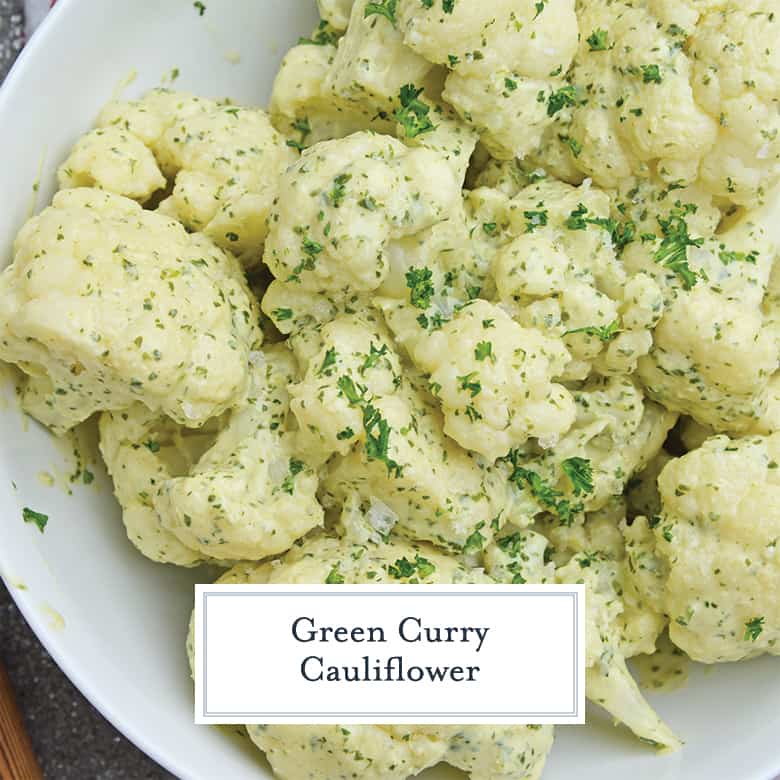 If you're looking for a roasted cauliflower recipe that doesn't lack on flavor, this Green Curry Cauliflower is it!
Have you jumped on the cauliflower train yet? It's seems you can make almost anything out of cauliflower. Rice, "wings", mac and cheese and even mashed potatoes.
I recently saw a meme floating around that said something to the effect of "Can someone find me a recipe that makes cauliflower taste like Reese's Cups?"
Reese Peanut Butter cups, no, but I can dress it up with a delicious Green Curry Sauce.
There are SO many ways to swap out cauliflower for carbs, and I personally love it and could eat it just about any way it can be prepared. (Okay, maybe not the Reese's Cup recipe haha.)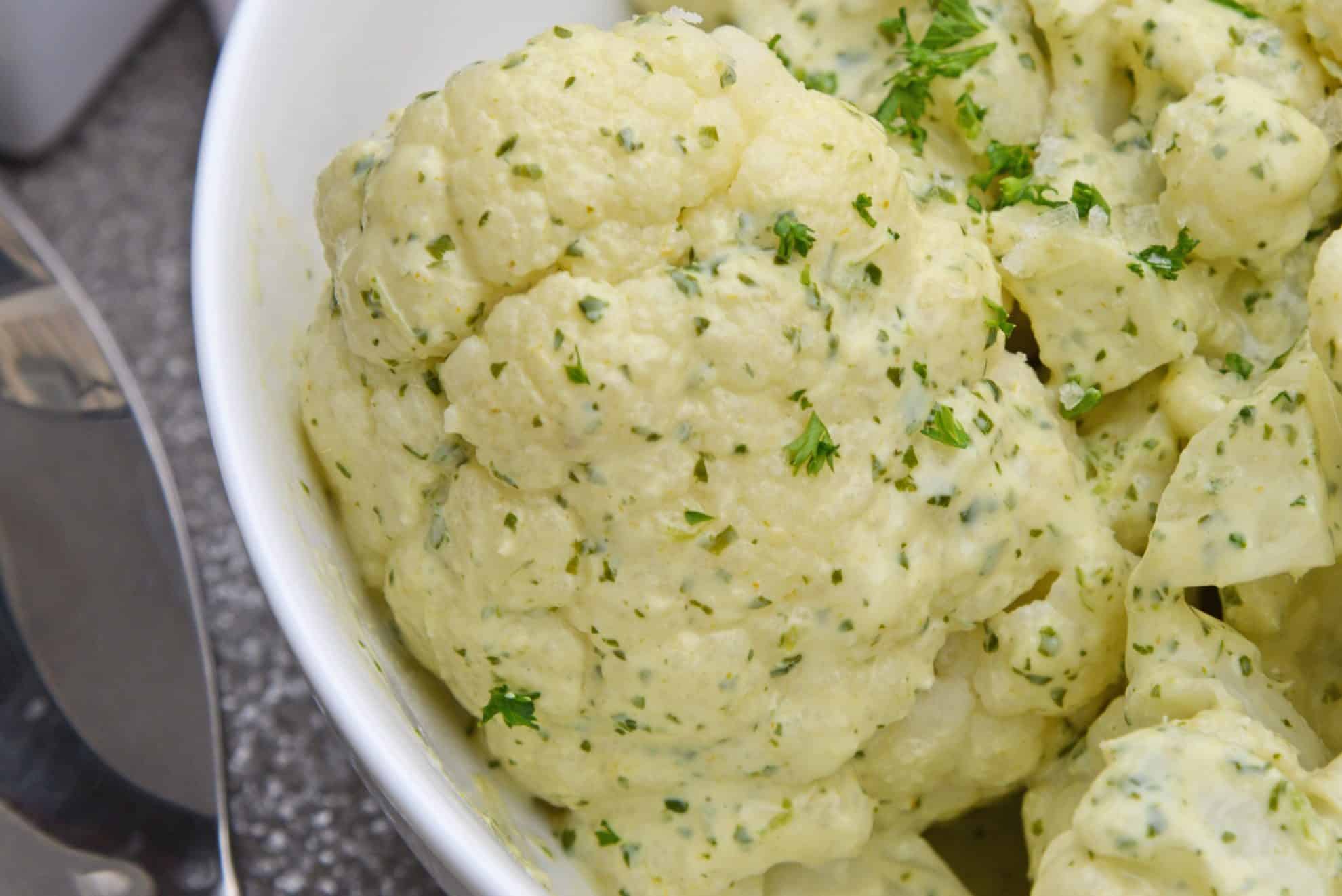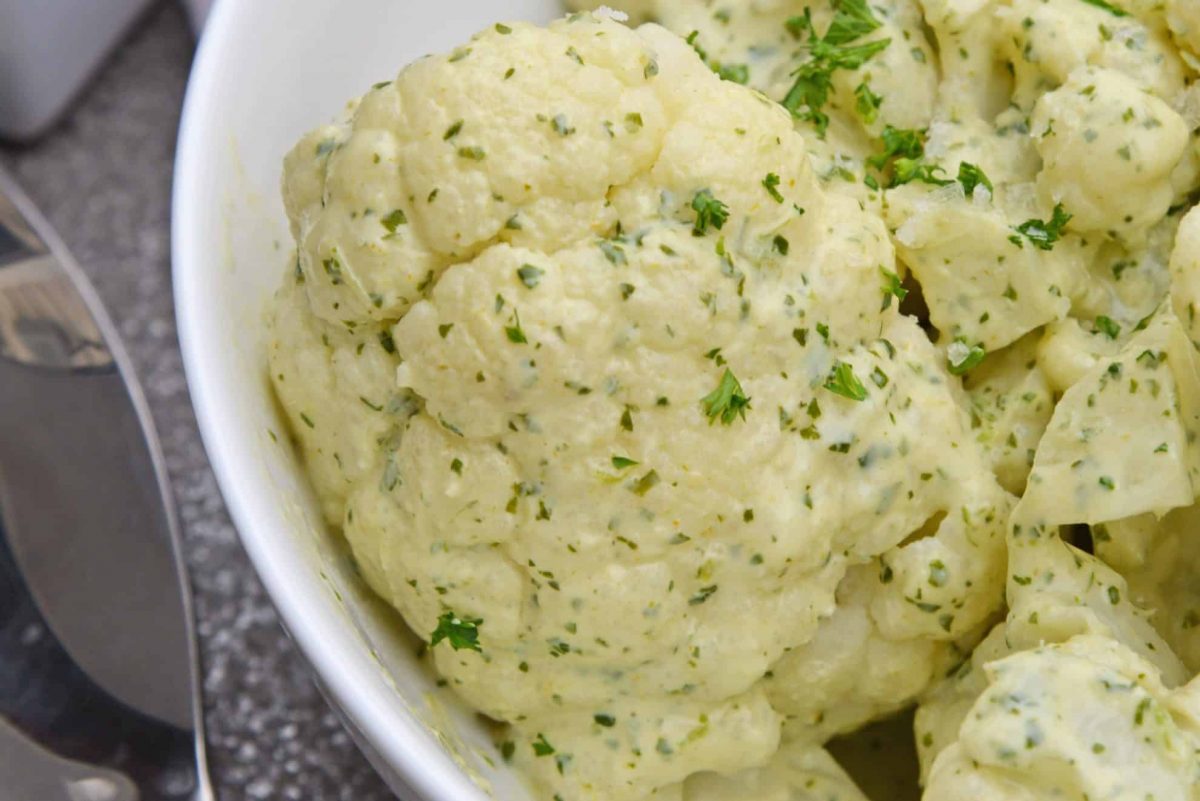 I have a lot of cauliflower recipes on this site. Some of my favorites are Cauliflower Fried Rice, Cauliflower Mac and Cheese, Parmesan Cauliflower Pizza Crust, and Creamy Mashed Cauliflower.
I am always trying to come up with new ways to make cauliflower that my family will enjoy. It's relatively cheap, and it's a great way to add a serving of veggies to a meal.
I just posted a recipe for my Green Curry Sauce, and I thought it would taste great tossed with cauliflower. And boy, was I right! The flavor is incredible without being too powerful, and it's SO easy to whip up!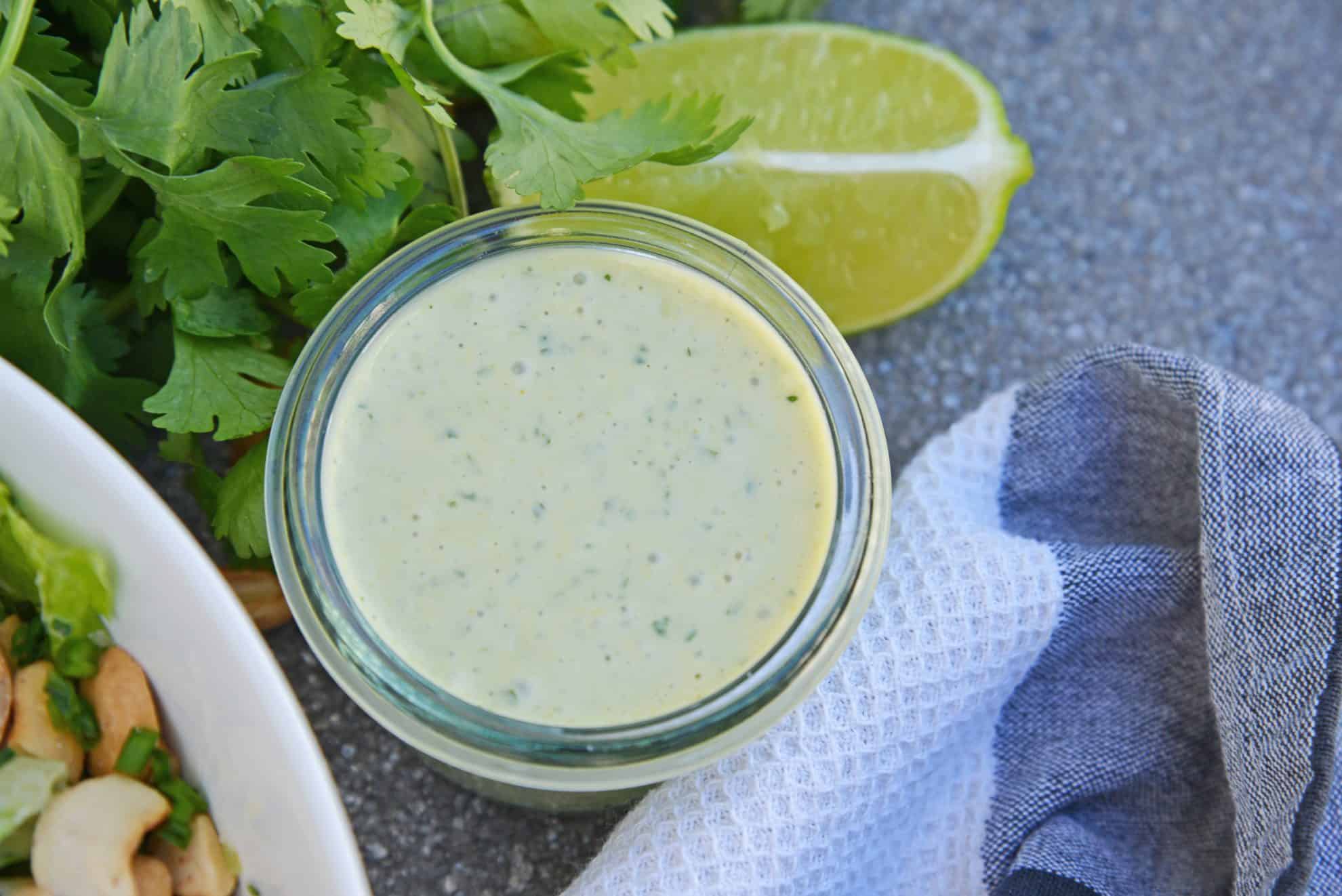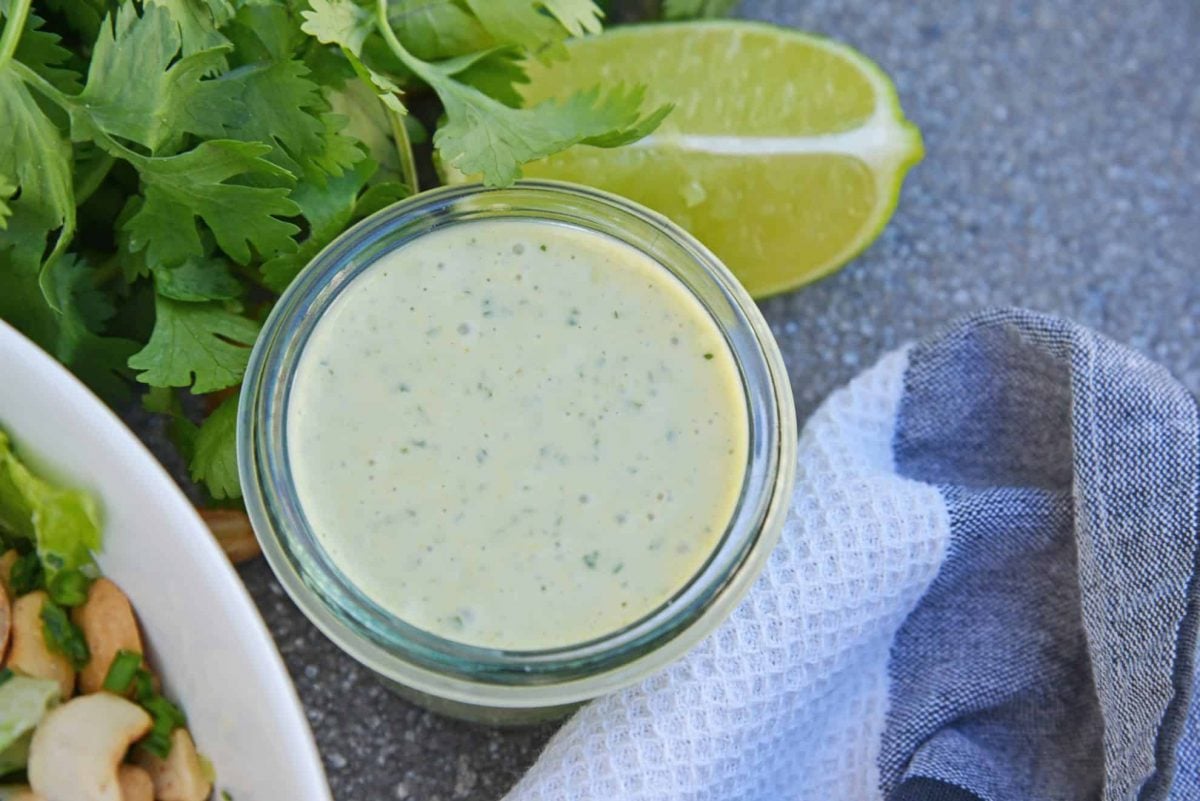 In order to make the green curry sauce, you might need to add a few items to your grocery store list that you don't normally buy. Fish sauce, coconut milk, thai green curry paste, and lime juice to name a few.
The sauce is easy to prepare and you can use it for other recipes too. Try adding it to rice noodles, dipping bell peppers into it, or even using it as a salad dressing.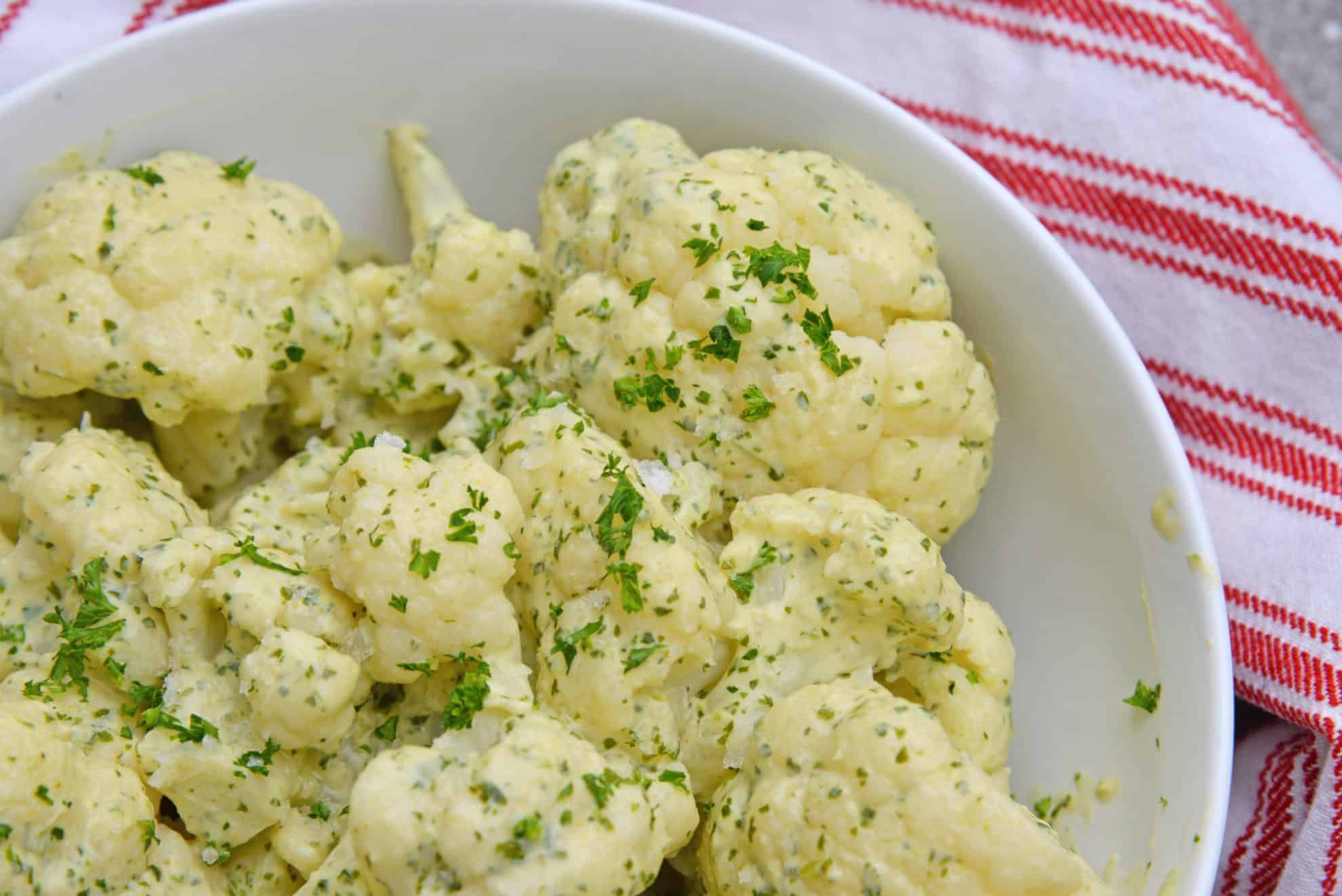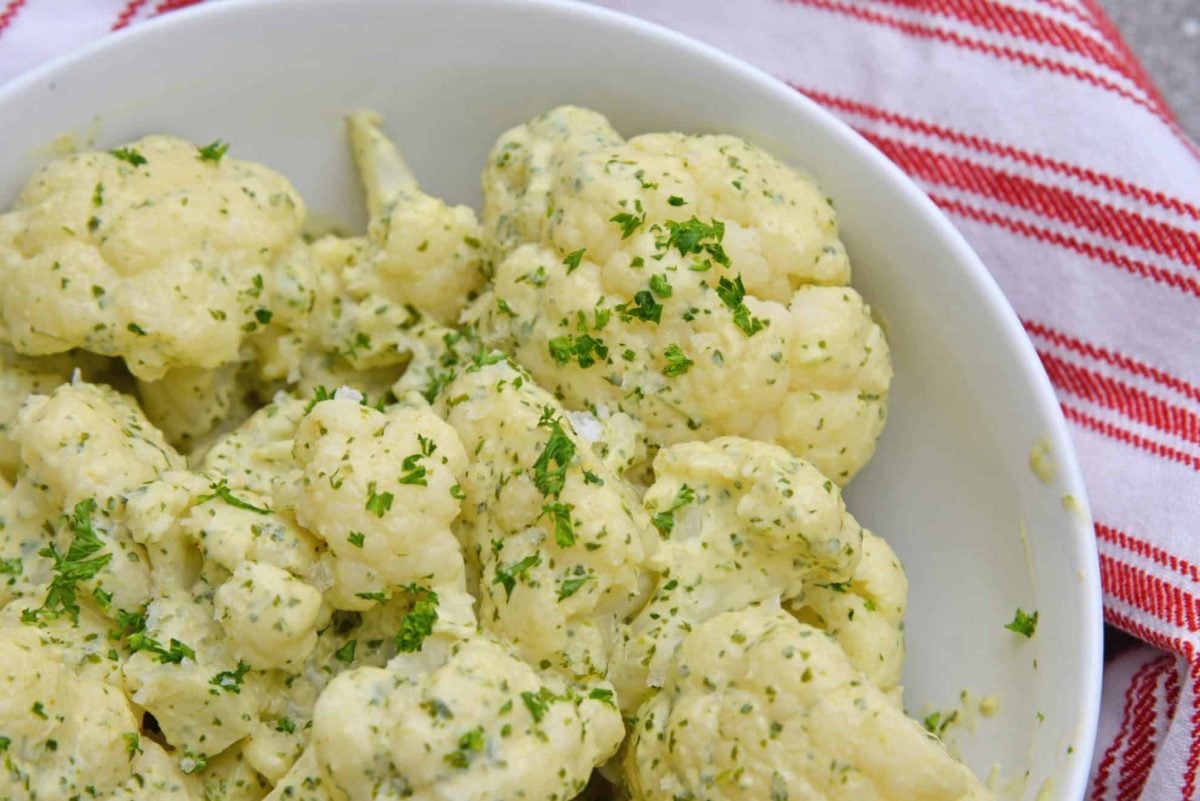 Roast cauliflower and steamed cauliflower seem to be the most popular of cauliflower recipes. Blanched cauliflower is also super popular. Cooked, but still have some toothiness and texture to it.
So, what is blanching?
The process of blanching is really simple. You basically cut vegetables (or even fruits) into uniform pieces, add the vegetables to a pot of boiling water for a short time (varies for different vegetables), and then immediately transfer them to an ice bath to stop the cooking process.
Blanching is helpful when you are trying to freeze vegetables. It helps to prevent loss of color, texture and flavor that happens when freezing.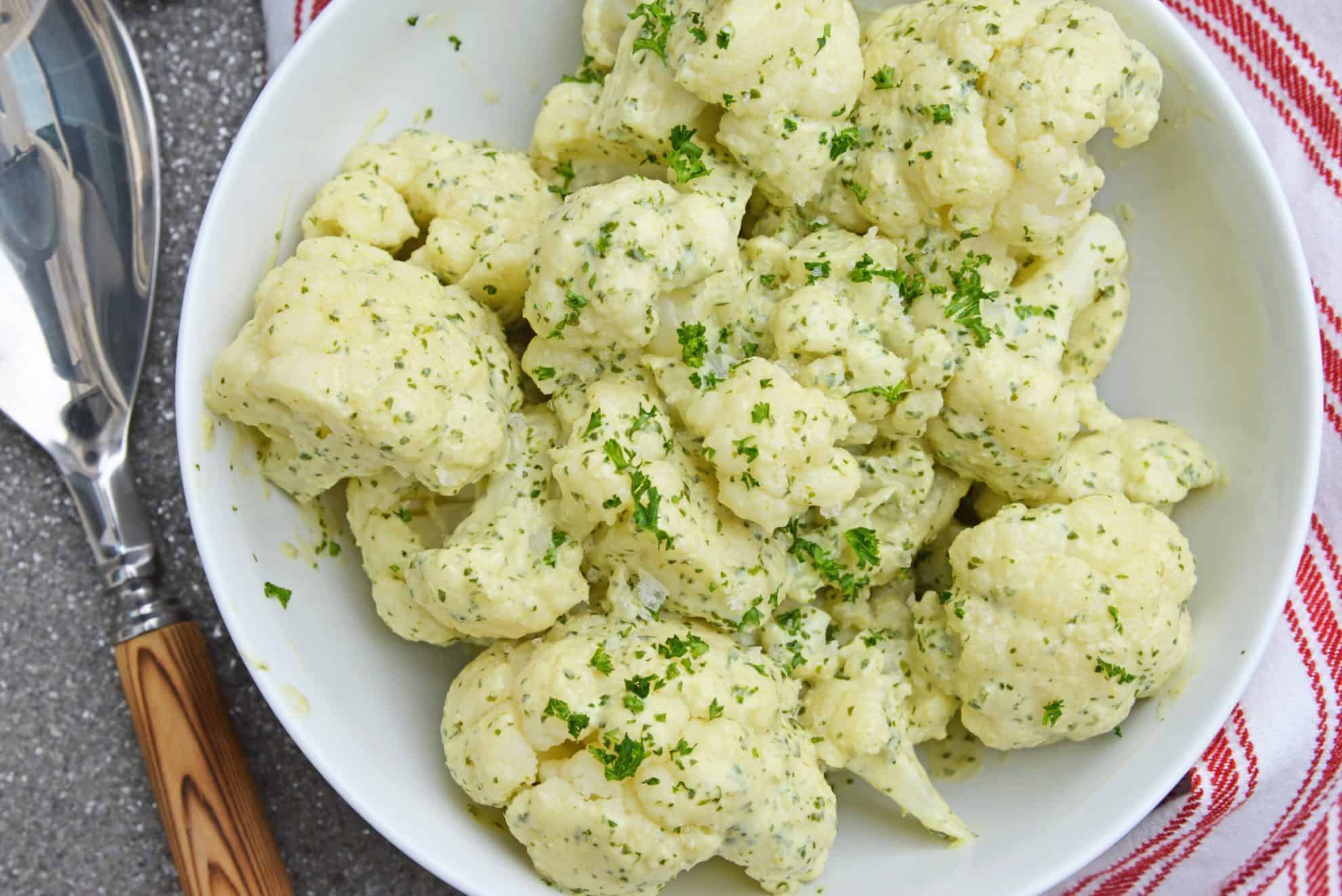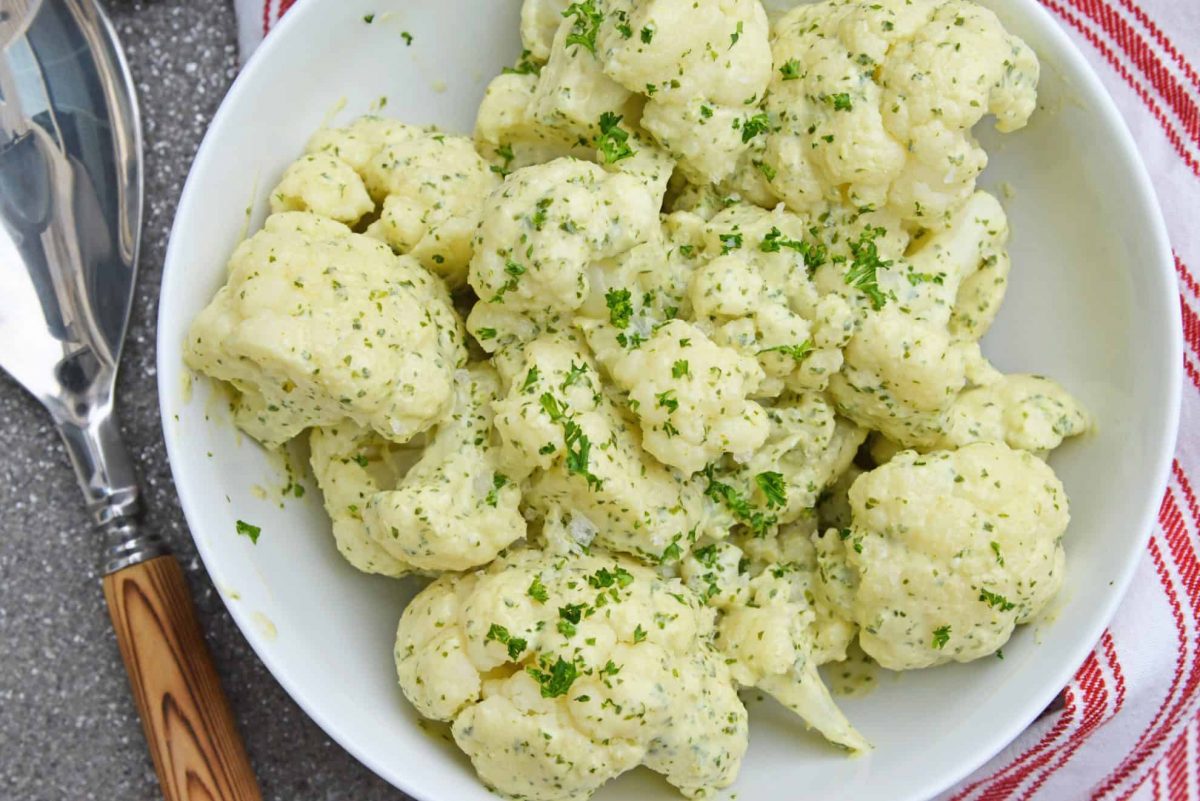 This guide has a list of blanching times by vegetable, and I found it to be super helpful. It is such an easy process, I recommend any home cook should try it! It is a great skill to have in your kitchen tool box.
Now back to the good stuff! Green Curry Cauliflower has a mild enough curry flavor that you don't need to limit yourself to just making it with Thai or Indian recipes. In fact, it tastes more Mediterranean with the yogurt base than anything else.
I served this batch (roasted) alongside grilled steaks with a leafy green salad. It made for a quick and easy side dish that I felt good about serving to my family. Feel free to prepare your cauliflower however you'd like and toss with the delicious sauce.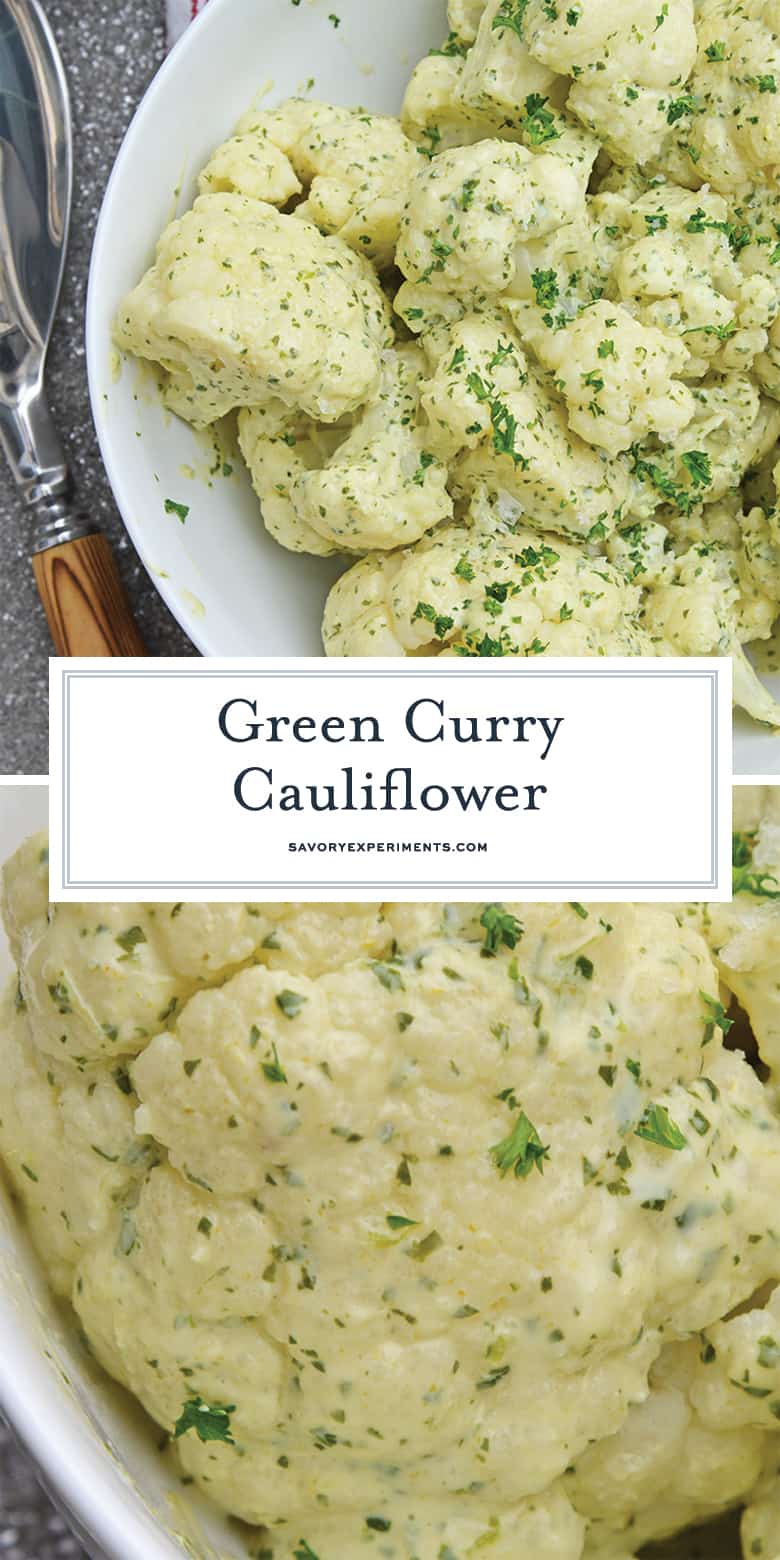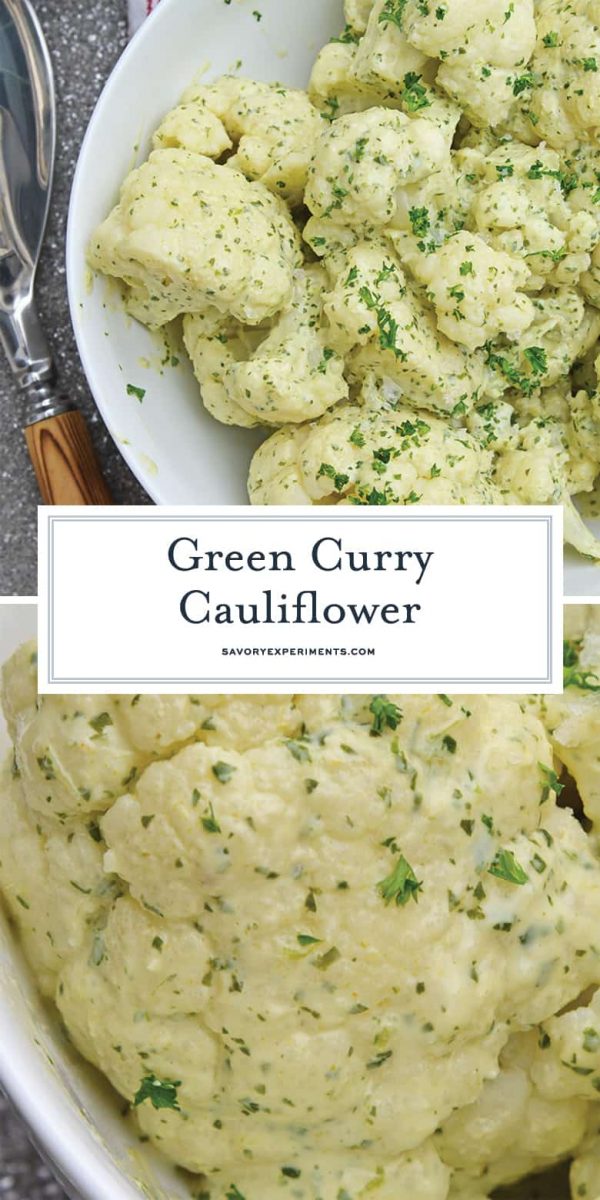 Questions about how to make cauliflower?
Can I serve this dish cold? You sure can! Green curry sauce tastes amazing hot or cold. You might want to add a sprinkle of Maldon Sea Salt to the top as cold sauces get a little muted and need to have the seasoning corrected.
Is green curry sauce spicy? Some green curries might be spicy, but this particular green curry recipe is actually more sweet. If you wanted to add a little heat, try adding 1/2 teaspoon crushed red pepper flakes.
What does cauliflower taste like? Cauliflower on it's own does not have a very strong flavor. In fact, it's quite bland. That's what makes it such a good staple to use in so many recipes!
Can cauliflower be frozen? It sure can! Just make sure to blanch it first, like mentioned in the post above.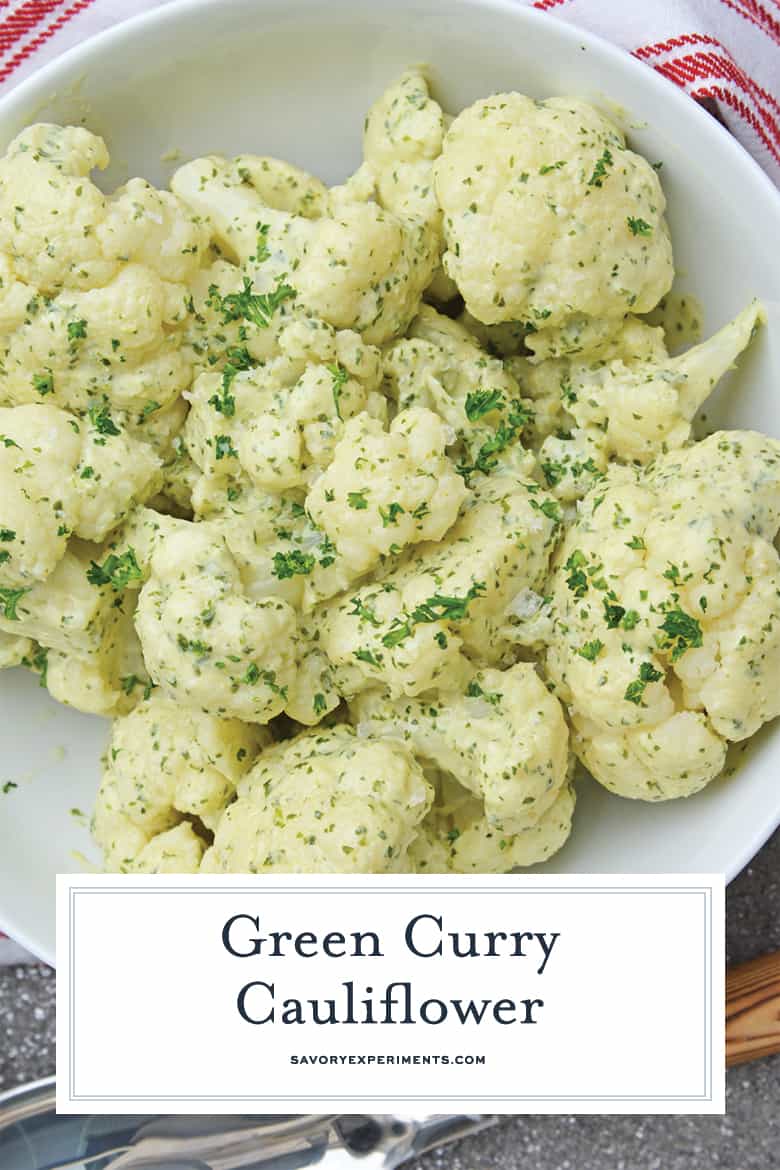 Check out these other delicious ways to make cauliflower: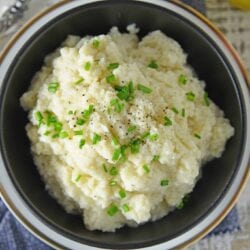 Mashed Cauliflower Recipe
Mashed Cauliflower is a healthier alternative to mashed potatoes, with fewer carbs. This Mashed Cauliflower recipe is perfectly smooth and creamy. Top with herbs and cheese, or season with chicken broth, sour cream and seasonings for the perfect cauliflower mashed potatoes!
See The Recipe!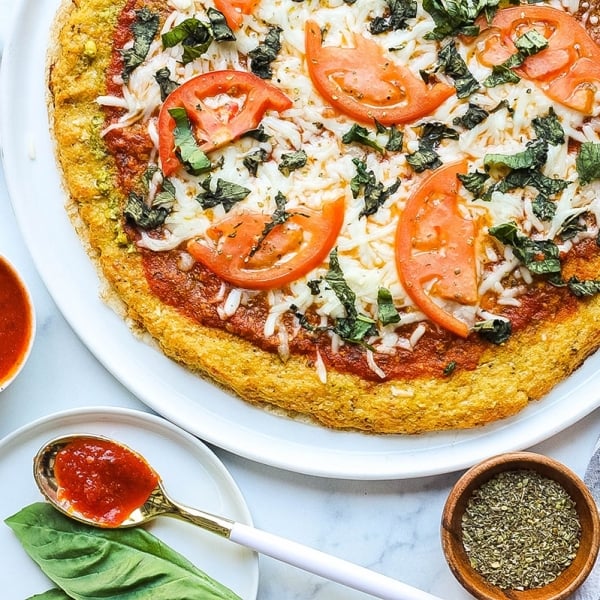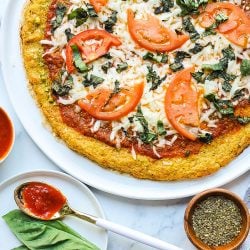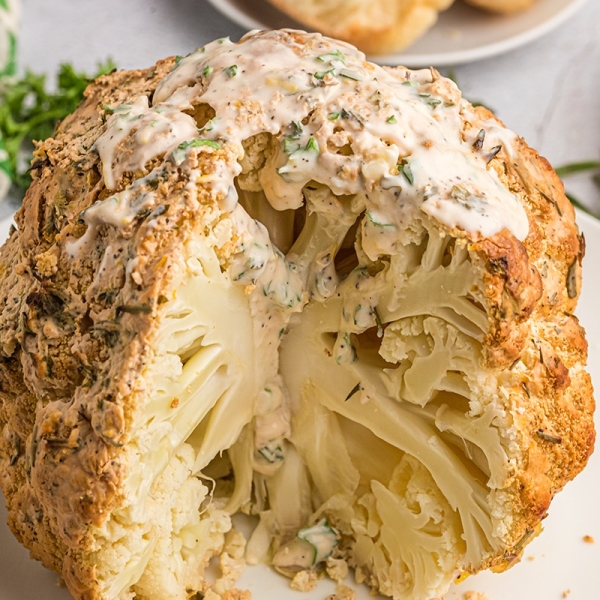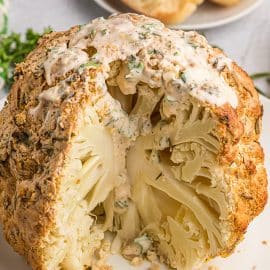 Whole Roasted Cauliflower
Herb Roasted Cauliflower uses a whole head of cauliflower, covers it in a yogurt and fresh herb blend and then roasts it to perfection. A healthy, low carb side dish!
See The Recipe!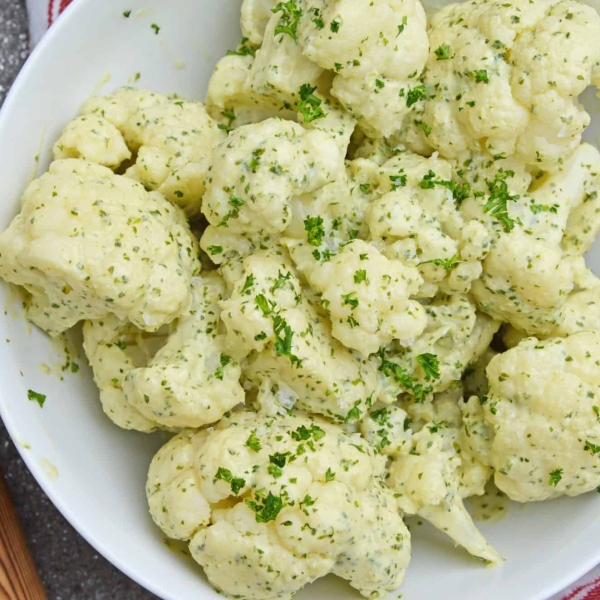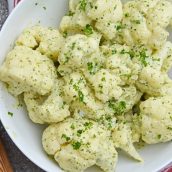 Green Curry Cauliflower
If you're looking for a roasted cauliflower recipe that doesn't lack on flavor, this Green Curry Cauliflower is it!
Instructions
Preheat the oven to 450 degrees and line a rimmed baking sheet with aluminum foil.

Toss the cauliflower with the olive oil and arrange in a single layer on the baking sheet.

Roast until golden and tender, about 20 minutes.

Transfer to a mixing bowl and toss with green curry sauce.

Sprinkle with Maldon sea salt. Serve immediately.

If you've tried this recipe, come back and let us know how it was.
Nutrition
Calories:
132
kcal
,
Carbohydrates:
10
g
,
Protein:
3
g
,
Fat:
10
g
,
Saturated Fat:
2
g
,
Sodium:
44
mg
,
Potassium:
430
mg
,
Fiber:
4
g
,
Sugar:
5
g
,
Vitamin A:
4658
IU
,
Vitamin C:
72
mg
,
Calcium:
73
mg
,
Iron:
1
mg