If you're looking for a way to mix up your usual pasta salad recipe, this Gouda and Corn Pasta Salad is it! It's EASY to make and packed with flavor!
Corn Pasta Salad
Hooray for warmer weather! I feel like it's even more welcome this year after being
stuck inside for months. Sitting out on the patio with a cold drink after the kids are in bed is my current happy place.
Even if we aren't able to celebrate the summer holidays together, I still plan on making my picnic favorites. And cold salads are very high on my picnic favorites list!
This recipe came about when I had leftovers of my gouda and corn salad. Not enough for use as a side, I combined it with pasta and added a little more Italian dressing to freshen it up and now I had a whole other dish!
Pasta Salad vs. Macaroni Salad
Well, typically speaking, macaroni salads are made with a creamy dressing like mayo, yogurt or sour cream, while pasta salads are made with oils and vinegar.
Either can be served cold or hot, but both are generally chilled or room temperature. I don't recommend serving this easy Gouda and Corn Pasta Salad hot simply because the cheese will melt.
Some of my favorite macaroni salad recipes are:
And these are my favorite pasta salads: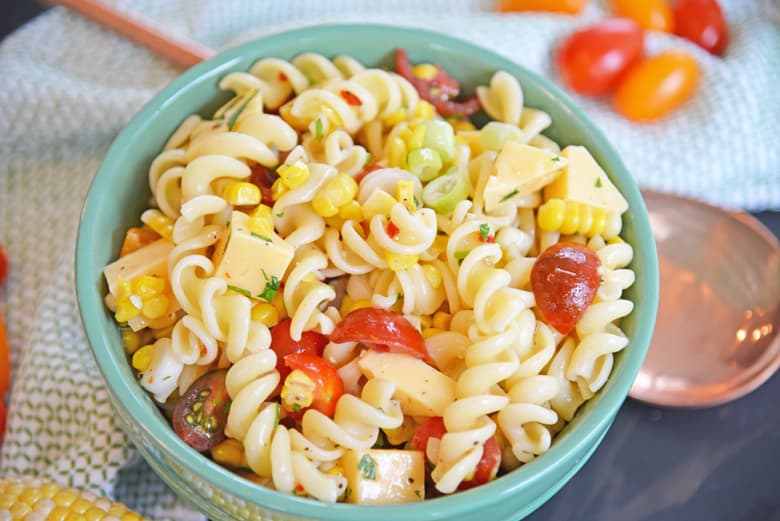 Best Pasta for Pasta Salad
Did you know there are over 500 shapes and sizes of pasta? Each had a very particular purpose through many different cultures.
The best pasta for pasta salads are ones with shapes, nooks, crannies and holes simply because it holds onto the dressing better than slick pastas. There are many kinds out there, but here are the most common:
fusilli
farfalle
rotini
penne
elbows
shells
wheels
Pasta Salad Ingredients
Now that we've talked about what pasta to use, let's talk about the rest of the ingredients!
Pasta salads are always able to be customized to your liking; leave out veggies you don't like, add in some that you do. But these are the ingredients I use:
corn (you can use fresh, frozen or canned)
grape tomatoes
scallions
smoked gouda cheese
parsley
Italian dressing
kosher salt
black pepper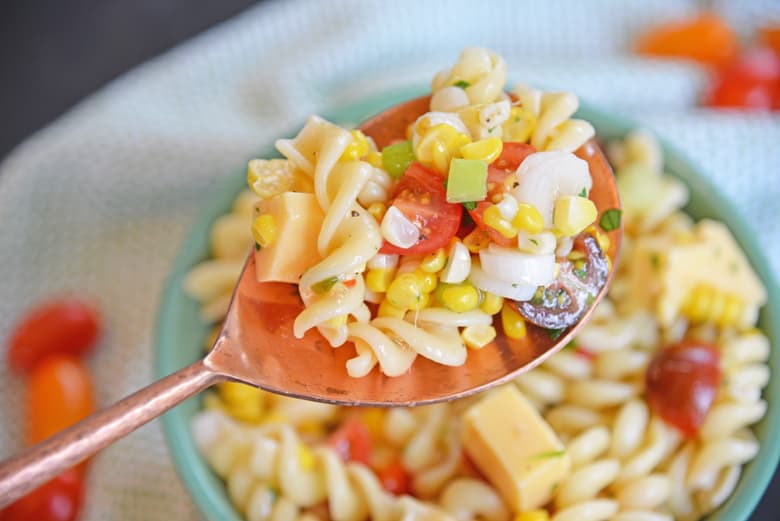 If you're looking to add some extra veggies or protein, you could always add some of these options:
grilled chicken
bell peppers
avocado
red onion
Corn
No need to be super specific about the corn. I like to use grilled corn because it has a little char to it. I grill it on the ear and then cut it off using a sharp knife.
You can also boil corn on the cob and then cut off the kernels.
If you don't feel like messing around, canned corn also works. I suggest using low sodium or rinsing it before adding. But make sure you get it nice and dry, like with a salad spinner, so the excess water doesn't thin out your dressing.
Frozen corn also works. Just make sure it is fully thawed before adding.
Tools
You won't need much to make this delicious salad, but here are my favorite essential kitchen items!
Wood cutting board – wood won't dull your knives like plastic and if treated properly, has natural antimicrobial properties.
Good knife – Global is my favorite! They are worth the price, I promise. I am kind of obsessed with them and store them tucked away so no one else can use them. Including hubby. Hands off my good stuff!
Large Mixing Bowl– Use a mixing bowl a little larger than you think you'll need. There is less pressure to keep it in the bowl. You can always transfer it to a smaller serving bowl later. I personally look for ones with lids so I can cut down on plastic wrap and aluminum foil waste.
Mixing Spoon– Use a large spoon or even fork to do the tossing!
More summer salad recipes:
CONNECT WITH SAVORY EXPERIMENTS!

Be sure to follow me on social media, so you never miss a post!

Facebook | Twitter | Youtube
Pinterest | Instagram

Get our FREE 8 Day E-Course on How to Be a Better Home Cook. Sign up HERE!