The Mexican flavors of this easy Fiesta Rice make it perfect for stuffing a burrito or taco and even serving on the side of grilled chicken or smothered burritos. An easy side dish that is super versatile!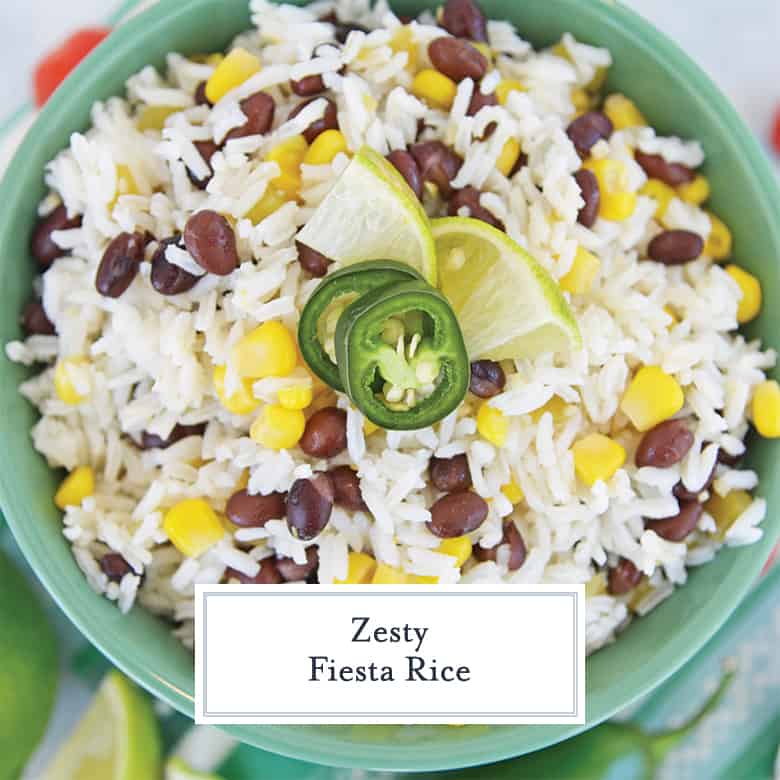 Fiesta Rice is one of my easy recipe hacks. I love it because I don't actually have to cook the other ingredients with rice.
This means I can use leftover white rice from another recipe or even buy the packets of 90 second rice at the grocery store.
Fiesta Rice Ingredients
I like to add a good mix of colors and flavors to my rice. Of course, if you have picky eaters or just don't like one of the items I used, you can certainly omit it! This recipe is great because you can totally customize it to your liking.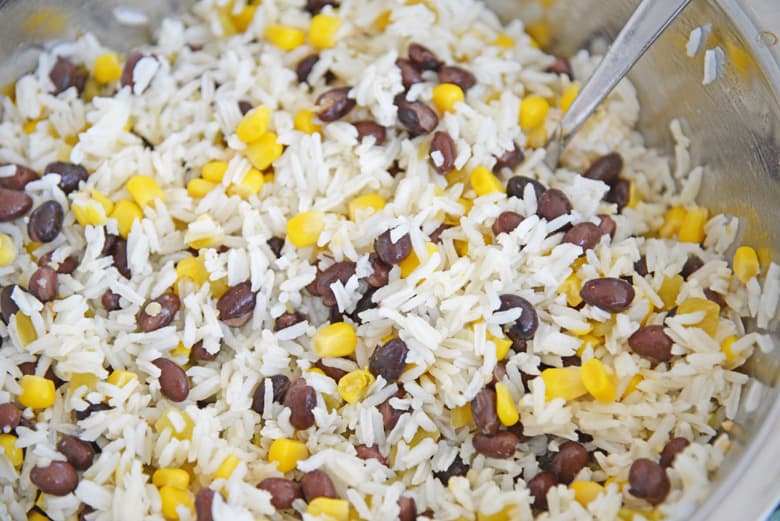 These are the ingredients I like to use:
green chiles
black beans
corn (you can use canned, frozen or fresh of the cob)
garlic
lime juice
kosher salt
white rice
If you would like your rice to be a little spicier, you can feel free to substitute the green chiles for jalapenos. If you prefer, you can also use brown rice instead of white. Just be aware that the texture of the Fiesta Rice will be different.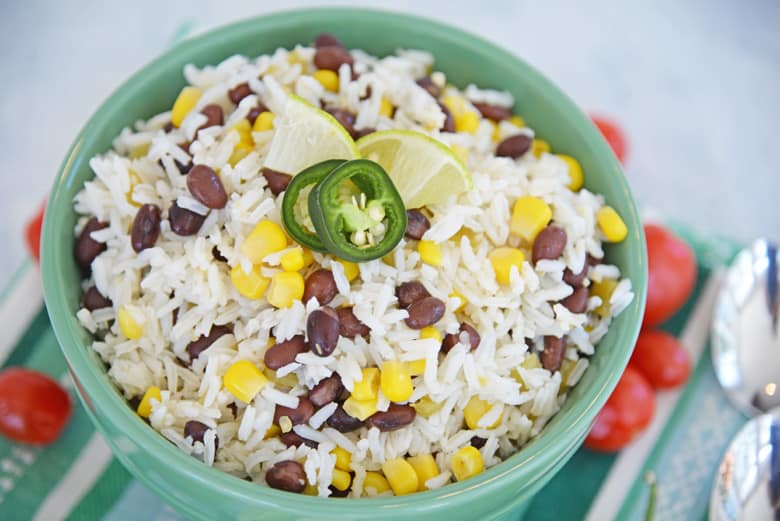 Here are some other options:
Jalapenos: perfect if you like a little more spice
Cilantro: people either love it or hate it, but it's always a great flavor to add to Mexican dishes
Avocado: if you choose to add avocado, wait until just before serving to prevent browning
Tomatoes: if adding tomatoes, I'd suggest using grape tomatoes cut in half or in quarters
Red onions: they add a nice onion flavor, but also more color
Green peppers: perfect to add a little crisp texture and pretty green color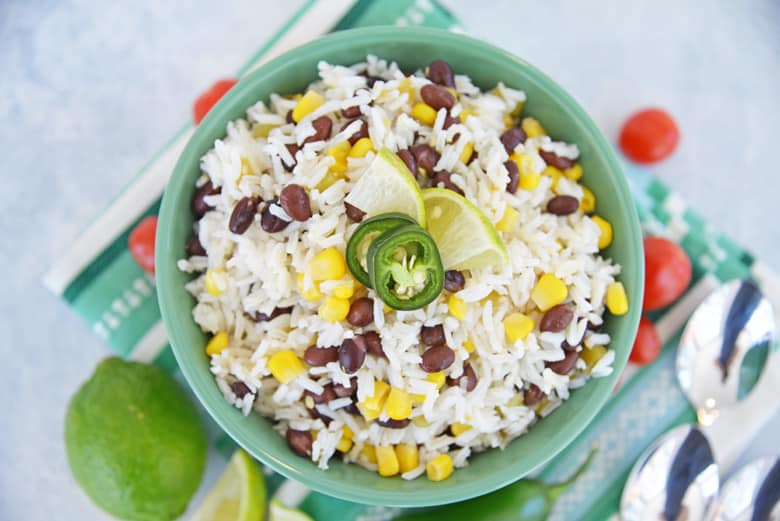 How to Serve Fiesta Rice
Not only is this the BEST Fiesta Rice recipe because it's easy and delicious, but you can use it in so many different ways, too! Here are some ways to use it:
side dish
as a filler for your tacos
inside of a burrito
served as a fajita topping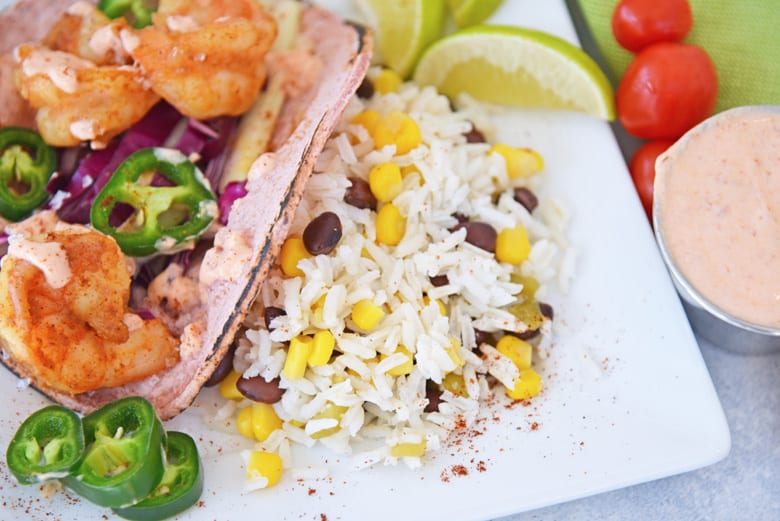 Just like my Black Bean Salad, it would also be great served at a party or picnic with chips.
How to Cook Rice
If you don't have the minute rice or rice leftover from another meal, cooking your own is super easy! You really only need two, maybe three ingredients: rice, water and salt to taste.
If you are cooking white rice, start with 1 cup of rice and 2 cups of water. Add both to a saucepan and bring to a boil. Once boiling, cover the pan and reduce the heat to a simmer. Once all of the liquid is absorbed, the rice is ready (about 25 minutes.)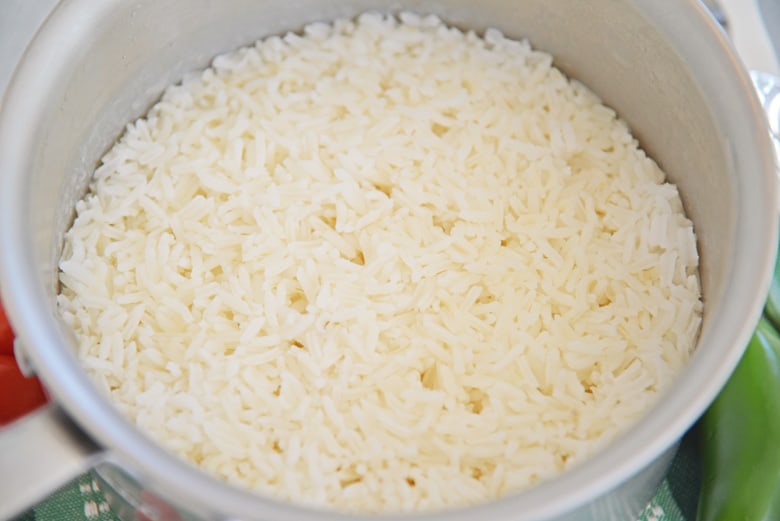 Brown Fiesta Rice
If you prefer to make it with brown rice, use 1 cup of rice and 2 1/2 cups of water. Follow the same steps as from above, but the brown rice will take a little longer for the water to fully absorb (about 45 minutes.)
Brown rice is still slightly processed, but less so than white rice. It still has the bran layer and cereal germ, but the inedible outer layer is removed. It retains more nutritional value.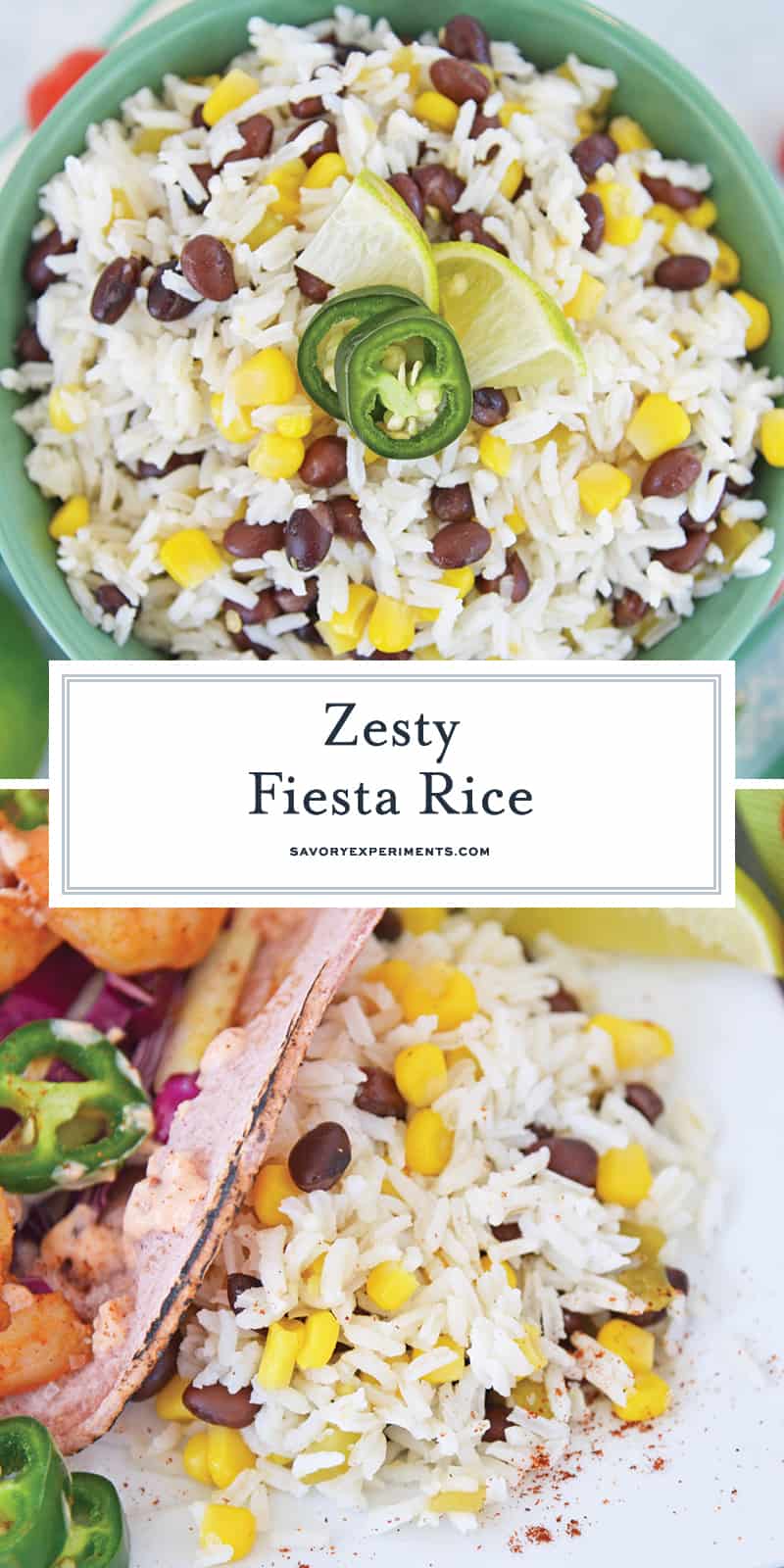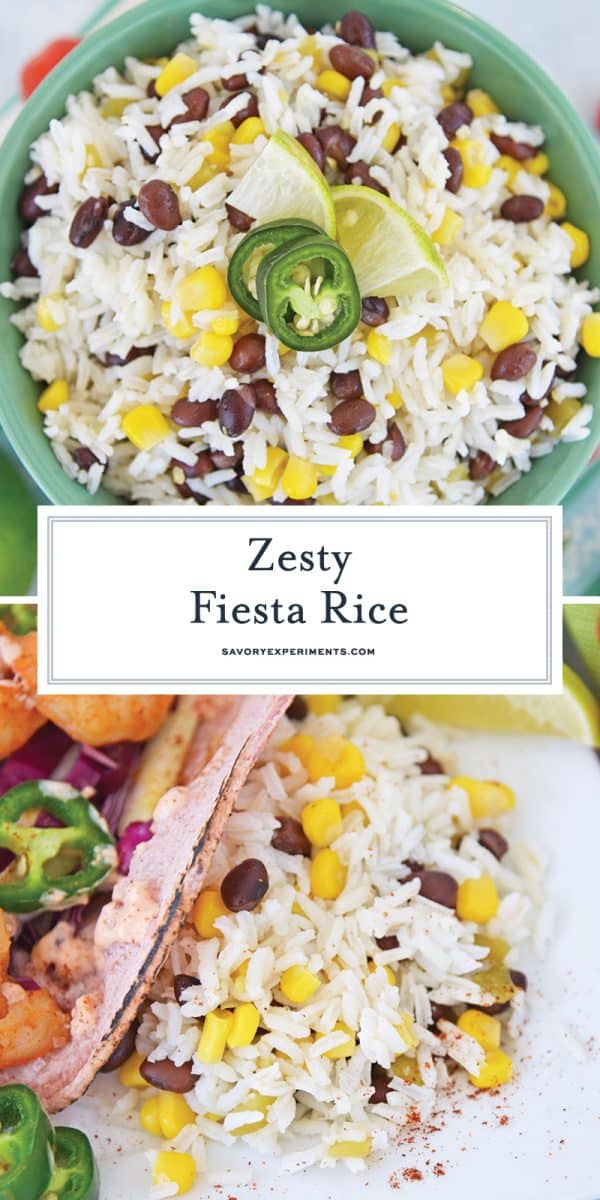 Serve your rice with these main dish Mexican recipes: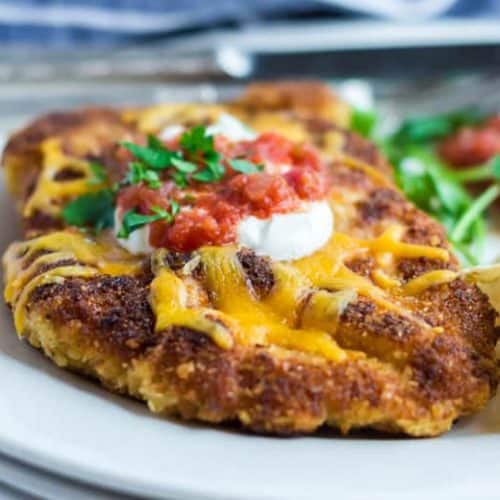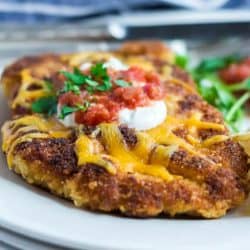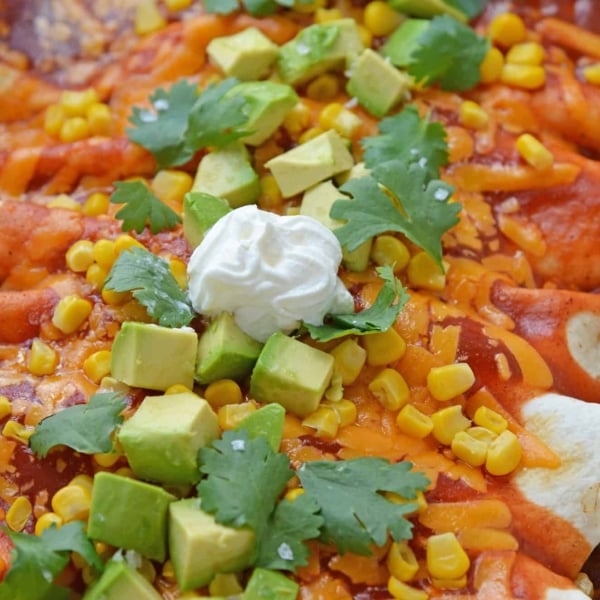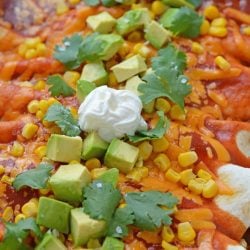 Smothered Beef Burritos
Smothered Beef Burritos are a cheesy and easy weeknight meal perfect for quick assembly, freezing or making ahead. Loaded with ground beef, vegetables, enchilada sauce and cheese!
See The Recipe!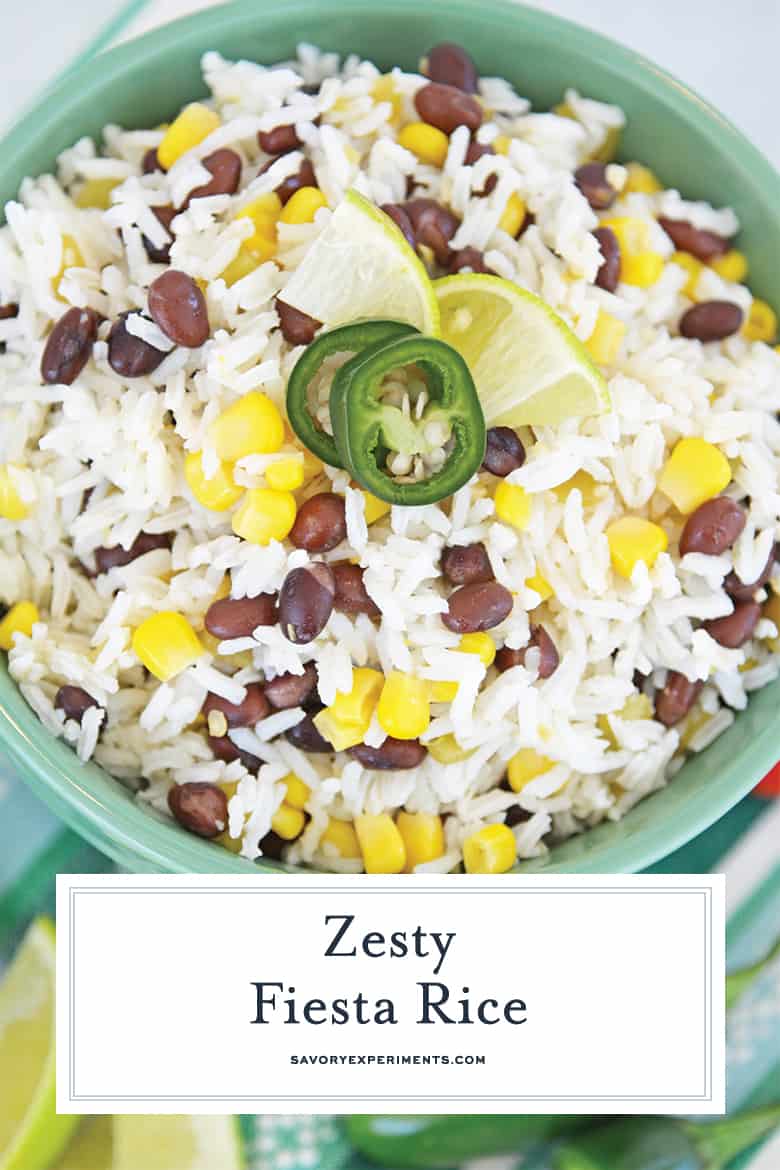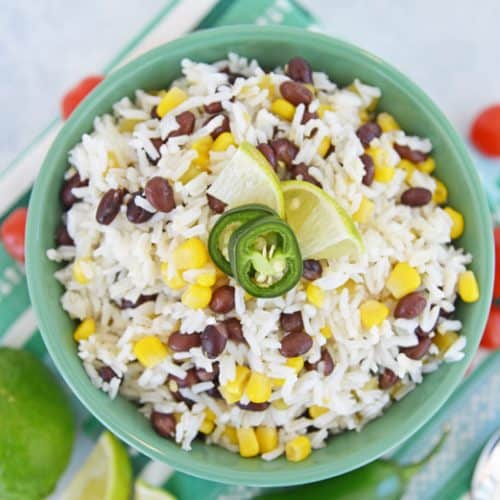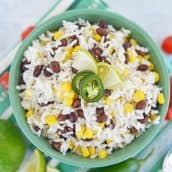 Fiesta Rice
The Mexican flavors of this EASY Fiesta Rice make it perfect for stuffing a burrito or taco and even serving on the side of grilled chicken!
Instructions
Combine all ingredients in a saucepan over low heat and toss.

Continue to stir so nothing sticks to the bottom. This is more to heat all of the ingredients than to cook anything. Heat for about 5 minutes.

If you've tried this recipe, come back and let us know how it was!
Notes
You can use canned corn, corn off the cob or canned corn. It equals about 1 1/2 cups.
Nutrition
Calories:
360
kcal
,
Carbohydrates:
76
g
,
Protein:
11
g
,
Fat:
1
g
,
Saturated Fat:
1
g
,
Sodium:
197
mg
,
Potassium:
338
mg
,
Fiber:
7
g
,
Sugar:
2
g
,
Vitamin A:
84
IU
,
Vitamin C:
4
mg
,
Calcium:
36
mg
,
Iron:
2
mg