This is an easy calzone recipe that can be on the table in 25 short minutes (you, know as opposed to those long minutes)! Create a delicious Hawaiian pizza calzone that will be devoured by everyone!

Spicy Hawaiian Calzones have become a family favorite. This is a easy calzone recipe just like your favorite Hawaiian Pizza using pineapple, ham and jalapeños.
Our local pizzeria serves a Spicy Hawaiian Pizza that I am obsessed with. I love it! It has the perfect ratios of cheese, meat, sweet and spicy. Like many of the items on my site, I tried to recreate it.
I used fresh jalapeños, but was a little disappointed with the initial heat. If your family doesn't enjoy heat as much as mine, you can use only 1 jalapeño or bottled, pickled jalapeños, which are generally less spicy.
Try one before adding to the recipe, as each pepper will have its own level of heat.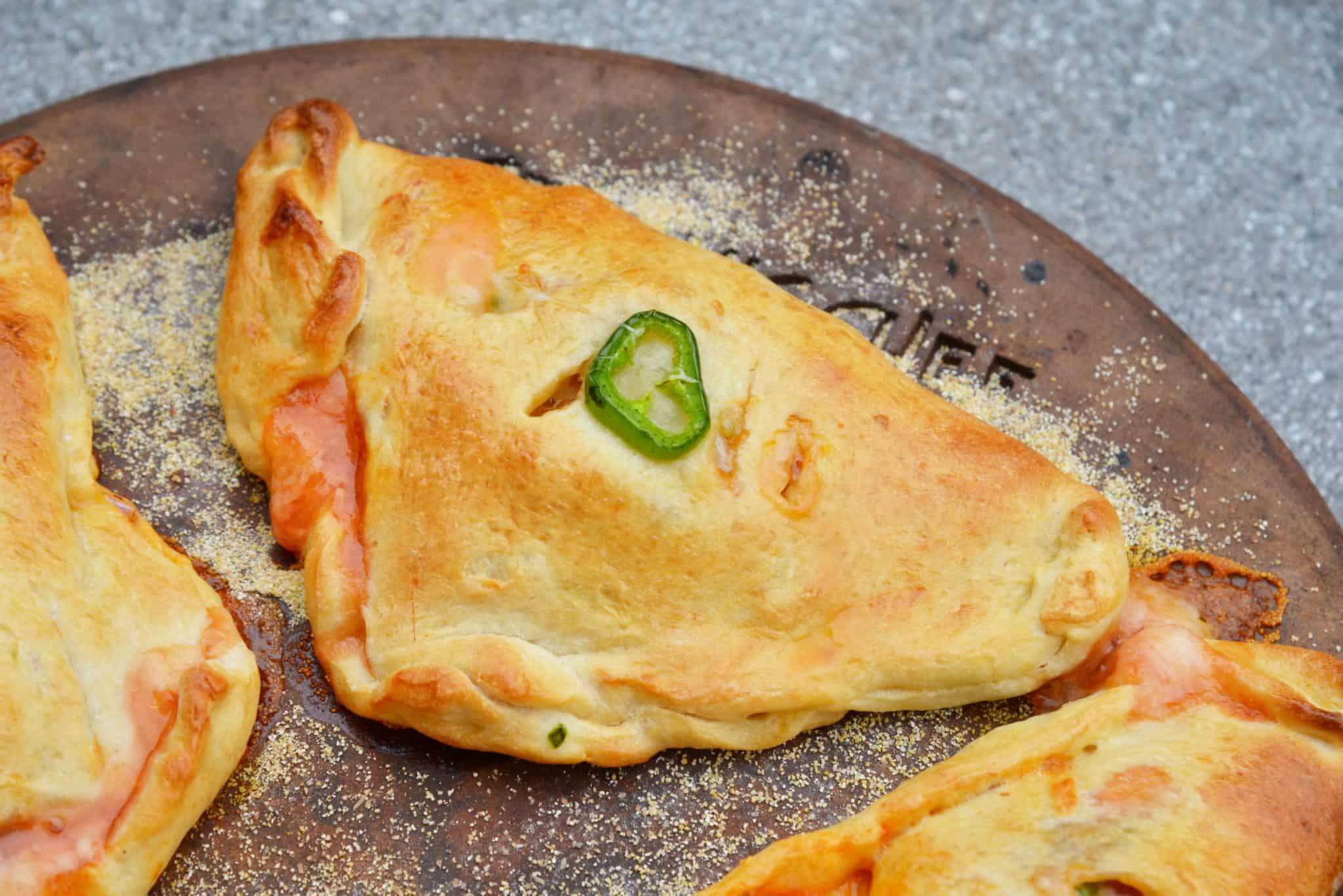 If you crave more heat, substitute habanero peppers for jalapeños or don't discard the jalapeños seeds. Clearly we like things hot, hot, hot.
This Hawaiian food recipe is truly amazing. Made up of delicious ham, sweet pineapple chunks, red onion, tomato sauce, jalapeños, and lastly gooey mozzarella, will make up the perfect savory calzone.
FOODIE FACT: There are many theories out there as to what SPAM stands for, but the honest truth is that no one knows, not even the manufacturer.
Authentic Hawaiian food would include SPAM, a canned pork product popular in Hawaii. Since Hawaii is a fairly isolated island, getting goods there is challenging, especially perishables.
SPAM is popular because it has a long shelf life and can be easily transported. It is created into fabulous gourmet recipes and often served in the most high end of restaurants. Vastly different that its reputation in the states.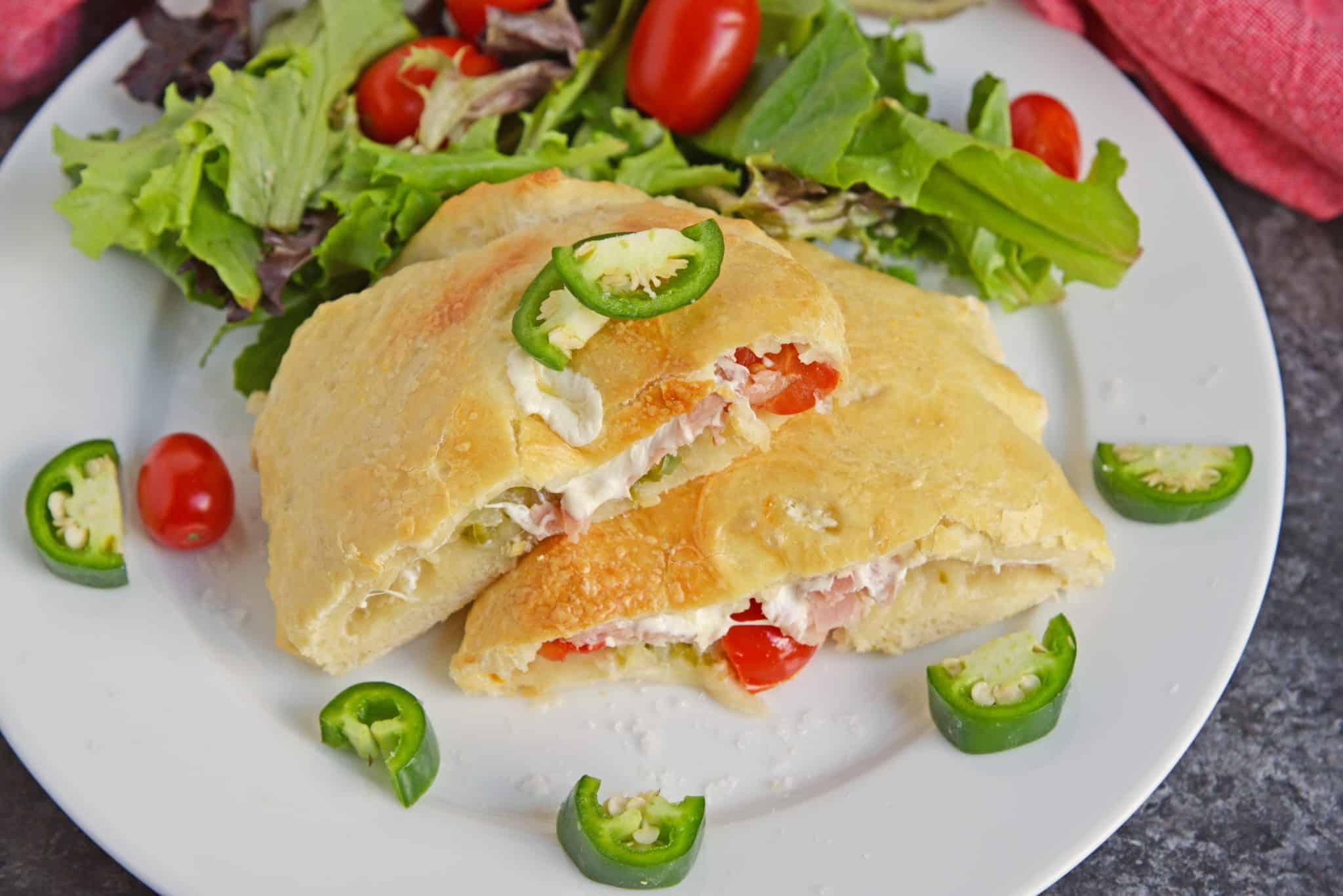 While SPAM is a common joke in many continental state households, it is the norm on Hawaiian islands. They have found ways to make SPAM gourmet in many things, such as Hawaiian pizza.
One challenge to this dish is canned pineapples because they are so juicy. Too much liquid can inhibit the pizza crust from cooking or cooking evenly. Same with the tomatoes.
PRO TIP: Cutting slits in the top of your calzone will allow steam to release, making it more crispy.
To prevent this from happening, drain pineapple well and pat dry with a paper towel. To take it even one step further, allow them to air dry for a period of time in the refrigerator. You can gently squeeze halved tomatoes to release some of the pulp.
The same is true of the cheese you decide to use. Look for a low moisture mozzarella cheese, less moisture means less liquid will be released during cooking and give you the highest chances of a crispy calzone.

Many people also ask about the differences between a stromboli, calzone and pizza. The answer is that they are very similar.
Calzones are usually packed in pizza dough in a triangular or half moon shape and filled with cheese and meat. Some with stromboli, although still made with pizza dough, the shape is more of a submarine, long and oval, and sometimes rolled into a pinwheel.
PRO TIP: Also, use a pizza stone dusted with cornmeal for extra protection against moisture.
A pizza is like an open face stromboli or calzone, with the ingredients being on top of the dough for all to see. While it used to be the norm for stromboli and calzones to only have meats and cheese, now days you'll find them stuffed with anything you please, including vegetarian options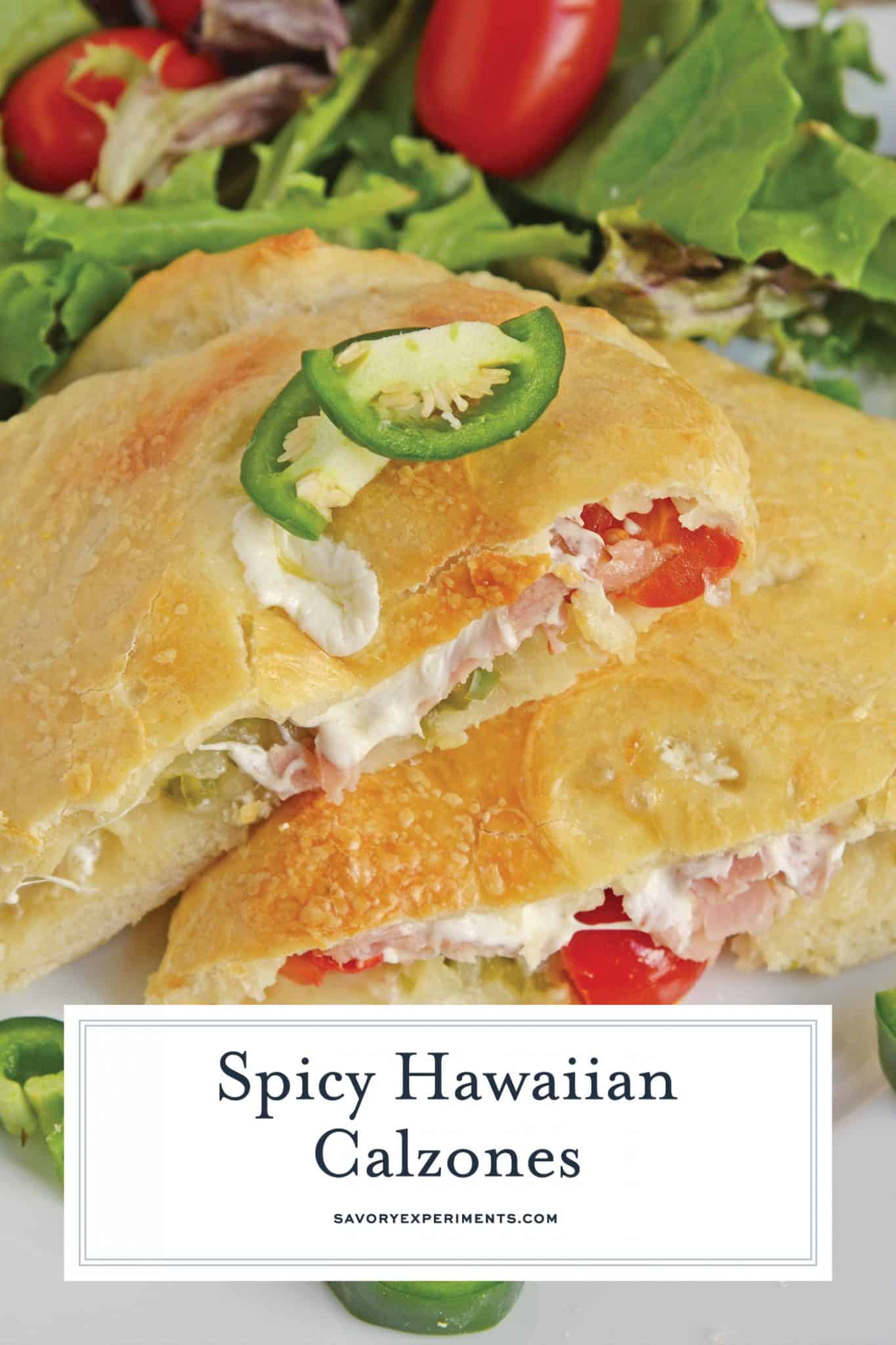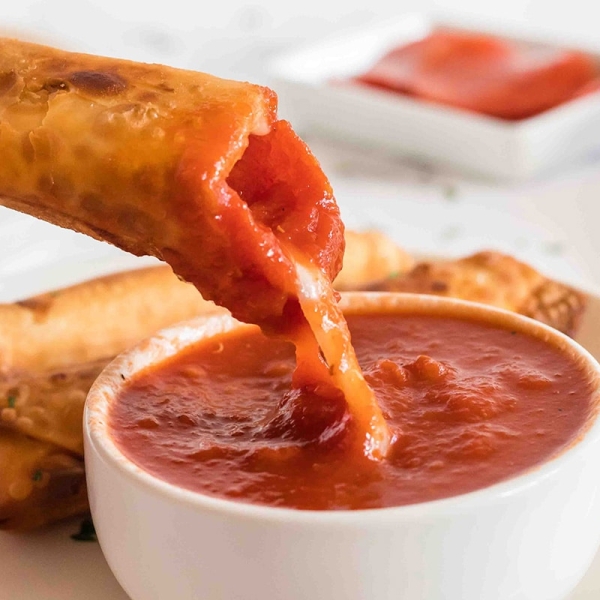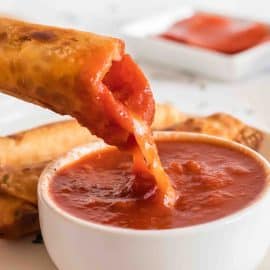 Pizza Logs
Crispy egg roll wrappers stuffed with gooey mozzarella cheese and zesty pepperoni, fried to a golden brown and dipped in marinara sauce.
See The Recipe!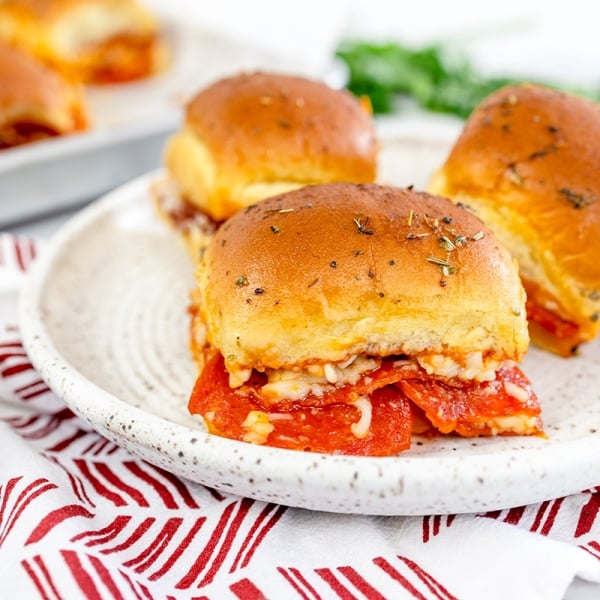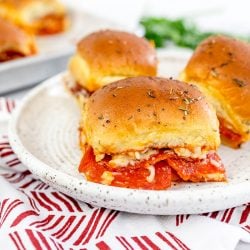 Pizza Sliders
Cheesy Pizza Sliders are easy to make with just 4 ingredients and the best for parties. Loved by kids and adults!
See The Recipe!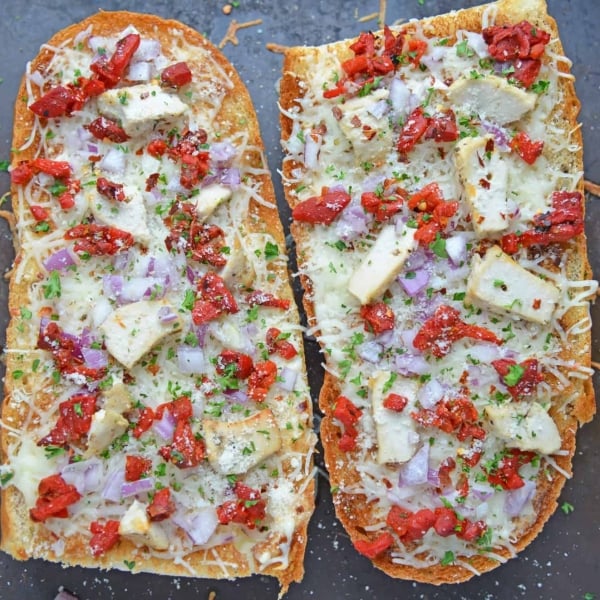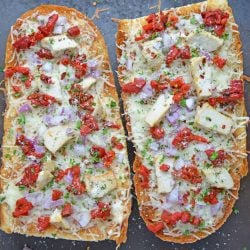 Tools for making Spicy Hawaiian Calzones:
Pizza Stone
– Pizza stones are great for more than just pizza and can be used with homemade dough or a pre-baked crust. Also use for calzones, baking bread, reheating pizza and more to keep crisper crusts.
Rolling Mat– For rolling out any dough or cookies or just protecting your counters and work space!
Wood cutting board – wood won't dull your knives like plastic and if treated properly, has natural antimicrobial properties.
Good knife – Global is my favorite! They are worth the price, I promise. I am kind of obsessed with them and store them tucked away so no one else can use them. Including hubby. Hands off my good stuff!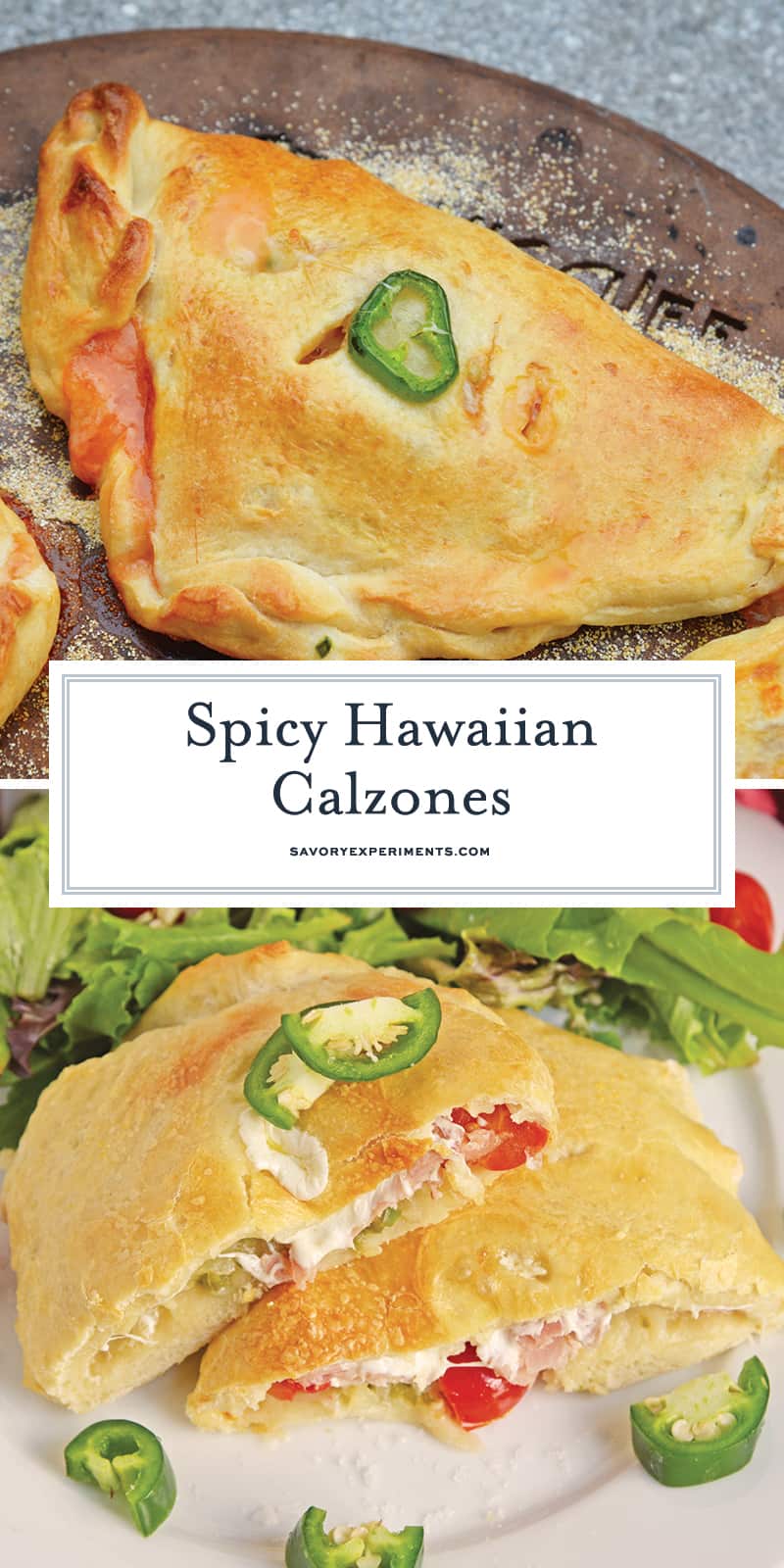 Questions you might have about how to make a calzone:
Can I freeze a calzone? You can, but not the raw dough. Bake it first, package it properly, with as little air as possible, and it should be good in the freezer for up to 4 months.
Is calzone dough the same as pizza dough? Yes! The two are one in the same.
Why don't you make your own pizza dough? Pizza dough…. GOOD pizza dough, is actually fairly difficult to make and there are several different kinds. There are two things I despise making from scratch and those are pizza dough and pie crust.
Generally, my grocery store has a pretty solid pizza dough freshly made that day in the deli section. Ask and yours might too. Otherwise, you can find canned pizza dough near the refrigerated biscuits and cookie dough. Just because it isn't homemade dough doesn't mean it isn't a homemade pizza.
How do you reheat a calzone? The best way to reheat your calzone is by reheating the pizza stone on 350 and baking for about 5 minutes. But of course you can also microwave it.
Can I grill a calzone? Be my guest! You will need a pizza stone. Heat it along with the grill on direct medium-high heat. Dust it with cornmeal to prevent sticking. Place your calzone on on the pizza stone, close the lid and allow it to cook/bake for about 15 minutes, then check on it.
There are so many variables when cooking on a grill and often you can not control the temperture as accurately as with an oven, so cooking times will vary. Check the top and the bottom to see you your dough is a golden brown.. When it is and you can knock on the top and hear a hollow sound, your calzones are done!
What does calzone mean? There is no literally translation, but the definition is "a pizza folded in half", hence the half moon shape.
What if I don't have a pizza stone? That is fine! Simply use a baking sheet. I highly recommend heating it in the oven while it preheats.
Can I use fresh pineapple instead of canned pineapple? Yes, by all means, go for it! Just follow the same advice above about the juicy factor.
Can I add pizza sauce? Add pizza sauce if you'd like, but make sure it is a thin coat. In fact, if you really want it, I suggest serving it on the side for dipping. This adds even more moisture and can prevent the crisp.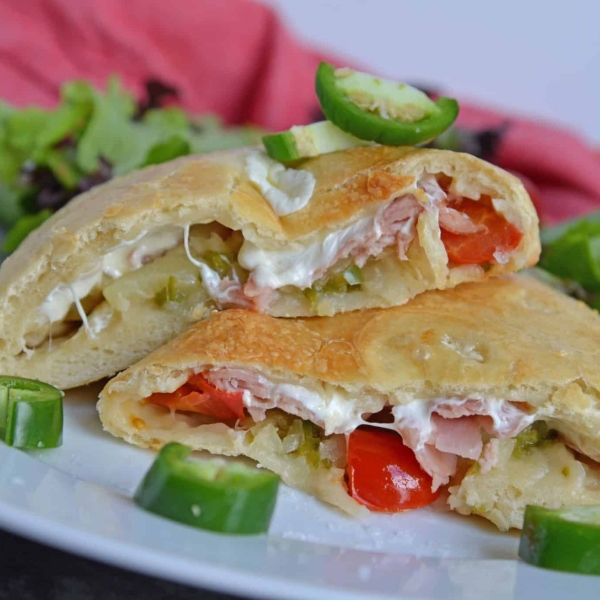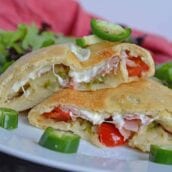 Spicy Hawaiian Calzones
Spicy Hawaiian Calzones are an easy calzone recipe that will help you make the perfect calzone from the comfort of your own home. Pineapple, ham and jalapeños make these rock!
Instructions
Preheat the oven to 400 degrees. If using a pizza stone, place into the oven while preheating.

In a medium mixing bowl, combine ham, pineapple, red onion, jalapeños and mozzarella cheese. Mix well.

Roll out pizza crust to about 16×12 inches, or as close as you can get it without tearing. Slice into quarters.

Equally spoon tomato sauce on each quarter. Top with ham mixture. Fold and seal edges. Cut 3 slits through the top to allow steam to release.

Spread cornmeal onto heated pizza stone or lightly greased baking sheet. Place calzones onto pizza stone/baking sheet.

Bake for 15 minutes, or until tops are light brown. Remove and allow to cool slightly before serving with a side of additional tomato sauce.

If you've tried this recipe, we would love for you to come back and leave us a comment or let us know of any modifications!
Nutrition
Calories:
722
kcal
,
Carbohydrates:
62
g
,
Protein:
23
g
,
Fat:
41
g
,
Saturated Fat:
16
g
,
Cholesterol:
57
mg
,
Sodium:
980
mg
,
Potassium:
353
mg
,
Fiber:
4
g
,
Sugar:
11
g
,
Vitamin A:
665
IU
,
Vitamin C:
18.2
mg
,
Calcium:
329
mg
,
Iron:
3.2
mg