Amazing Eggless Cookie Dough Recipes
Calling all cookie dough lovers! Not only are these cookie dough recipes safe to eat, but they're out-of-this-world delicious, too!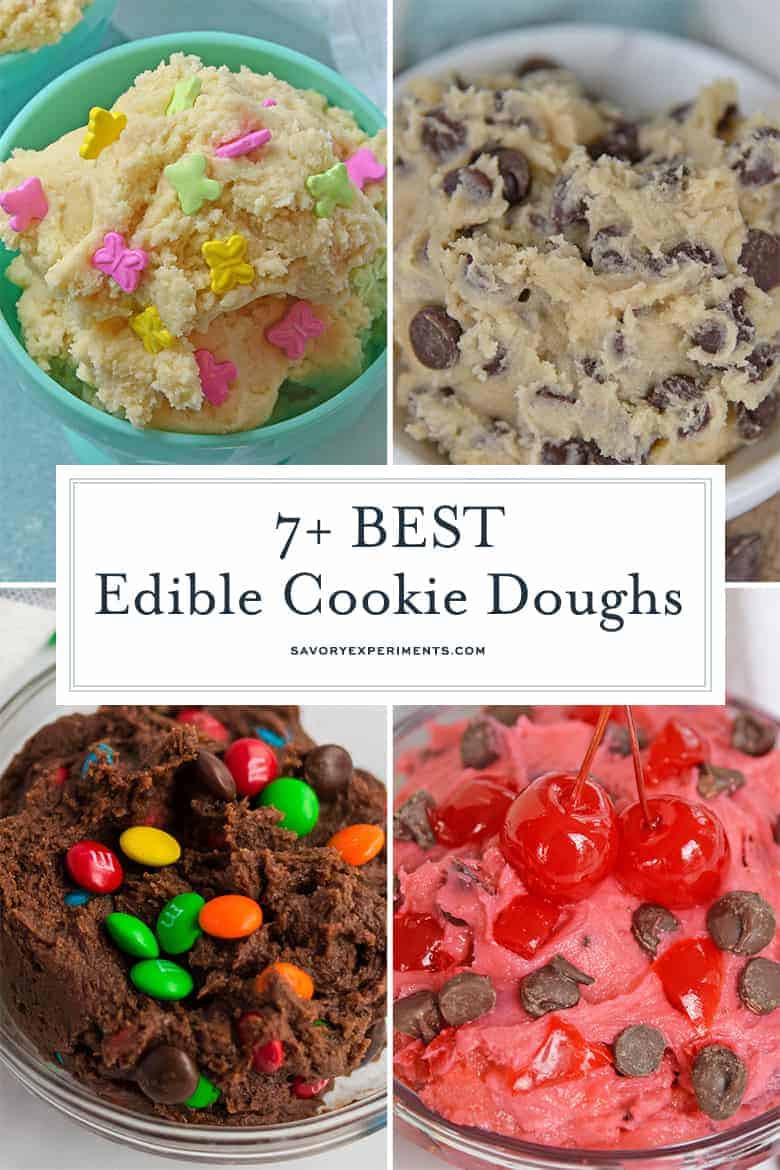 With so many flavors and types to choose from, these Edible Cookie Dough recipes can't be beat! You will want to eat cookie dough for dessert every day!
If you've been following along for any length of time, you know how much I LOVE cookie dough! And being that it isn't the healthiest or most safe snack when it's raw out of the tub, I needed to come up with a recipe of my own!
That one recipe for classic cookie dough fueled my love even more! Now I have several recipes and am always on the lookout for more.
These Edible Cookie Dough Recipes range from classics to fun flavors like cherry, and I've even added some recipes that use cookie dough at the end, too! You are going to have a hard time deciding which one to try first!
Edible Cookie Dough Recipe with Chocolate Chips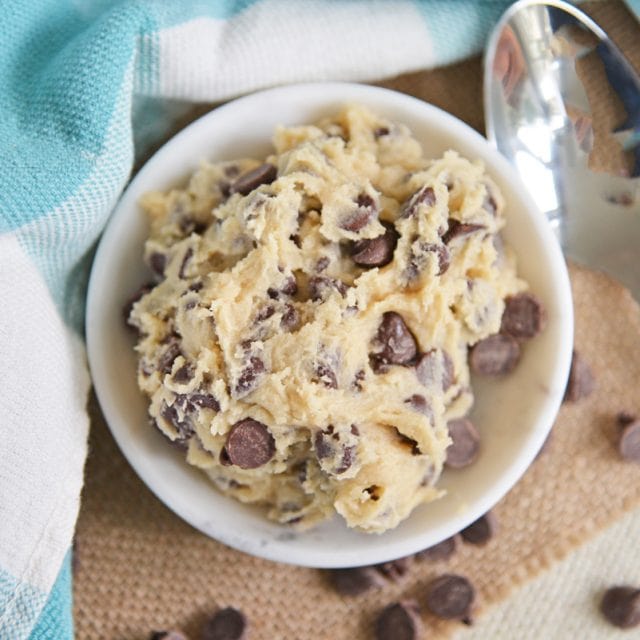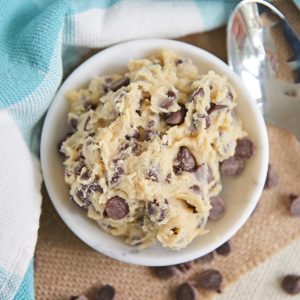 Edible Cookie Dough is the perfect single serving cookie dough to satisfy your cravings without using eggs.
Single Serve Sugar Cookie Dough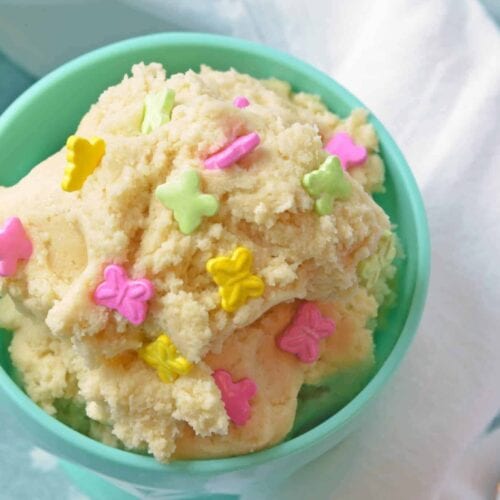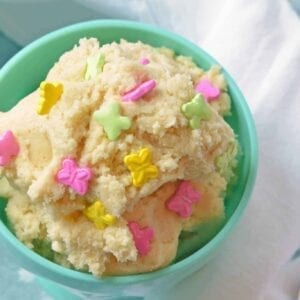 Desserts for one don't get easier than this edible sugar cookie dough. With only a few ingredients, it's an easy dessert when you need a little pick me up!
Eggless Edible Chocolate Cookie Dough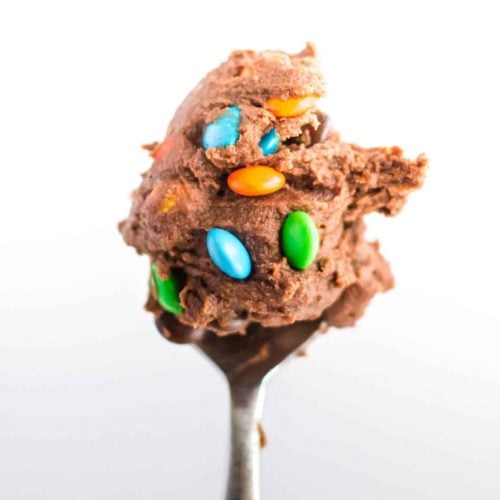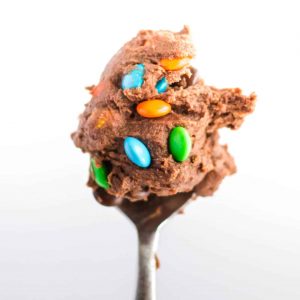 When it comes to edible cookie dough, this Edible Eggless Chocolate Cookie Dough recipe is the best! Just mix the ingredients and you're done!
Edible Cherry Chocolate Cookie Dough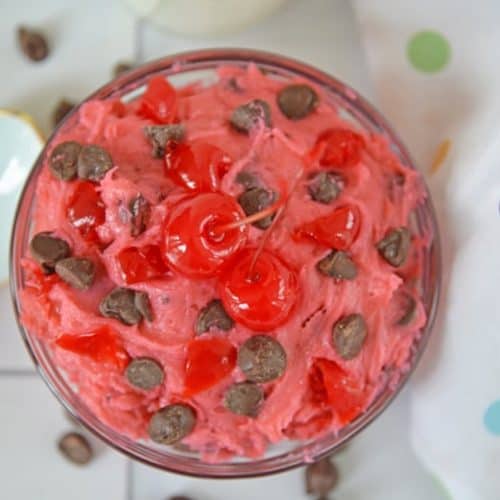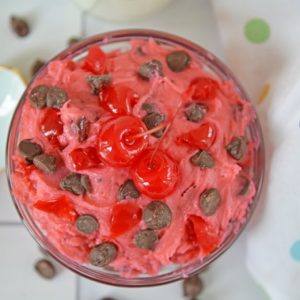 Edible Cherry Chocolate Cookie Dough is a single serving eggless cookie dough made with chocolate chips and maraschino cherries.
Single Serve Peanut Butter Cookie Dough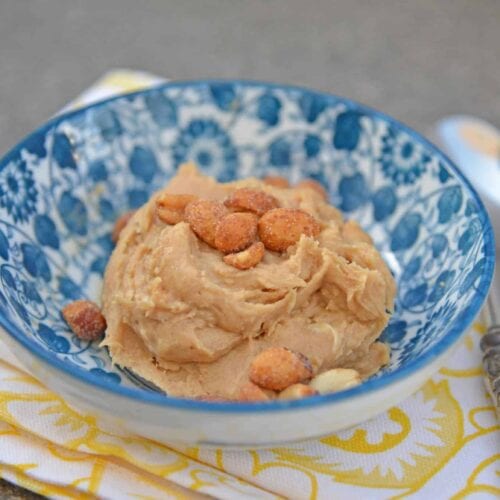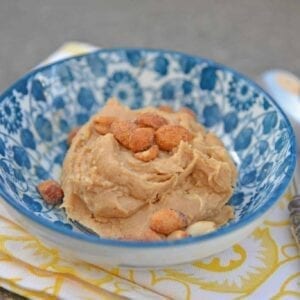 Indulge in small bowl of heaven: eggless single serve peanut butter cookie dough. You know you want some.
Funfetti Edible Cookie Dough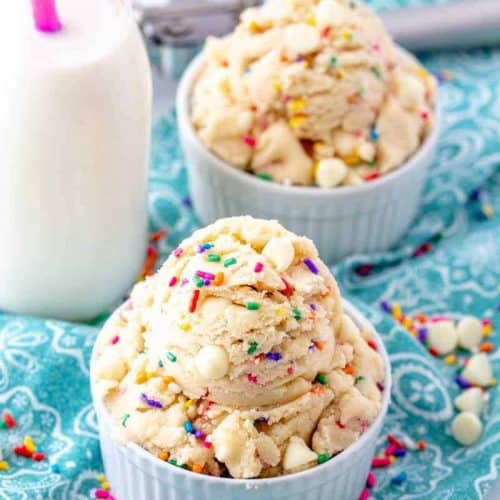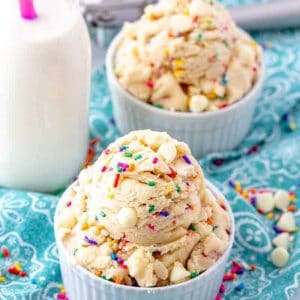 Sprinkles make everything more fun, and that is totally true when it comes to this Funfetti Edible Cookie Dough! It's full of colorful sprinkles and white chocolate chips, making it fun for any occasion!
Edible Cookie Dough with Snickers Bites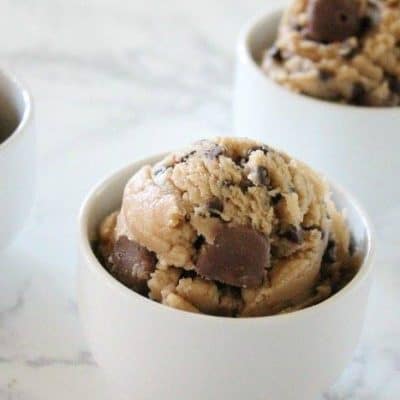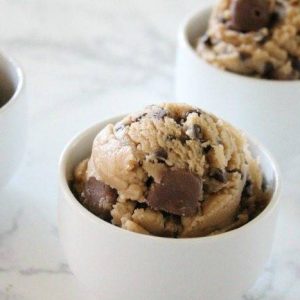 Why not add even more deliciousness to your cookie dough by adding candy bar pieces? That's exactly what this Edible Cookie Dough with Snickers Pieces does! You could even customize it with other candy bars if you'd like.
If you liked these Edible Cookie Dough recipes, check out these other recipes that use cookies dough:
Is Edible Cookie Dough Safe?
Edible Cookie Dough is safe if you've not used eggs and you use heat treated flour.
Where can I buy edible cookie dough?
You can buy it just about any place you buy groceries these days, but it is overpriced. Your best bet it is to make it yourself!
Why does cookie dough taste better than actual cookies?
Because it is more concentrated is the usual answer. Personally, I like the texture difference that is a little grainy from the sugar.
How do you make cookie dough less grainy?
If you don't like the graininess in your cookie dough, give the white sugar a whisk through a sifter to get out the larger pieces. You might consider dissolving the brown sugar in liquids (milk and vanilla) before adding other ingredients.
More questions you might have about how to make eggless cookie dough for one:
Is raw cookie dough safe during pregnancy?
I am not a medical physician, so this is not medical advice, however since this is cookie dough is egg free and if you treat the flour, it should be okay to eat.
I ate it while pregnant if that helps you out at all.
To treat your flour: Raw flour can contain E. Coli, to prevent this, pasteurize it at home. Microwaving is the quickest way. Place raw flour into the microwave (flour alone, not the dough) and heat on high for 20- 45 seconds.
Please be mindful that all microwaves are different. Watch the flour closely so it doesn't burn. You can also put it in the oven on 350 for 5ish minutes.
Is edible cookie dough vegan?
Some recipes for edible cookie dough may be, but since mine contains butter, it is not.
Is no-bake cookie dough healthy?
I am going out on a limb here and telling you no, edible cookie dough is not healthy by any standard, however I beleive that you are fine eating anything in moderation.
Can edible cookie dough be baked?
You can bake it all you want, but since there aren't eggs or leveaners, it won't amount to much. You can try our Chocolate Chip Mug Cookie.
Does raw cookie dough need to be refrigerated?
Yes, please refrigerate until ready to eat. Keep your cookie dough covered.
How long does edible cookie dough last?
Mine cookie dough recipe doesn't contain any preservatives or additives, so it doesn't last long.
However, since it also doesn't make much, I'm not sure how much will be left over. I'd say about 1-2 days, covered, in the fridge.
How to make edible cookie dough without butter?
My edible cookie dough recipe calls for butter. I suppose you can use a vegan butter, but quite frankly, it is a pinnable of the recipe and I am not sure how good it will be without it.
Can you freeze eggless cookie dough?
This is more of a cookie dough truffle and the answer is yes, but you might need to add slightly more flour in order to roll them into balls.
Roll them into balls and then place them in an airtight plastic bag. They should be good for up to 6 months. Check out more information on how to freeze food properly HERE!
My cookie dough is soupy, why?
I'm going out on a limb to say you melted the butter. Melted butter is the number one cause of yucky cookie dough.
It changes the texture and consistency and forces you to add more flour to avoid cookie dough soup, only this makes the texture gritty and well, flour-y.
What is the difference between vanilla extract and vanilla flavoring?
Pure vanilla extract comes from pure vanilla beans whereas vanilla flavoring is just flavored water.
Vanilla extract is typically much more expensive because vanilla pods are pricey. You can use either in this recipe.
Can I use this eggless cookie dough for ice cream?
You can totally use this cookie dough recipe for ice cream. Simply freeze little nuggets of the prepare cookie dough and fold them into your ice cream after they are set.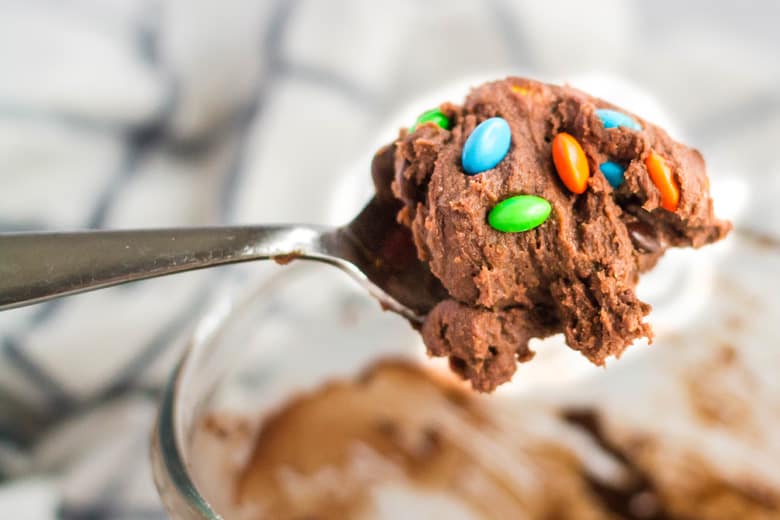 Tools for making Edible Cookie Dough:
Mixing Bowls– make sure to check out my article on Using the Right Mixing Bowl, you'd be surprised how many people aren't!
Measuring Spoons – Every kitchen needs them, might as well have cut ones!
Spatulas– we all need a variety of spatulas from hard to soft and small to large!
CONNECT WITH SAVORY EXPERIMENTS!

Be sure to follow me on social media, so you never miss a post!

Facebook | Twitter | Youtube
Pinterest | Instagram
Get our FREE 8 Day E-Course on How to Be a Better Home Cook. Sign up HERE!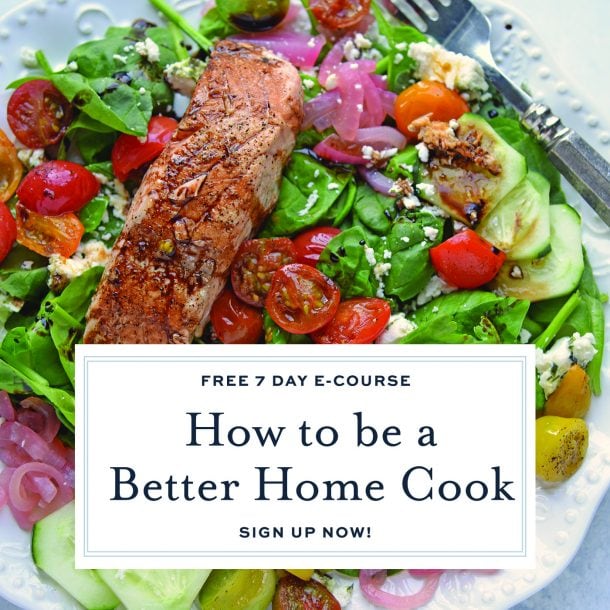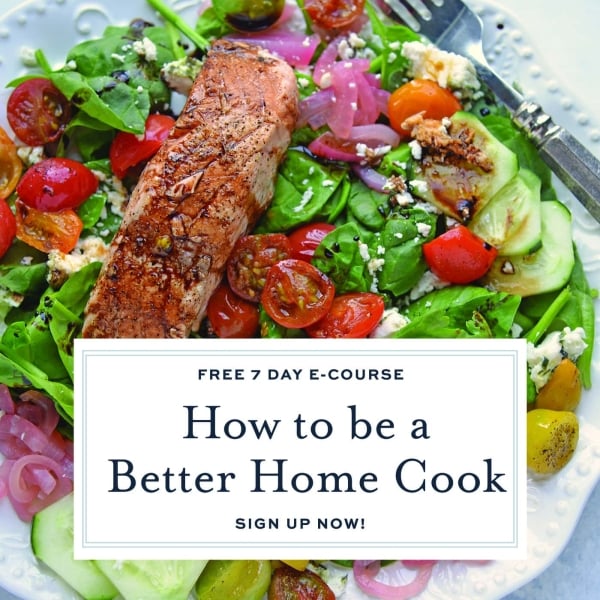 We are also excited to announce that we were listed as one of the top 20 food blogs in Baltimore by FeedSpot!