This is a sponsored post written by me on behalf of Smithfield® Marinated Fresh Pork. The opinions and text are all mine.
Crispy Pork Tacos are going to be your new family favorite go-to recipe! Summer is finally here. Does it seem like it took forever to get warm to anyone else? Some days I'm not even sure it is really spring.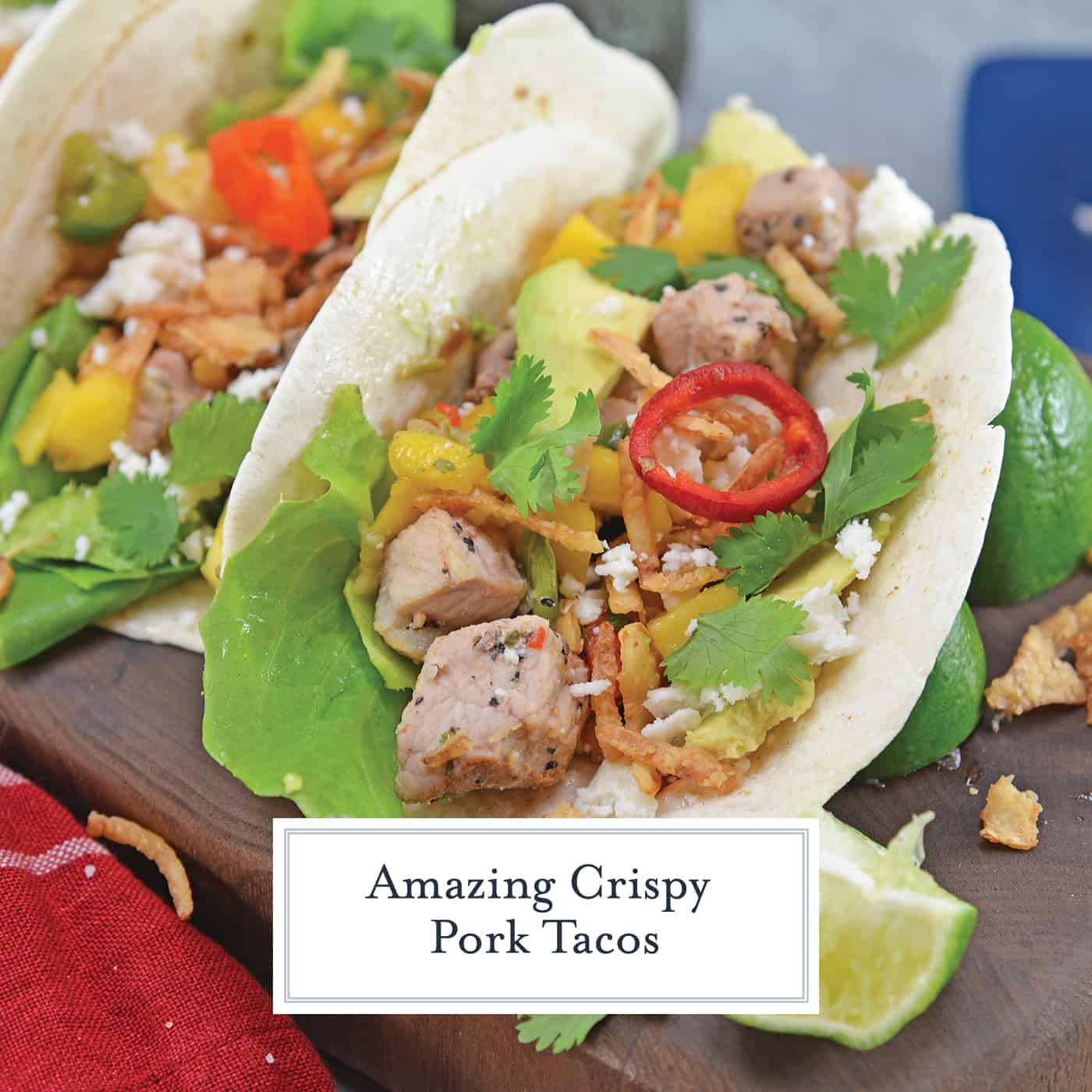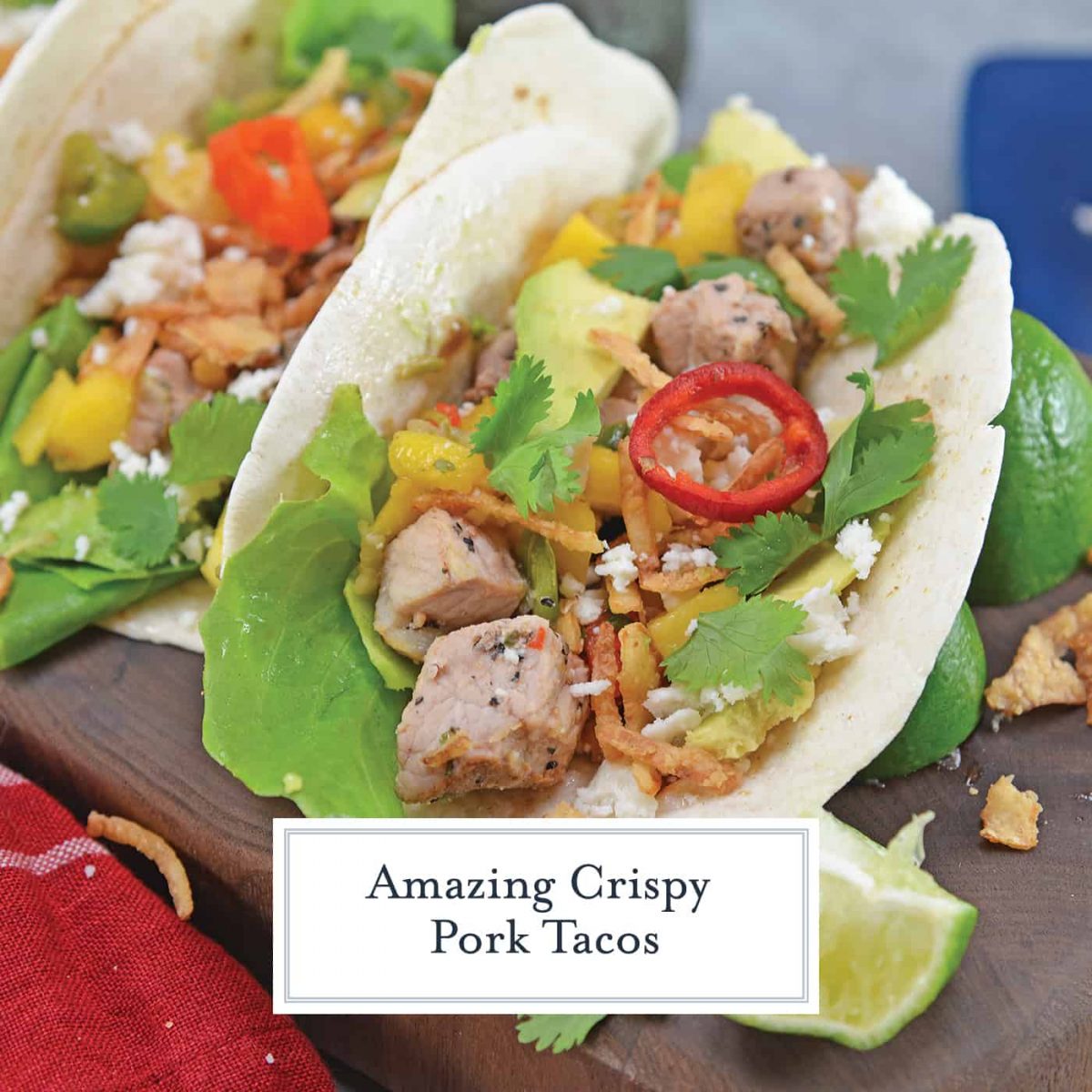 Crispy Pork Tacos are soft tacos filled with mango salsa, cool avocado, crumbly queso fresco, butter lettuce and crispy onion straws.
But alas, the calendar says it is time for long days of sunlight, outdoor activities and family vacation. For many families this also means they need fast dinner recipes that everyone will enjoy!
One of my favorite ways to provide wholesome, flavorful meals in no time at all is by using Smithfield Marinated Fresh Pork from my local Safeway.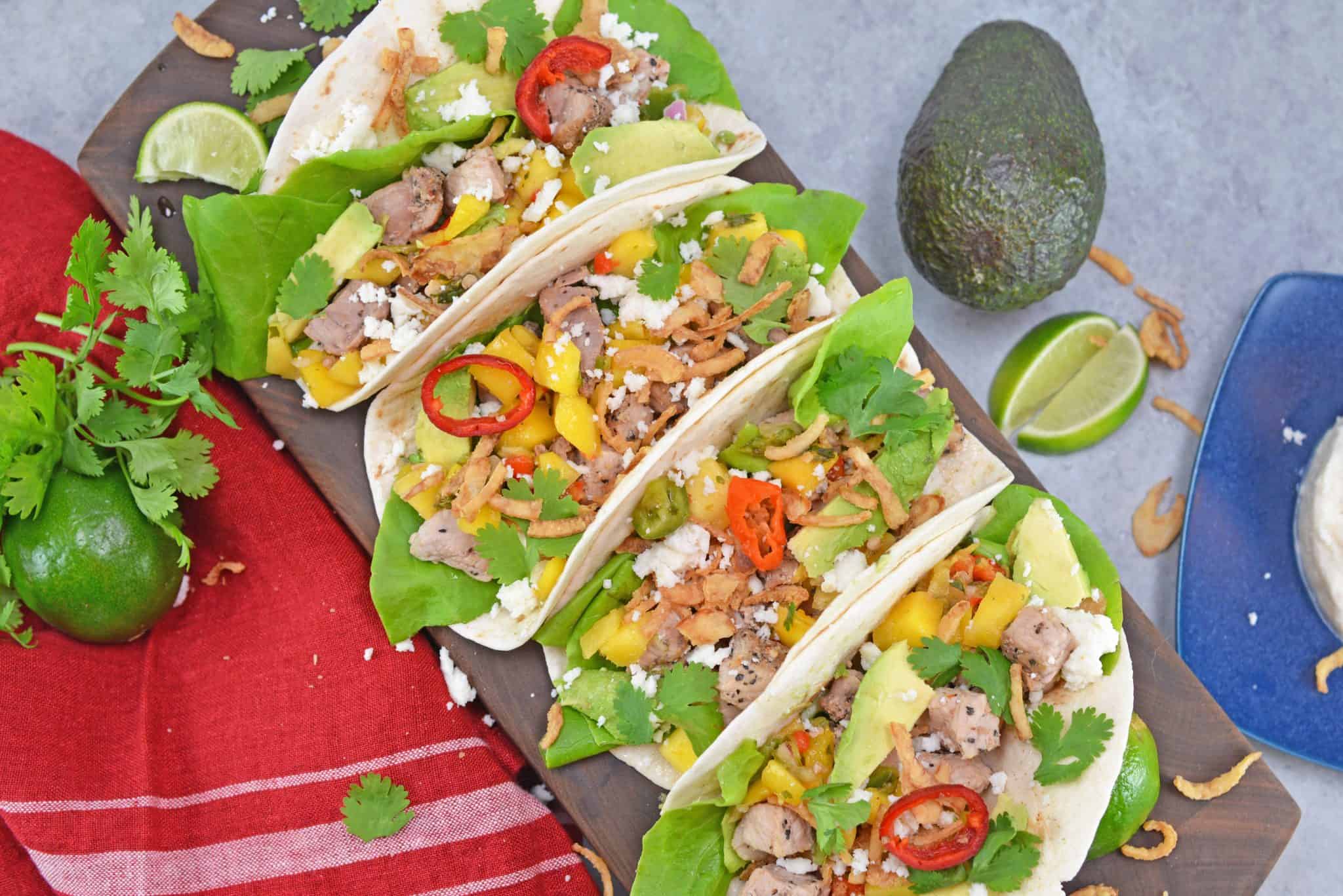 Smithfield Marinated Fresh Pork creates real flavor, real fast because it is slowly marinated in a variety of delicious flavors and preferred cuts.
Simply roast, sauté, grill or slow cook Smithfield Pork for a delicious family meal, or get a little adventurous and whip that tender pork into a creative meal, like my Crispy Pork Tacos.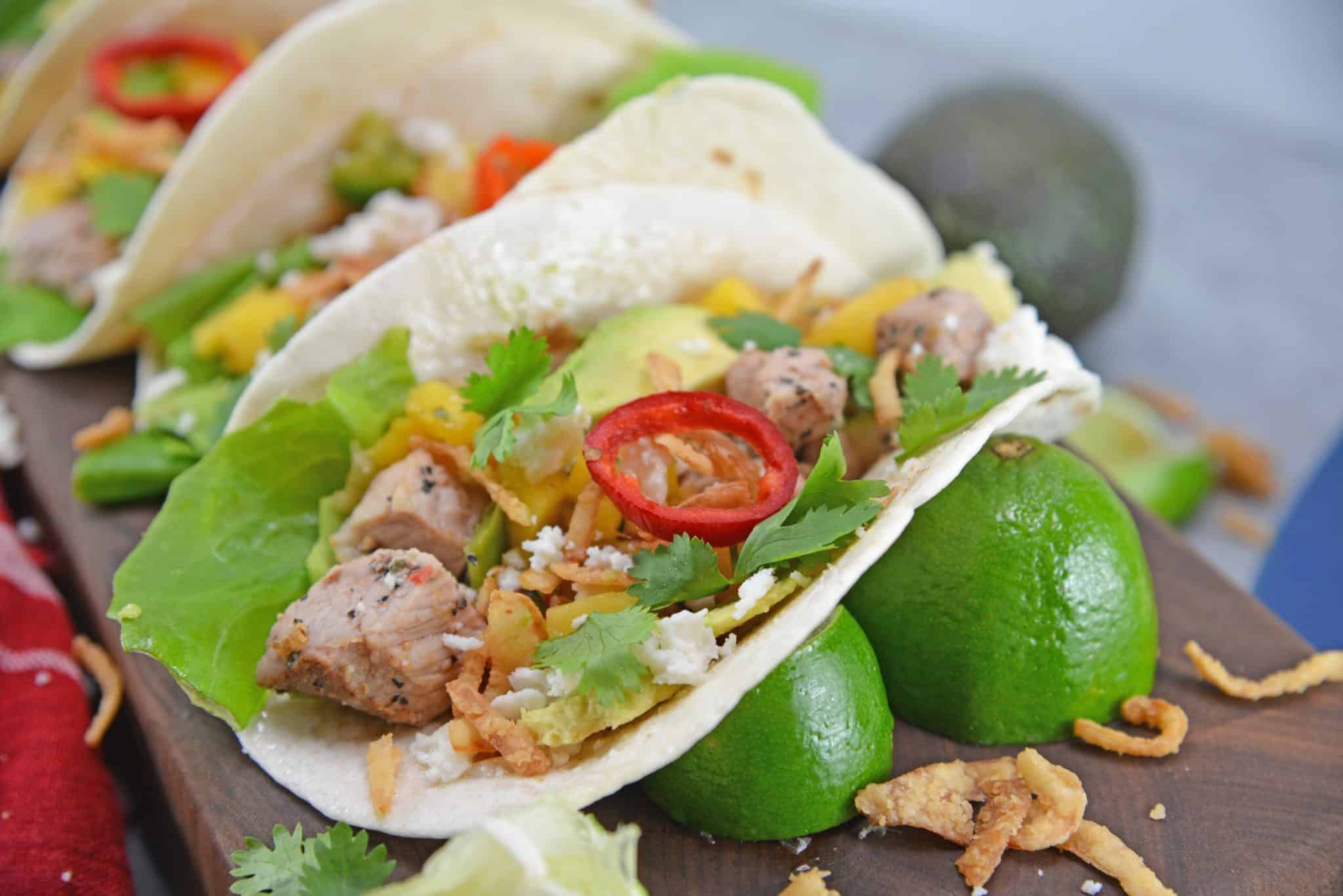 Crispy Pork Tacos are soft tacos, so why did I call them crispy? Well, I added lightly salted onion straws to give them some pizzazz and a little crunch!
And instead of sticking with traditional tacos flavors, I opted for combining a Smithfield Roasted Garlic & Cracked Black Peppercorn Pork Sirloin with fresh and sweet mango salsa.
PRO TIP: Heat tortillas and baste with vegetable oil spiced with cumin, chile powder or lime zest. It is another way to add flavor and also keep your tortillas soft.
A simple mix of fresh mango, roasted red pepper, red onion, cilantro and lime juice goes a long way and pairs perfectly with the zesty profile of cracked black pepper and garlic.
Add creamy and cool avocado, more fresh lime juice and crumbly queso fresco for the ultimate pork taco!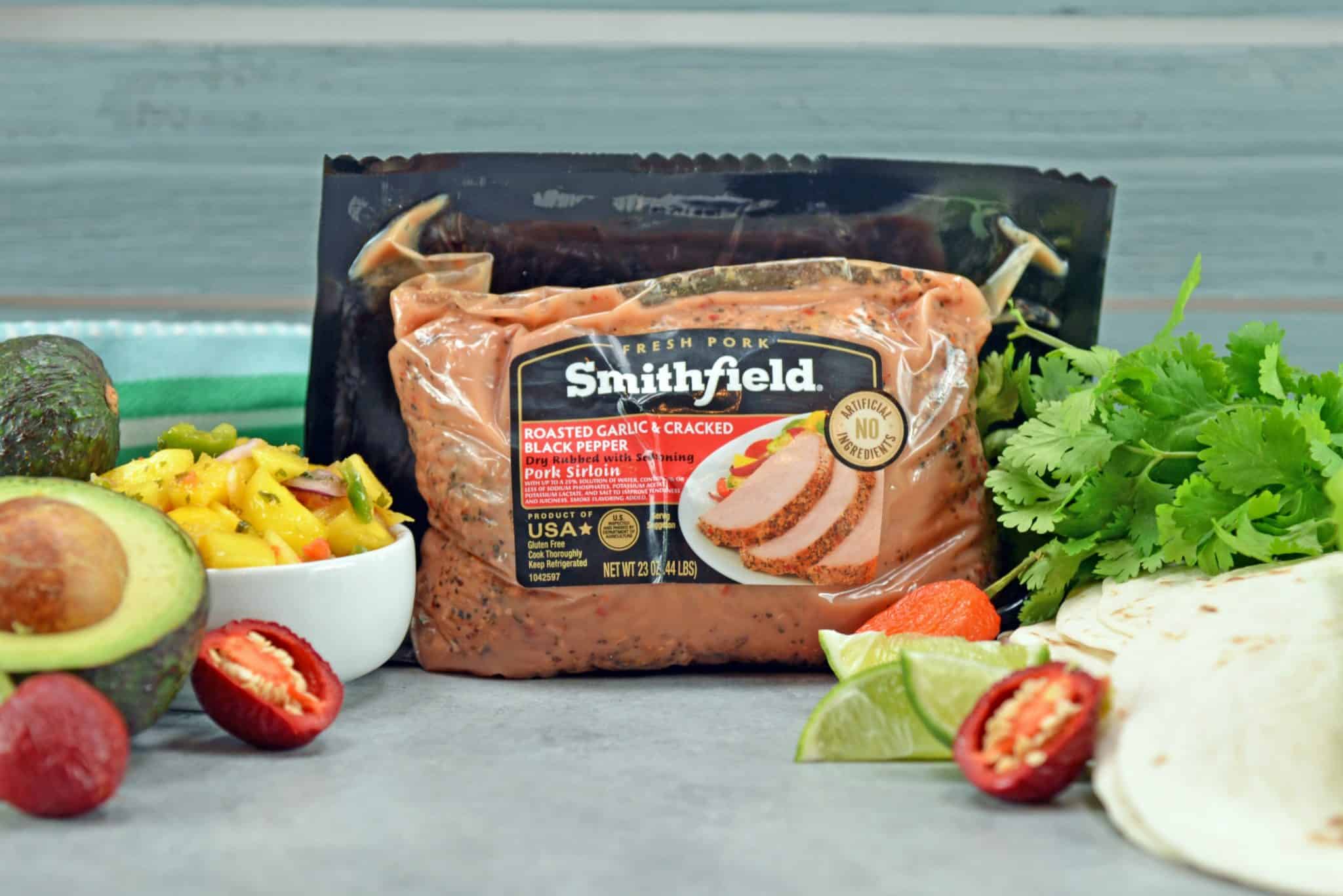 The best part? These Crispy Pork Tacos are ready in 30 minutes or less and are perfect for any night of the week. And Smithfield Marinated Fresh Pork is 100% fresh pork with no artificial ingredients. I like being able to feed my family products I feel good about.
Mango salsa and onion strings can be purchased pre-made, but I prefer to make my own and like to pick up all my essentials when I visit Safeway. One batch of it will last my family a whole week and can be used in a variety of ways!
Smithfield Marinated Fresh Pork is so versatile that I always keep a few in my freezer for quick meals. Right now I have Garlic & Herb, Teriyaki and Smoked Mesquite all stashed away to be made into tasty dinner creations.
In fact, you can check out my One Pan Garlic Herb Pork and Teriyaki Pork Skewers for even more ideas on how to make dinner real flavor, real fast!
Here are even more easy pork recipes you might enjoy!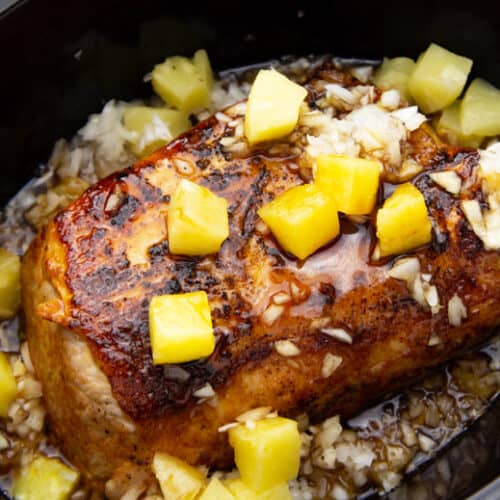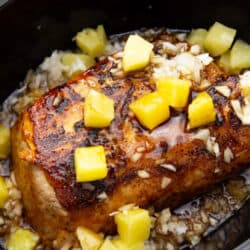 Hawaiian Pork Loin Recipe (Slow Cooker Recipe)
Bring the island flavors to the table with this simple, slow cooker Hawaiian Pork loin made with pantry staples and finished with an easy to make sauce.
View this recipe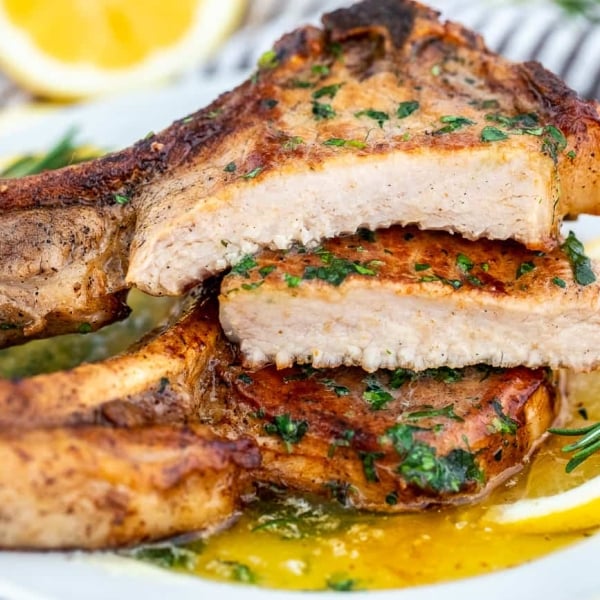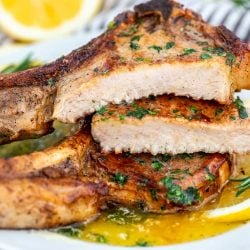 Best Pork Chop Brine
This step-by-step guide will show you how to brine pork chops, tips for a juicy pork and the best pork brine recipe!
View this recipe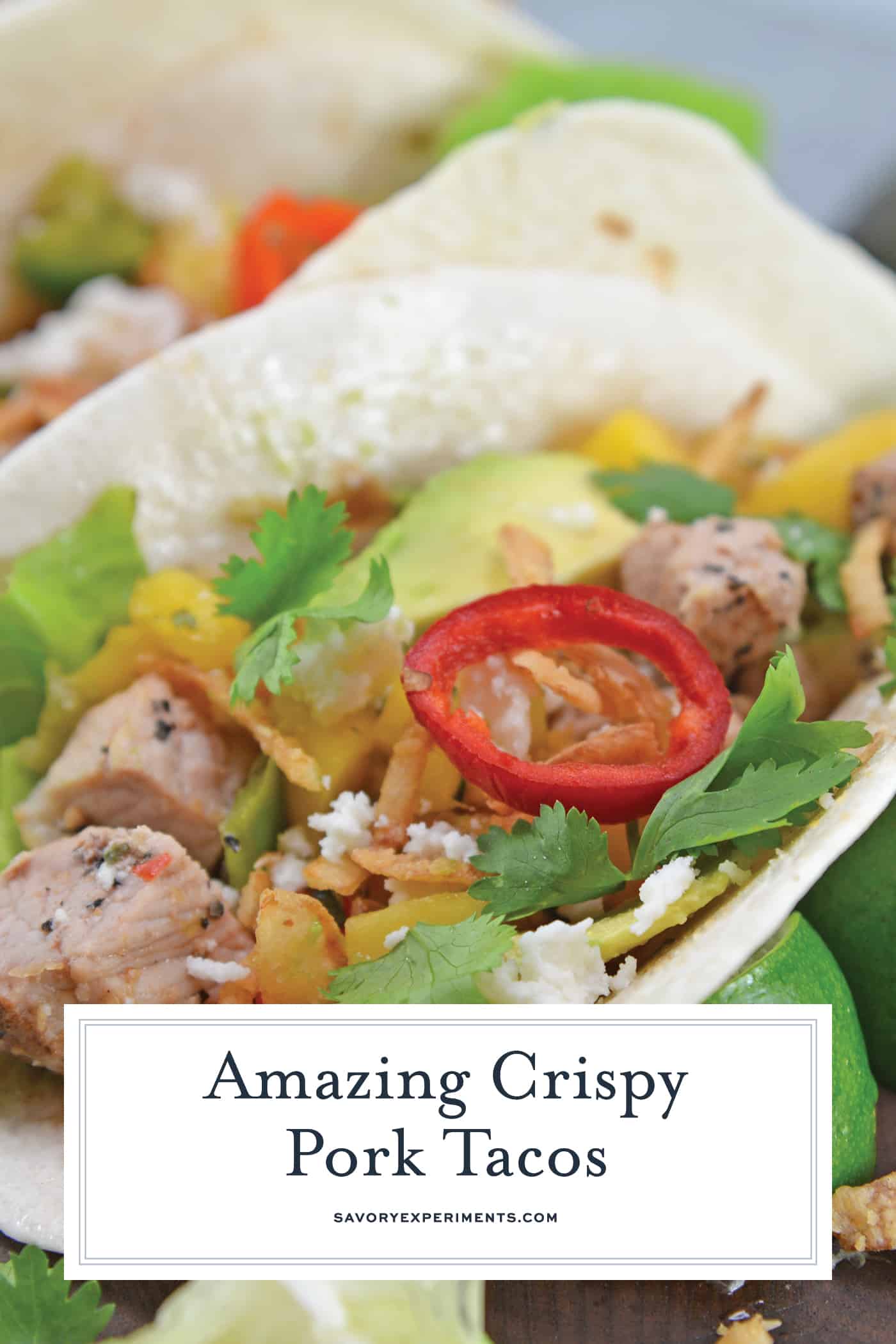 Tools for making homemade tacos:
Wood cutting board – wood won't dull your knives like plastic and if treated properly, has natural antimicrobial properties.
Good knife – Global is my favorite! They are worth the price, I promise. I am kind of obsessed with them and store them tucked away so no one else can use them. Including hubby. Hands off my good stuff!
Tortilla Warmer– This handy little buddy will keep your tortillas and soft and warm.
Heavy Bottom Frying Pan– this will be one of your most used kitchen tools. Having something that is heavy bottom will distribute heat better and prevent burning whether you are using an electric or gas range.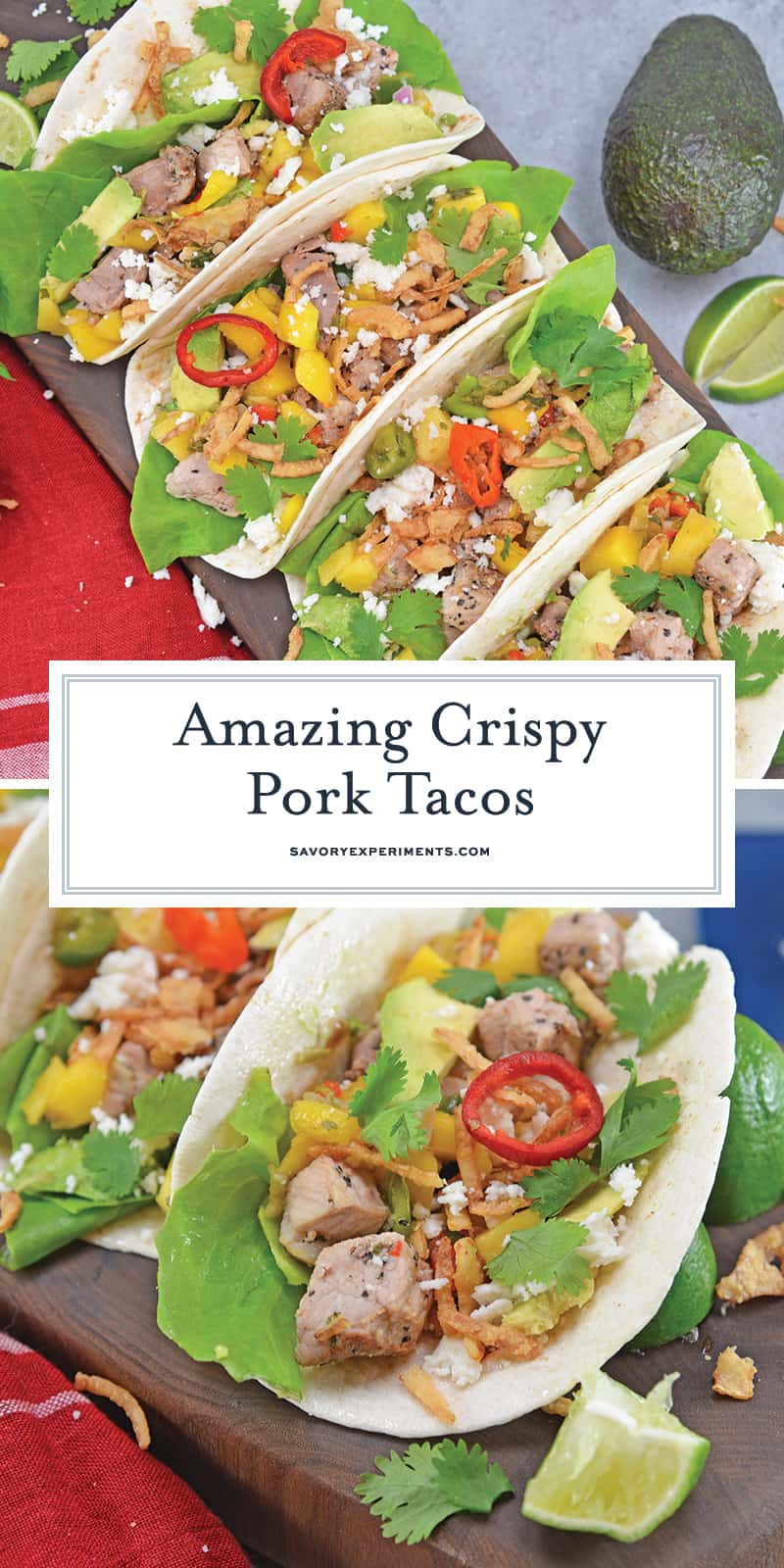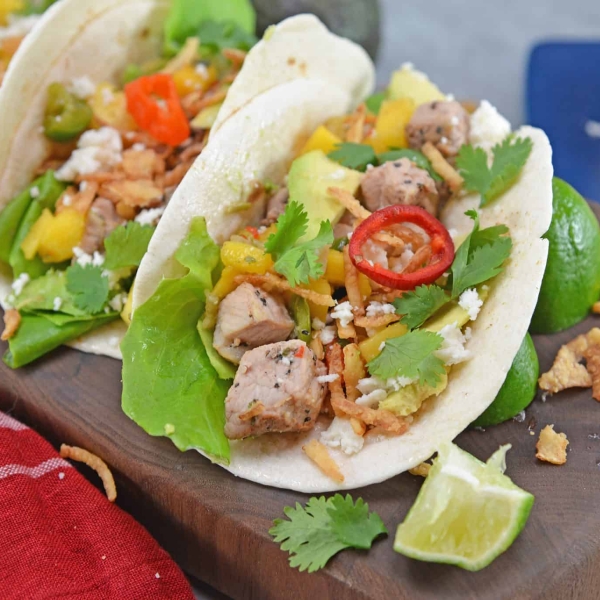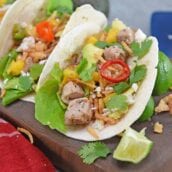 Crispy Pork Tacos
Crispy Pork Tacos are soft tacos filled with mango salsa, cool avocado, crumbly queso fresco, butter lettuce and crispy onion straws.
Instructions
Heat a large skillet over medium-high heat with 1 tablespoon vegetable oil. Add cubed Smithfield Roasted Garlic & Cracked Black Peppercorn Pork Sirloin. Toss to cook, approximately 8-10 minutes depending on how small your pork cubes are. Remove to a paper towel lined plate to drain.

In a small bowl, mix remaining 1 tablespoon vegetable oil with coriander, whisking to combine. Baste onto one side of each tortilla.

To prepare your Crispy Pork Tacos, lined each basted tortilla with a Butter or Bibb lettuce leave. Evenly divide cubed Smithfield Roasted Garlic & Cracked Black Peppercorn Pork Sirloin into each tortilla. Top with mango salsa, queso fresco, avocado, onion strings and garnishes, if desired. Serve immediately.

If you've tried this recipe, come back and let us know how it was!
Nutrition
Calories:
739
kcal
,
Carbohydrates:
55
g
,
Protein:
54
g
,
Fat:
32
g
,
Saturated Fat:
13
g
,
Cholesterol:
129
mg
,
Sodium:
918
mg
,
Potassium:
1164
mg
,
Fiber:
5
g
,
Sugar:
4
g
,
Vitamin A:
195
IU
,
Vitamin C:
5
mg
,
Calcium:
197
mg
,
Iron:
4.8
mg
Smithfield is also challenging YOU to see what you can do with Marinated Fresh Pork to get a flavorful meal ready in about 30 minutes with their "What Can You Do With 30?" contest.
For more 30-minute meal recipes, and to submit YOUR idea for a chance to win fabulous prizes, hop on over to www.SmithfieldRealFlavorRealFast.com!