Citrus Sausage Cups are an easy appetizer using smoky andouille sausage, orange zest, sweet onion and fresh thyme in a puff pastry cup.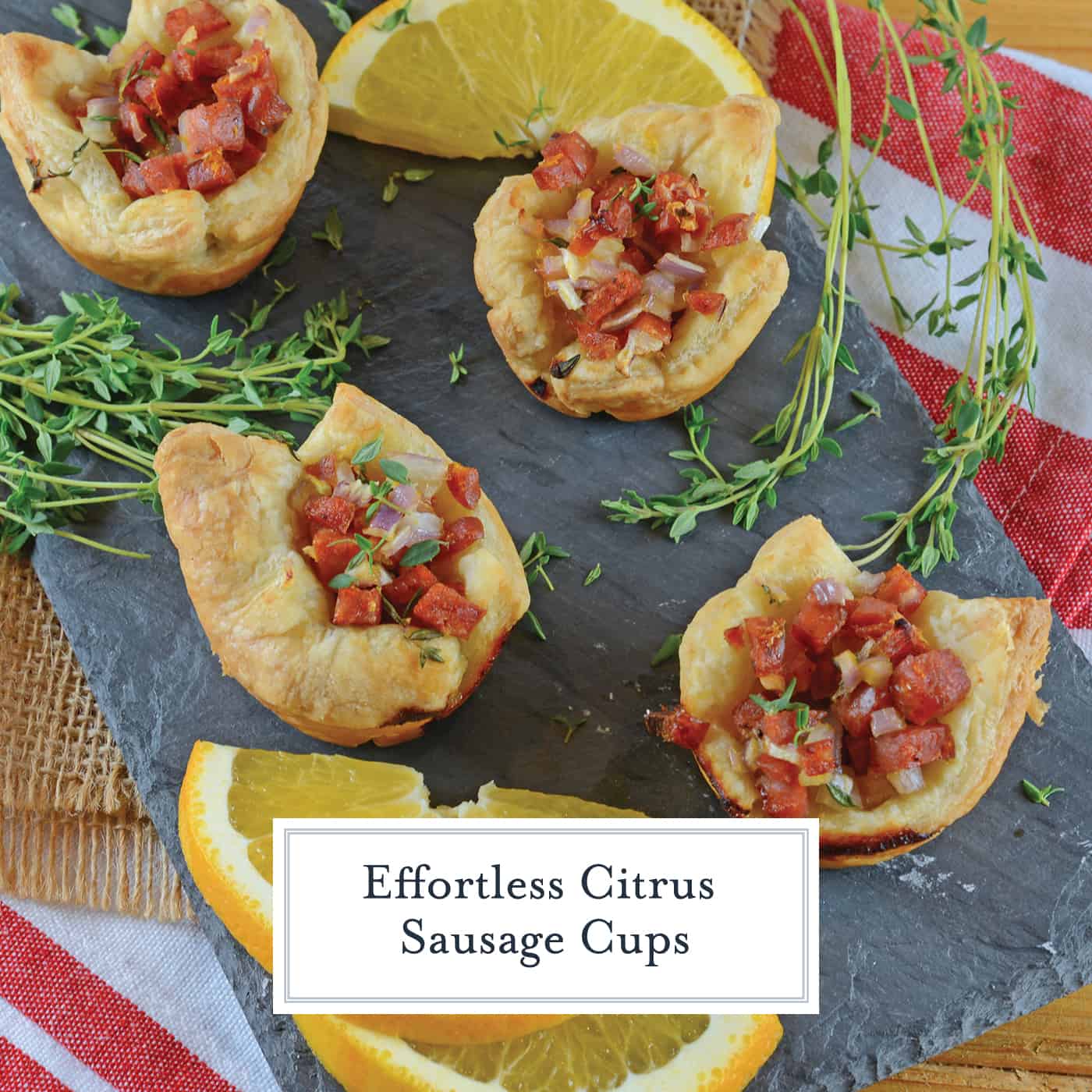 Sausage Cups
They only take 7 ingredients and 15 minutes of prep. Making these Citrus Sausage Cups the perfect holiday appetizer!
The holidays are coming again and with them, loads of parties. I tire of bringing the same old thing, I mean how many cocktail meatballs and spinach dips can you eat?
Don't get me wrong, I love both, but there is nothing worse than setting your dish down and being the 3rd of the same kind.
Finger Food
I prefer to bring small bite, single size serving items and so anything I can fit into a mini muffin tin works perfectly. They typically don't require utensils and look pretty.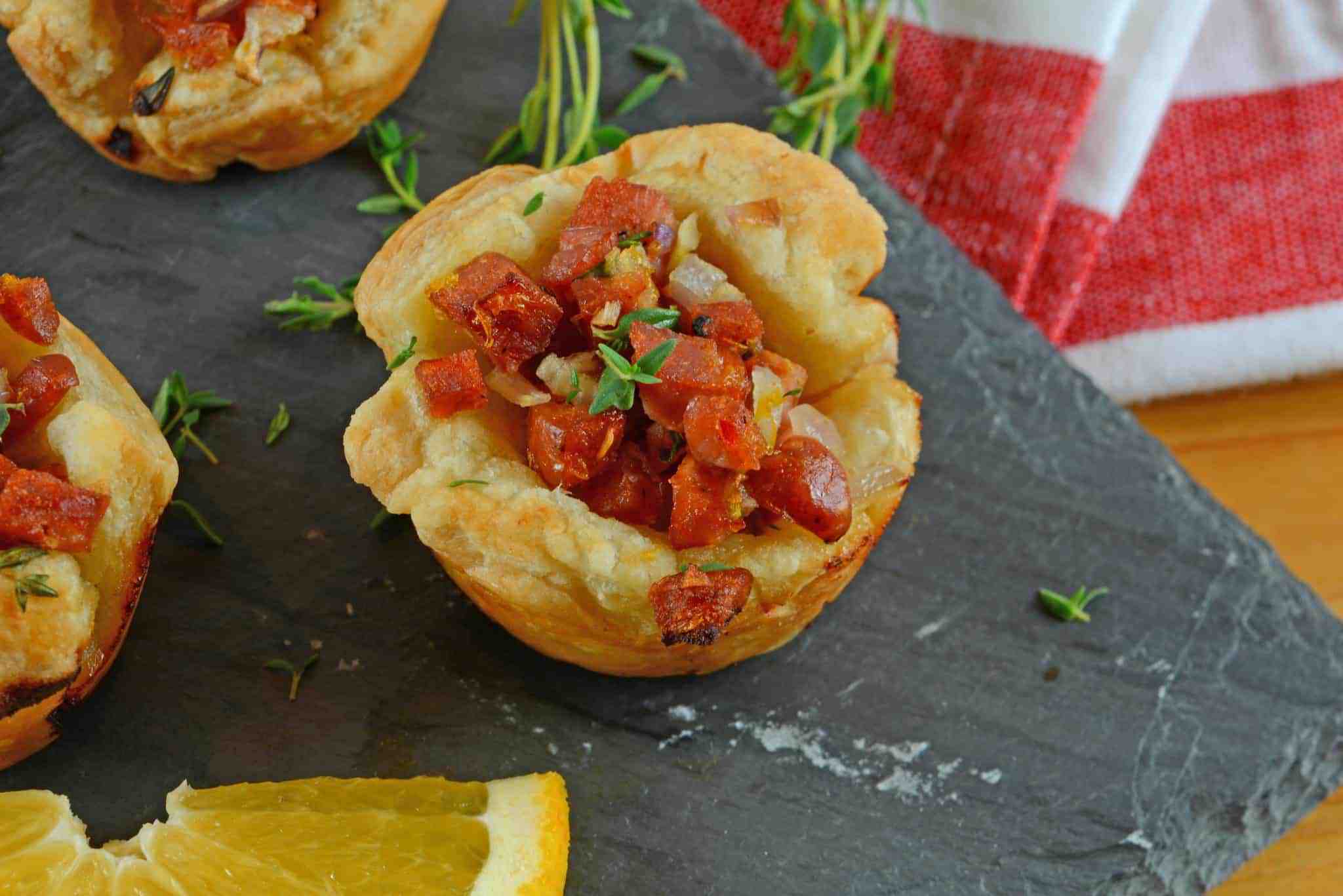 This year it was a play on a recipe I had long ago using kielbasa and orange marmalade, instead I used smoky andouille sausage and fresh orange. What seems like an unlikely combination actually complement each other perfectly.
And what herb fits perfectly? Thyme, of course! Stuff it all in a pastry puff shell and you have Citrus Sausage Cups! A unique, but easy appetizer for a party.
I was messing around with this recipe while my husband and his buddies were watching football in the other room. I made the first batch, but needed to amp up the citrus.
The second batch was gone in less than 5 minutes. I kid you not, I left them with 12 cups and came back just grabbing napkins and they were GONE.
They all just sat there with silly grins on their face.
Puff Pastry Appetizers
Puff pastry sheets are one of those things I always have in my freezer. Any old mundane ingredient turns into a work of culinary hopitication when wrapped in puff pastry.
Do look for puff pastry that has an all butter base versus shortening. I feel like the ones with shortening have a funny aftertaste, but maybe it's just me.
What You'll Need:
Mini Cupcake Tin – In order to get these cute little cups, little tartlets, if you will, you'll need a mini muffin tin. There really isn't a good substitute except a full size muffin tin.
Wood cutting board – wood won't dull your knives like plastic and if treated properly, has natural antimicrobial properties.
Mixing Bowls– You gotta have them and I love these nesting glass bowls with lids.
Good knife – Global is my favorite! They are worth the price, I promise. I am kind of obsessed with them and store them tucked away so no one else can use them. Including hubby. Hands off my good stuff!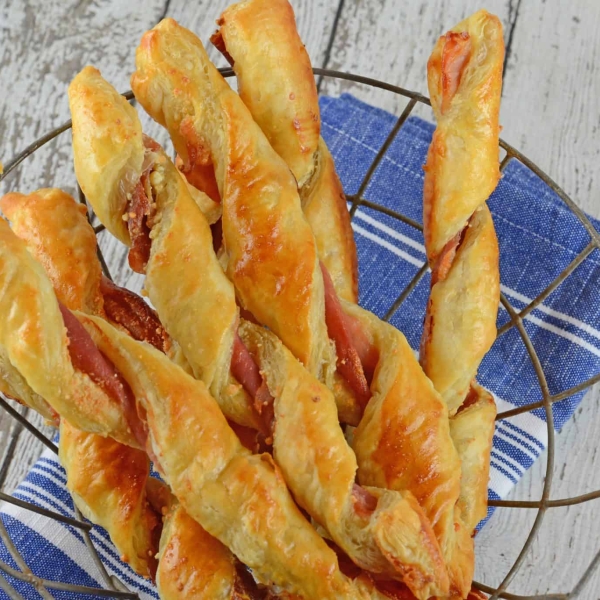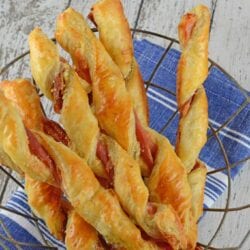 Prosciutto Parmesan Cheese Straws
Prosciutto Parmesan Cheese Straws are an easy appetizer for dinner parties, family gatherings, and game day. Or, serve them on your next spaghetti night as puff pastry bread sticks!
View this recipe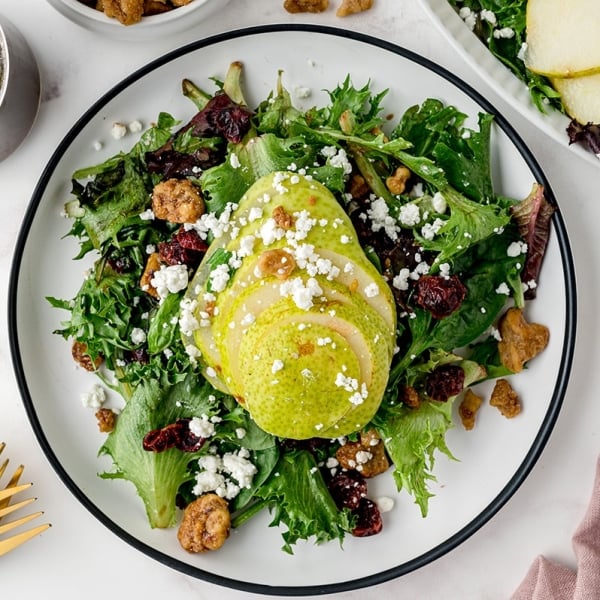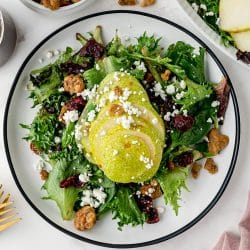 Pear Salad Recipe with Candied Walnuts
Pear Salad with Candied Walnuts is the perfect winter salad for dinner parties and holidays. Honey Balsamic Dressing and tart goat cheese make the best salad recipe!
View this recipe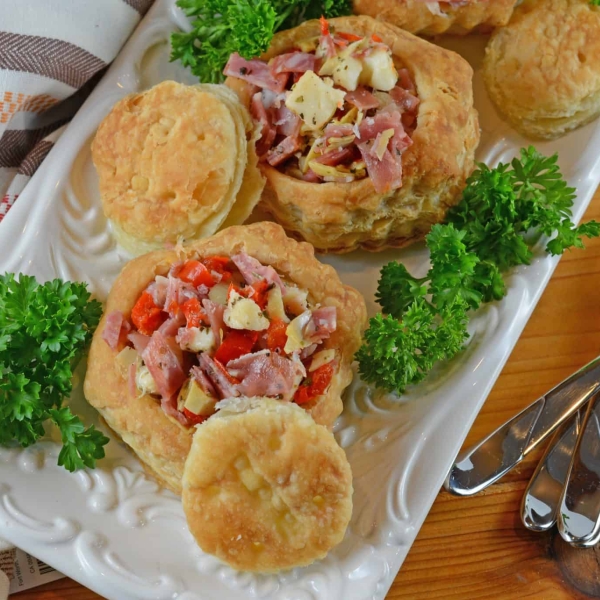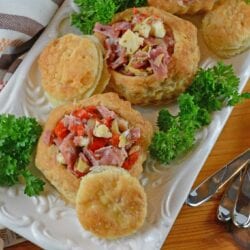 Antipasto Salad Cups
Antipasto Salad Cups are made of chopped salami, prosciutto, sopressata, mozzarella cheese, peppadews and artichokes. The best way to eat salad with your fingers!
View this recipe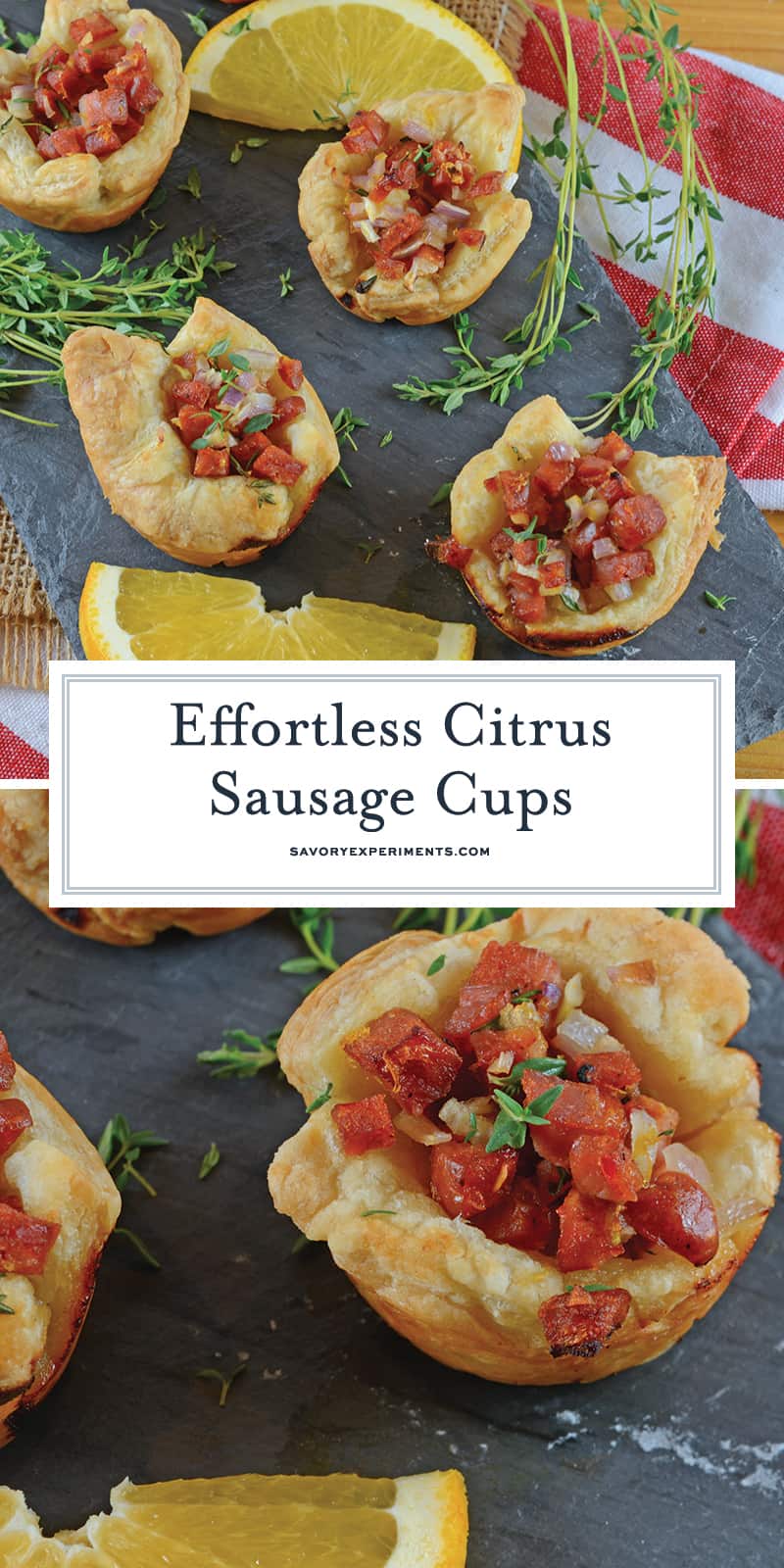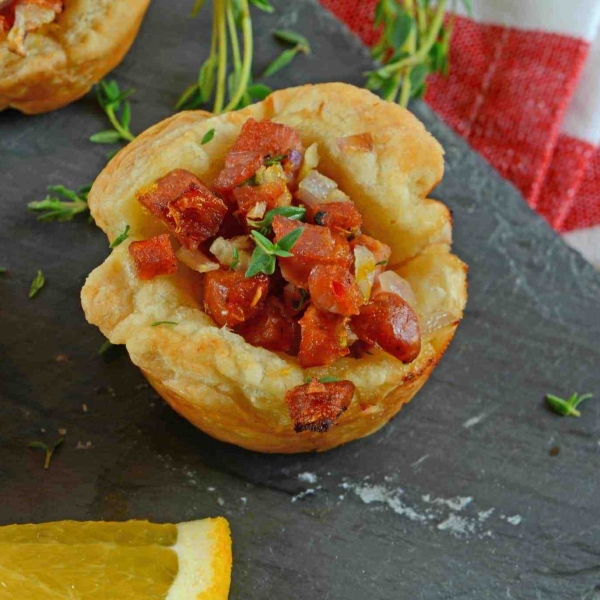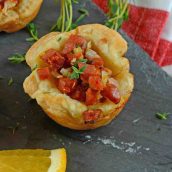 Citrus Sausage Cups
Citrus Sausage Cups are an easy appetizer using smoky andouille sausage, orange zest, sweet onion and fresh thyme in a puff pastry cup.
Instructions
Preheat oven to 400 degrees. Coat 2 mini muffin tins with cooking spray.

Carefully unfold each puff pastry sheet on a lightly floured surface.

Cut each sheet into 12 equal squares. Press each square into the tins of 2 mini muffin pans.

In a medium bowl, mix sausage through sea salt and 1 tablespoon minced thyme. Allow to sit for 5 minutes.

Spoon sausage into each cup, filling to the brim.

Bake for 15-17 minutes or until edges or golden brown.

Remove and sprinkle with fresh remaining minced thyme. Serve hot and enjoy your Citrus Sausage Tartlets!

If you've tried this recipe, come back and let us know how it was!
Nutrition
Calories:
147
kcal
,
Carbohydrates:
10
g
,
Protein:
3
g
,
Fat:
10
g
,
Saturated Fat:
2
g
,
Cholesterol:
7
mg
,
Sodium:
184
mg
,
Potassium:
54
mg
,
Vitamin A:
35
IU
,
Vitamin C:
2.1
mg
,
Calcium:
7
mg
,
Iron:
0.8
mg