Meet one of my favorite week night meals, Cheesy Chicken Casserole! Make ahead and have enough leftovers for lunch!
My husband makes fun of me because I don't like to mix my foods. As a child I was scolded for eating one food at a time in its entirety, counterclockwise. It is safe to say I am type A and have a "system" that should not be messed with for just about… well everything.  I would have been well served to have a sectioned plate with every meal.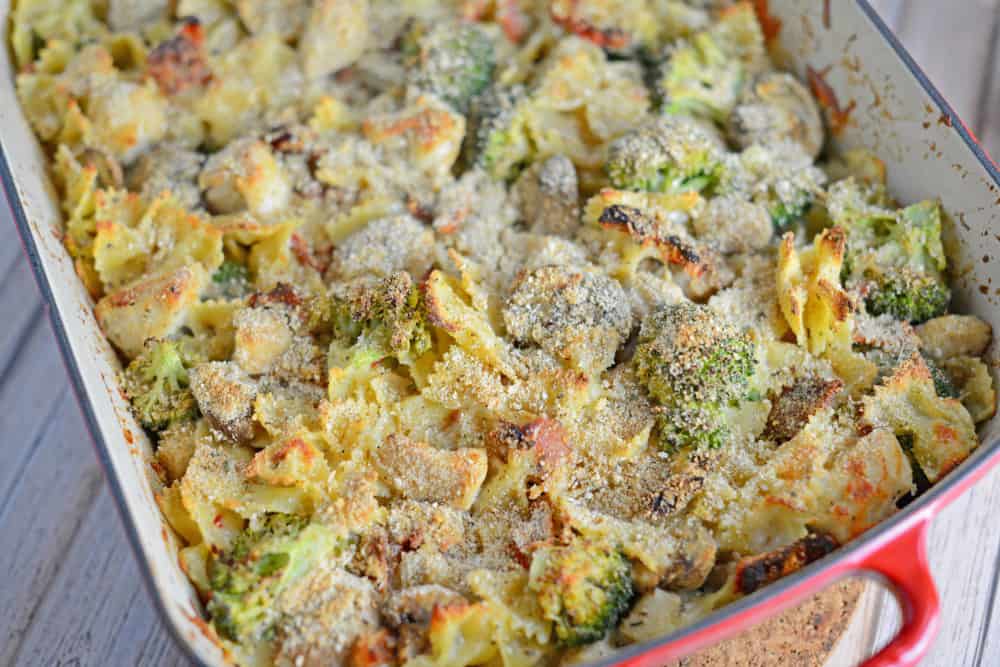 With age I have started to try new things… like mixing my foods and done fairly well at it. While casseroles have me thinking about unidentifiable food as a child, I like to think of my Cheesy Chicken Casserole as macaroni and cheese, elevated.
A one-dish meal cooked in a
casserole dish
that you will want over and over again. Below are the veggies that I used and love, but you can omit or add anything you choose. Please mind cooking times and veggies that need to be cooked longer as they won't get enough time when they are packed in between cheese and pasta. I like to serve mine with a leafy green salad and
Garlic Balsamic Dressing
.  This can be made ahead and tastes even better by day #2 in the fridge.
Don't forget to PIN Cheesy Chicken Casserole!
| | |
| --- | --- |
| | |
Preheat oven to 375 degrees.

In a large bowl, whisk together heavy cream through crushed red pepper flakes.

Fold in pasta through bacon, covering well with mixture.

Coat a casserole dish with cooking spray and pour mixture in. Top with bread crumbs and additional cheese, if desired.

Bake uncovered for 25-30 minutes or until top is golden brown and bubbly. Allow to cool for 5 minutes before serving.
If you like this recipe, follow us on Pinterest for even more! 
  Visit Savory Experiments's profile on Pinterest.
If you like this recipe, make sure to follow me on Pinterest for even more!