Is it just me or do you make the same side dishes over and over again? I get so tired of them same thing, so on this date, I decided to up my game and try something new!
Cheesy Baked Endive are endives wrapped in ham and covered in nutmeg and Dijon mustard spiked cheese sauce. Prepare ahead of time and just stick it in the oven to finish!
Cheesy Baked Endive with Ham, also known Gratin d'Endives au Jambon, is another one of my New Year's resolutions. This cheesy side dish is a French recipe adapted from French Comfort Food by Hillary Davis.
Along with Creamy Leek and Potato Soup and French Baked Chicken, this recipe was a forcing me to exit my comfort zone, as I rarely (okay, never) work with endive at home.
In fact, I think the only time I've ever had Belgian endive was served at parties and weddings with a Waldorf salad. They were more of the serving utensil than part of the recipe.
What is endive? It is a green vegetable that is used much like a lettuce, although some forms look more like commonly used herbs.
Curly endive, also known as frisee and chicory, has tightly bunched, frizzy leaves and is mostly eaten as a salad green or garnish. You probably eat these varieties more commonly than Belgium.
Belgian endive, the type used in this recipe, can be eaten raw or cooked. The leaves are crunchy and slightly bitter, but the tastes mellow when cooked. Leaves might be a little tough, but cooking also helps soften.
Since I was busy making several other dishes and had a large skillet with rendered bacon fat, I decided to use this for sauteing endive halves instead of olive oil. You can use olive oil or even unsalted butter. If you use salted butter, omit salt from the rest of the recipe.
A few tablespoons of sugar offsets potential bitterness. A nice blond roux, freshly grated nutmeg and Dijon mustard result in a zesty cheese sauce over delicate endive wrapped in ham. Put it all in a casserole dish to bubble and you have an extraordinary side dish!
My family loved it! Cheesy Baked Endive was a pleasing break from our usual at-home side dishes. We hope you enjoy it too!
Looking for more side dish recipes?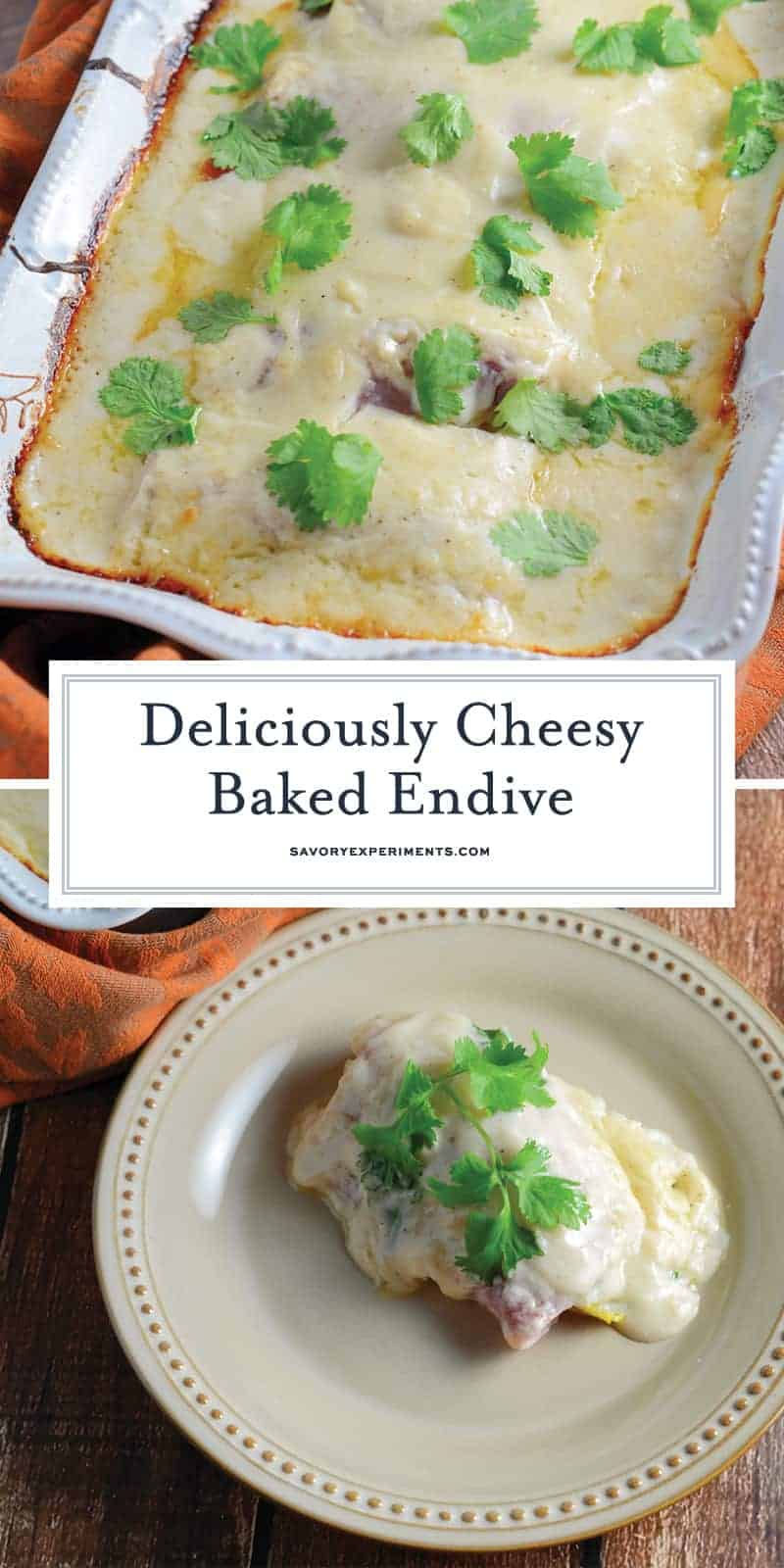 CONNECT WITH SAVORY EXPERIMENTS!

Be sure to follow me on social media, so you never miss a post!

Facebook | Twitter | Youtube
Pinterest | Instagram

Get our FREE 8 Day E-Course on How to Be a Better Home Cook. Sign up HERE!