This Butternut Squash Pizza recipe is a vegetable pizza that will knock your socks off. Zucchini, caramelized onions, and fresh mozzarella will leave you feeling full and satisfied.
Butternut Squash Pizza is an easy homemade pizza recipe using a roasted butternut squash cream sauce with fresh mozzarella, caramelized onions and shaved zucchini.
I know you're probably looking at the title of this recipe post and thinking butternut squash on pizza?! How does that even go hand in hand!?
Well you'll be pleasantly surprised how nicely roasted butternut squash makes a cream base for your pizza sauce. You'll forget how much you loved a tomato based marinara.
Truthfully I'm always looking for alternative pizzas. True, there is nothing like a well executed cheese or pepperoni, but sometimes you want to mix it up.
It used to be that a Pesto Chicken Pizza or Thai Peanut Pizza was out-of-the-box, but now these gourmet pizzas are becoming the norm and I am getting bored, so I try to create my own unique combos at home.
This time I wanted to nix the tomato sauce, but not go completely white with a garlic or Alfredo, so I went orange with butternut squash!
Sweet onions, cool zucchini, creamy squash and stringy mozzarella play so nicely I ended up making TWO Butternut Squash Pizzas! One on a cauliflower pizza crust and the other on a pre-made traditional crust. Both options were tasty and filling.
You can also make your own basic pizza crust or buy pizza dough at the grocery store. I feel like the pizza crust is often the most challenging part of making homemade pizza.
I've even seen folks using a buttery crescent dough as the crust. Sometimes I solve the whole problem by just making French Bread Pizzas!
Butternut Squash Pizza is perfect for a weeknight dinner with the family. It takes under 30 minutes to make and brings a healthier alternative to the table.
If you're worried about your picky eaters throwing a fit over this vegetable pizza, they might just surprise you by actually enjoying it with all the bright colors. Remember to eat the rainbow!
Feel free to alter the topping choices based on preferences in your home, but zucchini, caramelized onions, and mozzarella made a delicious combination. Sometimes I add roasted red peppers, roast garlic, bell pepper or even anchovies. You can even use a chayote for a fun twist.
Check out these other easy pizza recipes: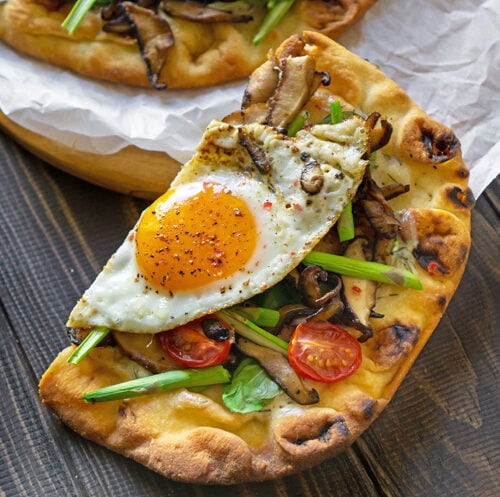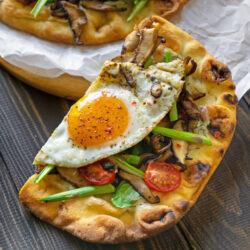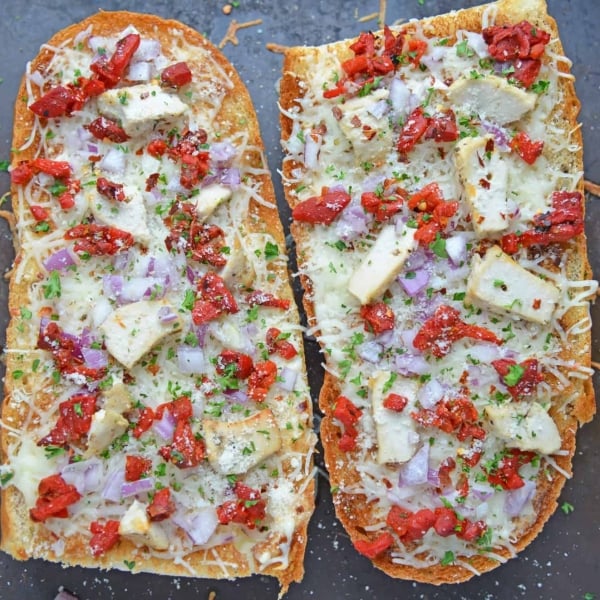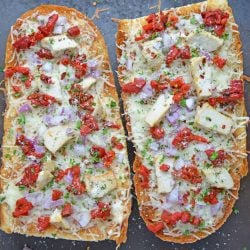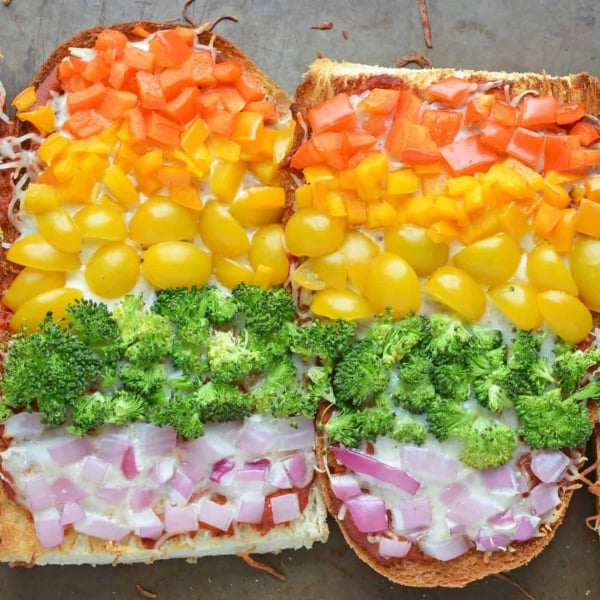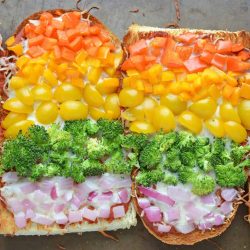 Rainbow French Bread Pizza
Rainbow French Bread Pizza is the perfect easy pizza recipe using pizza sauce and colorful fresh vegetables. Make this into a St. Patrick's Day pizza or have it any other time of the year!
See The Recipe!
Tools for making any Homemade Pizza:
Bread Peel – Not just for bread, use this bad boy for pizza too! Mine even hangs in my kitchen as decor when not in use.
Pizza Cutter – Don't skimp on a cheap one, it won't even cut your pizza. Buy a good, sharp one. You can even get a pizza rocker!
Pizza Stone – Pizza stones are great for more than just pizza and can be used with homemade dough or a pre-baked crust. Also use for calzones, baking bread, reheating pizza and more to keep crisper crusts.
Questions we've received about making Butternut Squash Pizza:
Can you make the Butternut Squash Cream Sauce ahead of time? You sure can make this sauce ahead of time! It is the most time consuming part of the whole recipe.
Make the sauce ahead or even freeze it in an airtight container or plastic bag for 3-4 months.
What is the best way to reheat pizza? This is a controversial topic. I find the best way to reheat pizza is low and slow in the oven.
But hubby would disagree saying that pizza should be eaten cold and not reheated at all. Using the microwave will only make it rubbery and gross, but it of course the fastest.
Can homemade pizza dough or fresh pizza dough go bad? Like anything, it sure can. Use it with 5 days of purchase for best results.
Can you freeze pizza dough? In theory, yes, you can freeze pizza dough. However, yeast breads never do well after being frozen so I highly suggest using it fresh.
Butternut Squash Pizza Recipe
Butternut Squash Vegetable Pizza is an easy homemade pizza recipe! If you're looking for a recipe to switch it up, this is the recipe for you!
Instructions
In a medium saucepan, combine cubed butternut squash and vegetable stock. Heat to a low boil, stirring to evenly cook the butternut squash. In approximately 10-15 minutes the majority of the liquid should be absorbed or evaporated and butternut squash will be soft and tender.

Remove from heat. Using an immersion blender or food processor, blend butternut squash with heavy cream, rubbed sage, Kosher salt and ground black pepper. Blend until smooth. Set aside.

Follow cooking directions for pizza crust- either pre-packaged or Cauliflower Crust. Crust should already be cooked before adding toppings.

Dress your crust starting with a butternut squash cream base. Continue with zucchini shavings, caramelize onions and lastly fresh mozzarella.

Cook at 400 degrees for 10 minutes or until cheese is bubbly and brown. Watch closely, depending on your crust, cook times may vary to prevent burning.

We love comments over here! If you've tried this recipe, make sure to come back and let us know how it went!
Nutrition
Calories:
419
kcal
,
Carbohydrates:
52
g
,
Protein:
15
g
,
Fat:
16
g
,
Saturated Fat:
9
g
,
Cholesterol:
42
mg
,
Sodium:
914
mg
,
Potassium:
125
mg
,
Fiber:
2
g
,
Sugar:
2
g
,
Vitamin A:
2315
IU
,
Vitamin C:
5.6
mg
,
Calcium:
253
mg
,
Iron:
3
mg