Buttermilk Roasted Fingerling Potatoes
Who doesn't love potatoes? Even better a perfectly crunchy potato covered in a delicious spice mix and baked to perfection? These Buttermilk Roasted Fingerling Potatoes will leave you pleased as punch.
Buttermilk Roasted Fingerling Potatoes are the perfect side dish! This fingerling potato recipe is zesty and crispy covered in a yummy buttermilk mixture!
Have you been searching for a new potato recipe that incorporates the underdog of the potato world? The fingerling. I am always adding to my arsenal of potato recipes so I have you covered with this one.
If I were stranded on an island and I had the choice of one vegetable to farm, it would be the potato. I'm not really too picky about the type, I just love these starchy little gems.
Baked, boiled, grilled, roasted, sautéed, broiled, poached, mashed, twice baked….any way slice 'em, dice 'em, or mash 'em, they are delicious.
They have great flavor, incredible texture, and are a blank slate waiting to be prepared in creative ways. When it comes to this recipe, I wasn't really seeking it out. I found myself developing it I had some leftover powdered buttermilk.
As you probably know, buttermilk is often used to give mashed potatoes some character. All I could think was, what would happen if I created something that wasn't mashed and had a bit more body.
Powdered buttermilk is exactly what it sounds like – dry buttermilk. Essentially, they dehydrate buttermilk and leave it in a concentrated powdery form. It has that same signature tang that we all know and love.
For this recipe, I wanted a potato with a lot of surface area to interior area. Fingerlings seemed like the best way to go. They get their name from their knobby exterior that is slender vs. round like so many other tubers.
They come in a variety of colors and often have more flavor than a Russet or Yukon Gold. And in terms of the specifics flavor, they pack that classic potato punch only with some earthy buttery and nutty undertones.
Their flesh is firm but moist which makes them perfect for roasting and baking. And when you give them a gorgeous coating, they get even better. Because of their slender shape, they hold onto lots and lots of even more tastiness.
To jazz up the buttermilk, I added some key flavors you see in potato recipes all the time, but not always together: onion, garlic, chives, and parmesan. The result is absolutely stellar.
Serve these alongside your main protein at dinner whether that be a steak, chicken breasts or succulent pork chops. And be sure to cook a few extra, becuase they are going to fly off the table in no time.
While fingerling potatoes are the best choice for all your potato recipes, for Buttermilk Roasted Fingerling Potatoes, they are perfect. Just look at those crunchy potatoes!
Easy Homemade Mashed Potatoes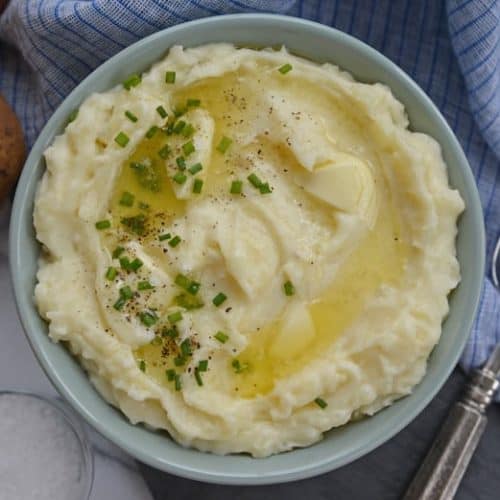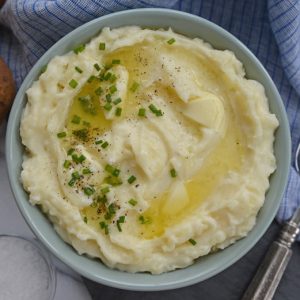 Making Homemade Mashed Potatoes has never been simpler, thanks to my basic mashed potatoes recipe! And you can jazz them up with your favorite toppings!
Chile Garlic Potatoes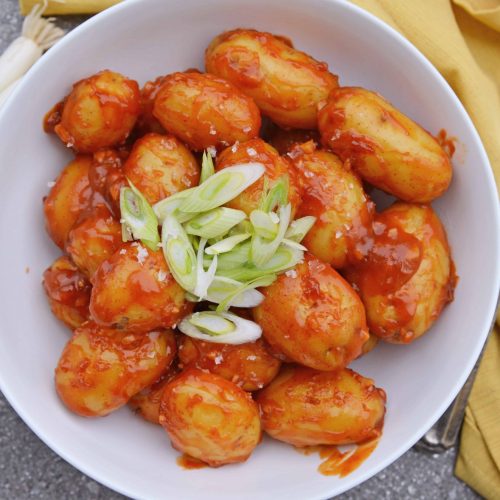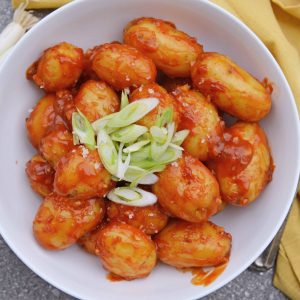 Chile Garlic Potatoes are an easy potato side dish using baby potatoes in a sweet and spicy sauce.
CONNECT WITH SAVORY EXPERIMENTS!

Be sure to follow me on social media, so you never miss a post!

Facebook | Twitter | Youtube
Pinterest | Instagram

Get our FREE 8 Day E-Course on How to Be a Better Home Cook. Sign up HERE!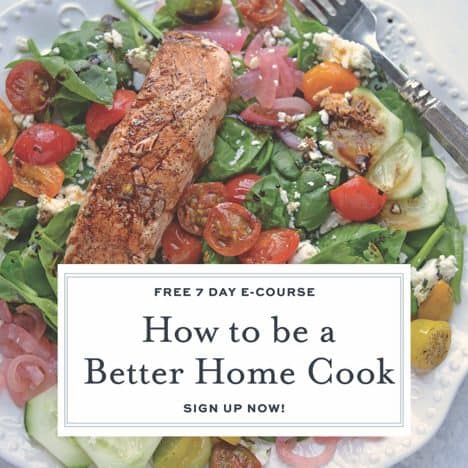 Buttermilk Fingerling Potatoes
Buttermilk Fingerling Potatoes are a zesty and crispy fingerling potato recipe perfect for any steak dinner or chicken recipe!
Instructions
Preheat oven to 425 degrees. Wash and pat dry potatoes, removing any blemishes. Prepare a large baking sheet with an elevated rack (I used my cooling rack, but be careful to make sure it is oven safe and not covered in plastic; broiler pans work well too). Coat lightly with cooking spray.

Mix powdered buttermilk through Parmesan cheese in a small bowl. In a large bowl coat potatoes with 2 tablespoons extra virgin olive oil. Toss buttermilk mixture with potatoes covering as much surface area as possible. Set aside large mixing bowl and remaining buttermilk mixture.

Arrange in a single layer on elevated rack. Bake for 15 minutes in the center of the oven. Check to make sure the tops are not burning. If they are lower oven rack and temperature to 400 degrees or cover with a sheet of aluminum foil.

Remove after 15 minutes and return potatoes to large mixing bowl with leftover buttermilk mixture, add 2 tablespoons extra virgin olive oil and toss again.

Return to elevated cooking rack and oven for 5-10 minutes or until you can easily insert a fork or knife into a potato.

Remove and allow to cool for several minutes before serving.

If you've tried this recipe, come back and let us know how it was!
Nutrition
Calories:
298
kcal
|
Carbohydrates:
34
g
|
Protein:
6
g
|
Fat:
15
g
|
Saturated Fat:
2
g
|
Cholesterol:
5
mg
|
Sodium:
677
mg
|
Potassium:
822
mg
|
Fiber:
4
g
|
Sugar:
3
g
|
Vitamin A:
60
IU
|
Vitamin C:
34.8
mg
|
Calcium:
128
mg
|
Iron:
1.5
mg