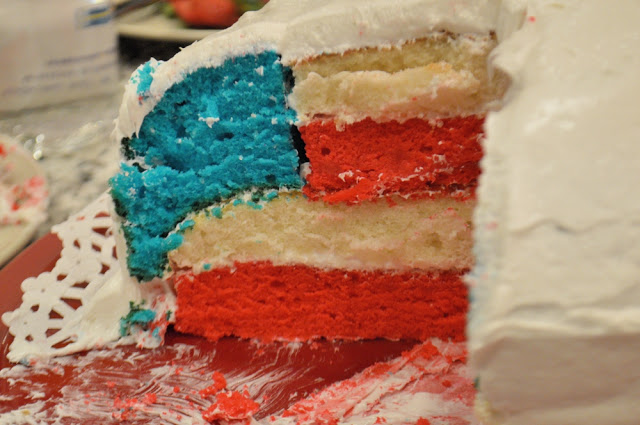 There is one aspect of my blog that I hope my readers respect and at times enjoy. I keep it real. Sometimes things don't work like you intended. This cake was one of those things. Sometimes it is the actual recipe and others it is the ability to photograph. And quite frankly, a lot of times, things don't turn out looking like a picture out of a magazine. Everything I make and photograph is totally edible and not held together with Elmer's glue and glycerin. I am a regular person and therefore many items look like your average person made them. Like this cake that I saw on Pinterest and said "oh, wow, that can't be that hard, can it??" Since I do not have permission to post the orignial photo, here is a link to the pin, check it!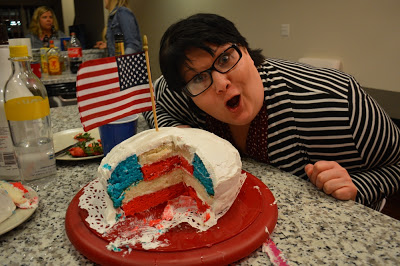 My good friend Nathalie wanted to be in the picture… and there she is!
What a wonderful concept. An American flag cake slice! This debacle of a cake started the night before my Memorial Day cook out. When I take on a task like this I generally don't make my own cake batter and frosting. I need to master the technique before I start adding in other items. So it started with 2 boxes of yellow cake mix. I chose yellow because I like yellow cake. First mistake. Yellow cake is, well, yellow. So when you blend in food coloring it blends with yellow making the red much harder to attain and the blue… green. So take my warning and buy white cake, not yellow. I went out the next morning and purchase white cake and started over again.
I also wanted the cake as flat as possible. I went to three stores; two of which pride themselves as specialty cake stores, and none of the had
cake pan insulators
. So made my own from an old kitchen towel and safety pins. Overrated. Buy the actual
cake insulators
. I highly recommend this purchase for flat cakes.
Lastly, when you want to photograph something, do it before your guests arrive. Otherwise, your cake might be cut into by a hungry guest before your get the chance to take pictures. It is also quite a production to get out a tripod and lighting. So these were done without stabilization and man it shows!
With all of that said, this is a great cake, quite impressive, and my guests thoroughly enjoyed it! Learn from my mistakes, follow these instructions and you should have a wonderful, picture perfect cake. If so, take some pictures for me!
Time: 5 hours
Yields: 1 mile high 9 inch cake
Ingredients for American Flag Cake
2 boxes white cake mix
Ingredients needed for cake mix
White sprinkles
Cooking spray
2 ounces red gel food coloring (two small tubes)
1 ounce blue gel food coloring
2 cans whipped frosting

1. You will be making 4 cakes, 2 red, one blue and one white. Start by making one box of white cake mix. Use both tubes of red gel food coloring to get a deep red color. Start with one and then continue to add until desired color. Food color can vary, so can the amounts. I would highly suggest using gel. The liquid may not ever get to your desired color.
2. Use insulator strips or make your own (I recommend purchasing them). Use a long, thick kitchen towel, cut in half. Dampen both strips and secure around the sides of each pan with safety pins. This creates an insulation that will help your cake bake evenly and flat versus peaking in the center.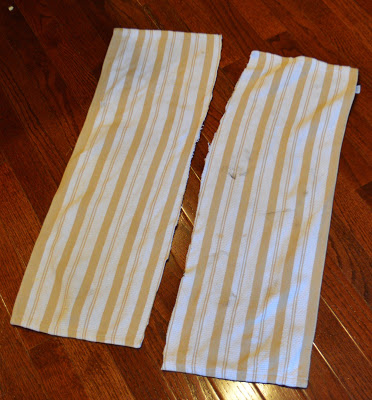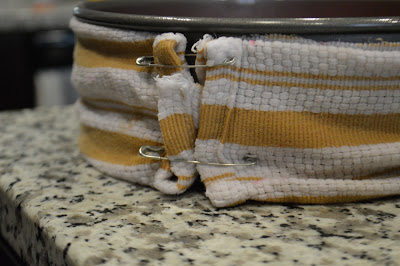 3. Divide red cake batter into 2 9-inch round cake pans lightly greased with cooking spray and insulated.. Tap several times on the counter top to release small air bubbles. Bake according to package directions.
4. Remove and allow to cool on cooling racks. Prepare the second package of cake according to directions Pour 1/2 (white) into a prepared (sprayed and insulated) 9-inch pan. Add blue food coloring slowly to the other half of the batter until desired color. Fold in 2-3 tablespoons white sprinkles (will create the "stars" in your flag). Cook according to package directions.
5. Don't worry if the tops or bottoms don't look like the correct color, they will when you cut into them.
6. Cut yourself a circle template about 3 1/2 inches wide.
7. Using a large bread knife, cut the white cake in half.
8. Layer one red cake, frost the center and top with one white cake. See photo below.
9. Place your template in the center of the blue cake and cut out the center. Discard the center and place the ring onto the next layer, separated by a generous layer of frosting.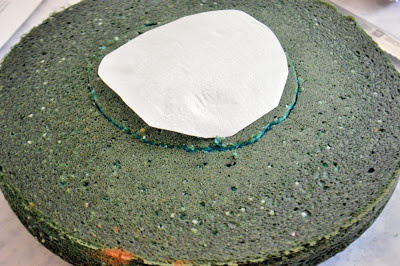 The bottom of this cake is a lot darker than the top….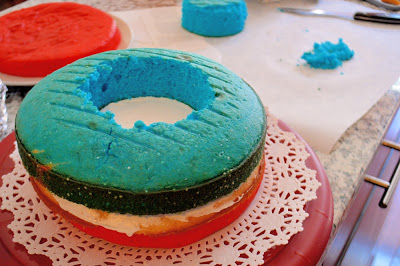 10. Using the same template, cut the remaining two red and white layers. This time discard the rings and keep the centers. Layer the red in the center of the blue ring, frost well and then add the white layer. Cake should be even across the top.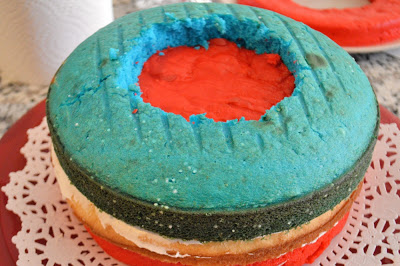 Place red cake into the blue ring.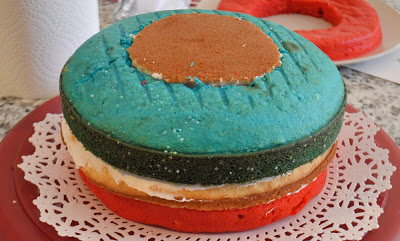 Top red cake with white cake.
11. Because all cakes bake a little differently, you can trim the outsides and top to be even.
12. The first layer of frosting on the outside will be the crumb catching layer. This is a thin layer to trap in the crumbs and allow the outside layer to be a pure, fluffy white. Frost the sides, filling in all of the spaces, and then the top. Allow to sit for 30-60 minutes to set.
13. Frost the cake again with a generous layer of whipped frosting.
14. Your cake is ready to be devoured! Enjoy your American Flag Cake!
Now you want more, don't ya? Join me on
Facebook
for daily recipes and discussion, follow me on
Twitter
or see where I get some of my inspiration on
Pinterest
!