The enchilada. A Mexican tradition dating back to Mayan times, I figured it was only appropriate to make Spinach, Black Bean and Chicken Enchiladas on December 21st… the day the Mayan calendar was supposed to run out. The good news is that the world did not end so you will have plenty of time to try this recipe out. Traditional enchiladas used corn tortillas wrapping small fish and smothering it with a chili sauce, however I like a giant enchilada and have trouble finding corn tortillas that large, so I usually opt for flour.
Today's enchiladas range greatly. Spinach, Black Bean and Chicken Enchiladas are no exception, using whole wheat flour tortillas and an easy Homemade Enchilada Sauce with a kick.
The stuffing ingredients can be modified easily without any change in cooking time. I had a guest who did not care for black beans, so I kept them out of the main mixture and sprinkled them in after preparing hers. If you do make special versions you can mark them with a toothpick. Because I was cooking for others I kept my homemade enchilada sauce mild, but if you like it sweat beading, nose running spicy then feel free to add chili powder to taste. Make Spinach, Black Bean and Chicken Enchiladas with Mexican Rice for a wonderfully full meal!
If you like Spinach, Black Bean and Chicken Enchiladas, you'll also like Chicken Enchilada Pie, Chile Relleno Casserole and White Queso Dip with Chorizo!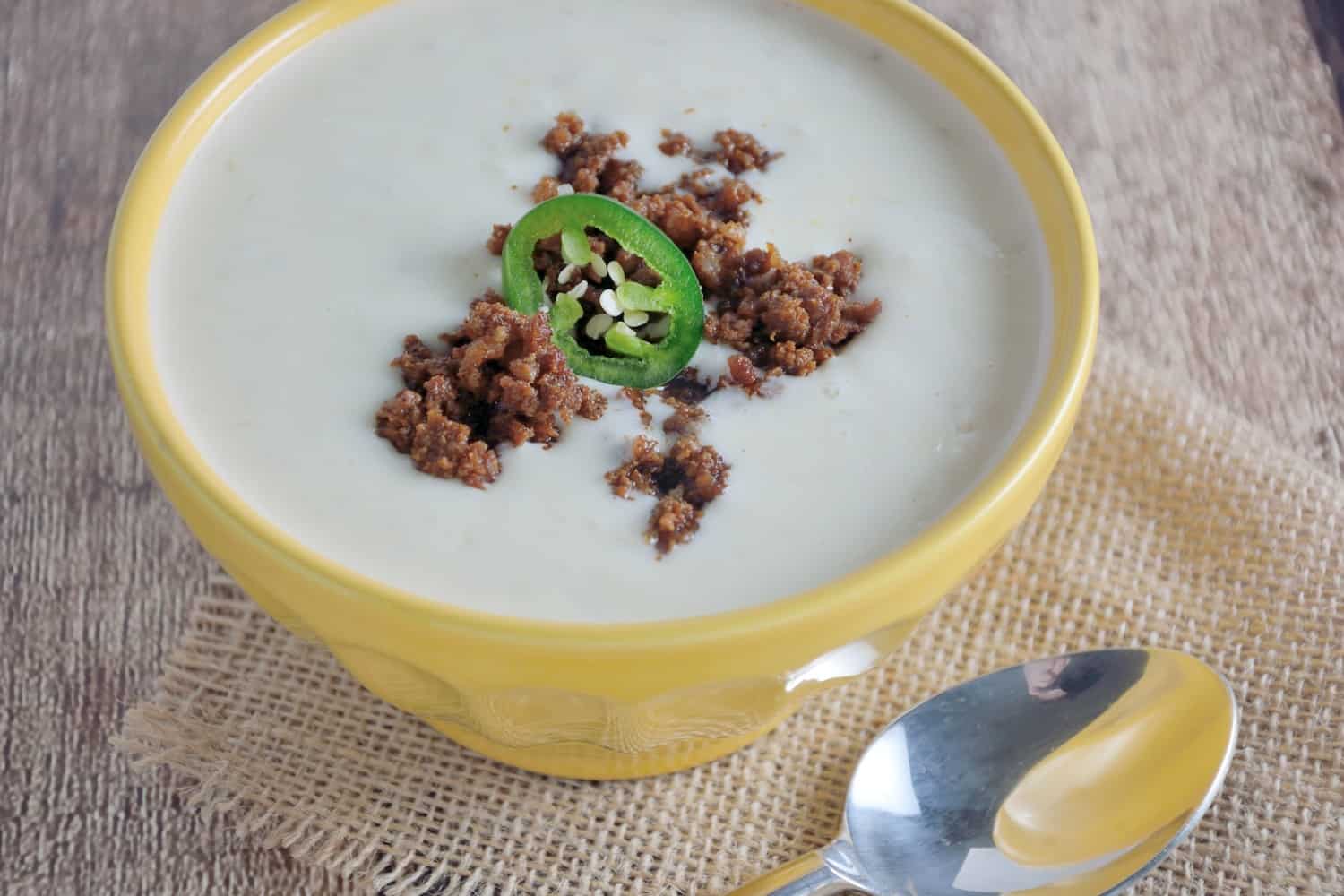 Don't forget to PIN Spinach, Black Bean and Chicken Enchiladas before you go!
Print Recipe
Spinach and Chicken Enchiladas
Yum
These Spinach, Black Bean and Chicken Enchiladas are rolled in flour tortillas, covered in a delicious homemade sauce and smothered in gooey cheese! Using pre-made rotisserie chicken makes them ready in a snap!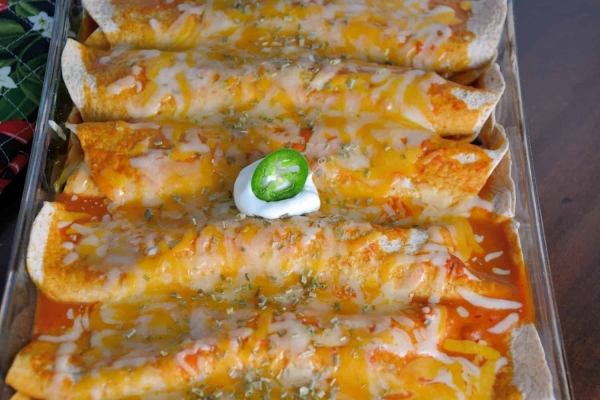 | | |
| --- | --- |
| | |
Heat 1 tablespoon extra virgin olive oil in a medium skillet. Add spinach and continue to toss until it wilts and reduces (approximately 1 minute). Remove and spoon ingredients to a large mixing bowl.

Add black beans through cumin to wilted spinach. Add 3 cups shredded Mexican cheese blend.

Preheat oven to 375 degrees and set up a work area to roll your enchiladas. These work best in a baking dish with high sides that they will fit snugly into. This recipe makes 8, however they are plump suckers, so a regular 9x13 baking dish will only hold 6. I suggest working out the logistics before you start rolling.

Spoon a very small amount of sauce into the bottom of each baking dish to prevent sticking. Just enough to lightly cover the surface. Lay out a medium whole wheat tortilla on your work surface. Measure out approximately 1/2-3/4 cup filling. Enough to make it a stuffed enchilada, but little enough that you will be able to roll it with both ends overlapping to secure it.

Continue with remaining tortillas, fitting them snugly into the baking dish(s) of choice. Evenly pour sauce over the tops. Any exposed tortilla will get brittle and dried out while cooking. Depending on the size you may not need all of the sauce. You want enough to cover, but not to pool at the bottom.

Top enchiladas with remaining 1 cup of shredded Mexican cheese blend. Place in oven for 20 minutes.

Remove and allow to cool for 3-5 minutes before using a large spatula to serve. Top with a dollop of sour cream. Enjoy!
For shredded chicken there are a couple of choices. Frozen strips, thawed and then shredded work well. A rotisserie chicken does the trick too. Left over chicken, grilled or lightly seasoned is perfect. On this occasion I had none of the above, so I baked two medium chicken breasts in the oven and then shredded them after they cooled.
If you like this recipe, make sure to follow me on Pinterest for even more!