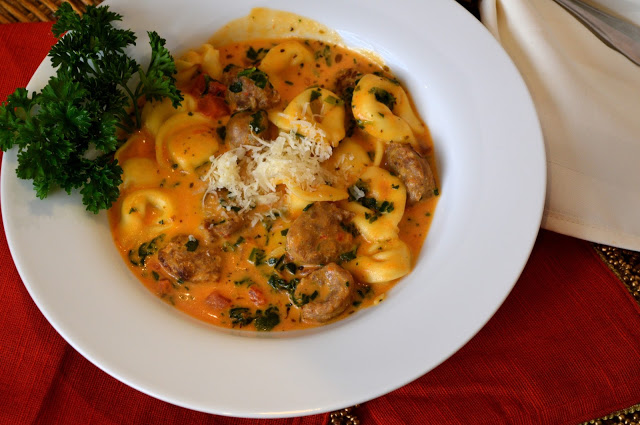 I served Creamy Tortellini and Sausage Soup as an appetizer, but it was so hearty that it could have been a stand alone meal. It was so good in fact that my dinner guests came back the next day to eat the leftover's for lunch! I saw that as the ultimate compliment.
Creamy Tortellini and Sausage Soup can be done in the slow cooker. It runs very close to disobeying my strict SET IT AND FORGET IT rule of "all items need to be assembled in the slow cooker in under 10 minutes" due to browning the sausage. On this date my intentions were to make it in the slow cooker, however when I arrived home 3 hours later than anticipated my cooking methods quickly changed. If you do want to make this in the crock pot, brown sausage and put everything except frozen spinach and tortellini into slow cooker on high. Cook for 3 hours. Add tortellini and spinach and continue to cook for an hour on high.
Time: Slow Cooker- 4 hours on high, stove top- 45 minutes
Serves: 8 for appetizers, 4 for dinner
Ingredients for Creamy Tortellini and Sausage Soup
1 garlic clove, minced
8 ounces reduced fat cream cheese, cut into 1 inch cubes
1 teaspoon fine sea salt
1 tablespoon Italian seasoning
1 tablespoon dried onion
14.5 ounce can of petite diced tomatoes
10.75 ounce can condensed tomato soup
3 cans of water (from the 10.75 ounce can)
16 ounce bag frozen cheese tortellini
1/2 cup frozen chopped spinach
1/2 cup pecorino reggiano cheese, finely grated

1. Heat a medium skillet over high heat. Cook sausage links until fully cooked. Remove to a paper towel lined plate to drain. Slice links into thin slices about 1/4 inch thick. Set aside.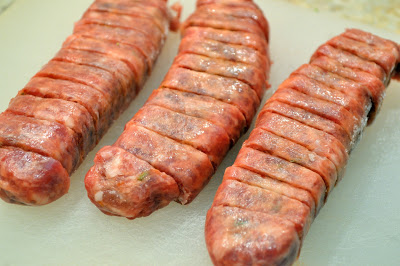 2. Heat butter in Dutch oven or large pot over medium-high heat. Add garlic to brown, approximately 2-3 minutes. Add reduced fat cream cheese through dried onion stirring continuously until cream cheese is starting to melt, approximately 5 minutes.
3. Add entire can, juice and all, of petite diced tomatoes and condensed tomato soup. Fill empty 10.75 ounce can of soup 3 times with water and pour into Dutch oven or large pot. Bring to a boil. Continue to boil until reduced by a quarter.
4. Add cooked sausage and heat for an additional 2 minutes. Add frozen tortellini and spinach. Stir and continue to boil for 5-7 minutes or until tortellini are cooked all the way through.
5. Ladle into bowls and garnish with pecorino reggiano cheese. Enjoy your Creamy Tortellini and Sausage Soup!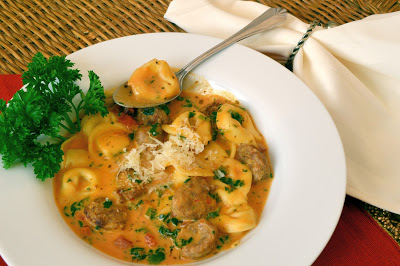 Now you want more, don't ya? Join me on Facebook for daily recipes and discussion, follow me on Twitter or see where I get some of my inspiration on Pinterest!
If you liked this recipe, you'll love these!