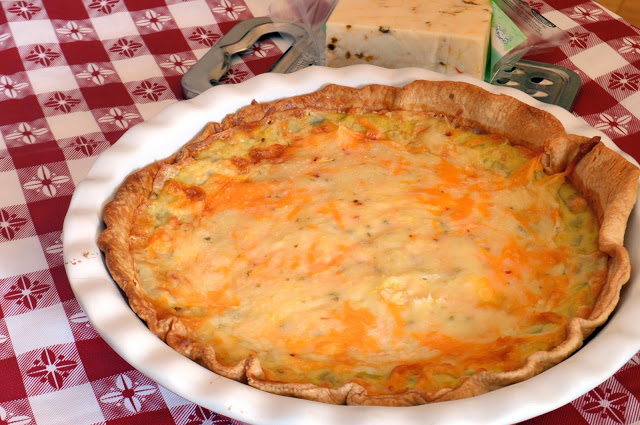 One of my favorite past times is visiting my aunt in Grand Lake, Colorado. Without fail, at least one morning while visiting, she would prepare a Chile Relleno Breakfast Casserole. Not only one of the most popular posts on my blog, but also a big hit within my family.
Instead of making the traditional Chile Relleno Casserole I decided to adapt the recipe into a quiche, resulting in (drum roll please) a Chile Relleno Quiche (extra points for creativity, right?)! Oh, it was so good. So good that I ate it for breakfast, lunch and another little slice for a snack. I went back for fourths the next morning… but the Chile Relleno Quiche was missing. Gone. Eaten. Hubby. 

Chile Relleno Quiche
Chile Relleno Quiche puts cheese and green chiles in a crispy crust in an east to serve form.
Ingredients
1 package refrigerated pie crust dough
2 4-ounce cans diced green chiles
1¼ cup pepper jack cheese, divided
1¼ cup cheddar cheese, divided
4 large eggs, beaten
¼ cup flour
1 cup whole milk
1 teaspoon salt
1 teaspoon powdered dry mustard
Instructions
Start by baking your pie crust dough according to package directions. Make sure to pierce plenty of holes in the bottom to allow steam to rise and the crust to bake evenly. While the crust bakes (it should only take 12-15 minutes) prepare the filling.
Heat oven to 350 degrees. In a large mixing bowl combine both cans of diced green chiles, 1 cup pepper jack cheese, 1 cup cheddar cheese, 4 large eggs, ¼ cup flour, 1 teaspoon salt and 1 teaspoon powdered dry mustard. Blend together with a whisk.
After crust has baked, pour in filling. Place in the oven for 45 minutes.
Remove, eggs should be set through the middle. If not, return to oven for an additional 10 minutes. Otherwise, top with remaining cheeses (1/4 cup pepper jack and ¼ cup cheddar). Return the to oven for 10 minutes or until cheese is melted and bubbly.
Remove and allow to sit for 10 minutes. Enjoy your Chile Relleno Quiche!