Oh happy day! It is chile relleno day! As a child I would look forward to football Sunday for one reason and one reason only. It meant there was a chance my mother would make chile rellenos or nachos. YUMMY!!!! Over the years I started to appreciate pigskin Sunday for the actual football being played (Go Broncos!) and more than just the association with Mexican appetizers.
The first thing to explain is that these chile relleno appetizers aren't traditional cheese stuffed chiles one would order as an entree at your favorite Mexican food hang out. They are kind of… well… cheating. Instead of using a fresh chile, this recipe capitalizes on the chiles already diced into pepper jack cheese. It also substitutes egg roll wrappers instead of egg batter for the crunchy exterior. Together they make my finger food fantasy come true. Add a little bit of salsa, crema Mexicana or guacamole and you have yourself a cheesy, spicy fiesta!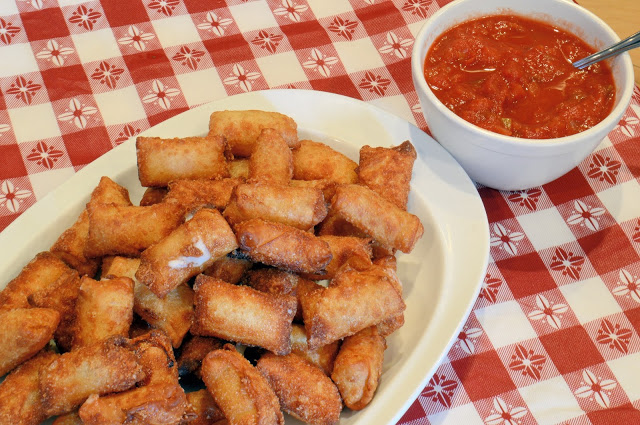 One more benefit of Chile Relleno Bites– these are great to make ahead or in bulk and keep frozen for unexpected visitors or another football Sunday.
Print Recipe
Chile Relleno Bites
Yum
Capitalize on pepper jack cheese to make simple chile relleno bites.
| | |
| --- | --- |
| | |
Start by prepping your ingredients. See note for wonton wrappers. Cut brick of cheese into four long strips and then again into one inch bricks. Whisk egg whites and water in a small bowl. Use a cutting board or plate for your work space. Use two medium or one large airtight plastic container for freezing/storing. Cut pieces of wax paper to fit in between layers of chile rellenos to prevent sticking. Your fingers will be all gross, so it is best to prepare these items ahead of time.

You are now ready to start the rolling! I suggest you find something interesting on the tube or radio prior to getting your fingers all mucky. Start by placing one wrapper on your work surface to look like a diamond. Using your fingers, lightly baste egg white mixture over the entire surface. Place one cheese brick in the bottom center. Fold up bottom edge and roll once. Fold in sides to look like an open envelope. Fold over the rest of the way to make a nice, neat little package. Place in your container.

Continue with remaining cheese and wonton wrappers. Avoid having any of the rellenos touch, as they will freeze together and make it difficult to fry later. You might end up with an uneven number. Save the cheese for use in another dish and/or fry the wonton wrappers to make crispy noodles (the ones they give you as an appetizer in Chinese food restaurants).

Cover your container and place in the freezer for a minimum of one hour. I've kept these in the freezer in an airtight container for two months or more.

When you are ready to prepare your rellenos, heat 1 inch of vegetable oil in a heavy medium sauce pan over medium-high heat. Different ranges take varying amounts of time to heat. If you sprinkle a dab of water into the hot oil and it sizzles and spits- it is ready. (Be careful doing this...)

Using a fry spoon (see picture), add 5-8 (depending on pan size) chile rellenos to hot oil. Flipping once or twice, cook rellenos until they are golden brown and crispy. The way I know they are cooked is when the first relleno starts to leak cheese. The sound of the oil will change dramatically when this happens. Then I know it is time to remove them all before they are void of any cheese. This takes approximately 3-4 minutes and will decrease in time as you fry because your oil will get progressively hotter.

Remove rellenos with your fry spoon to a paper towel lined plate or baking sheet. If you are making a large batch, heat your oven to the lowest possible temperature to keep warm while frying, but not too hot to have a cheese explosion. Again, the goal is to keep the cheese inside the wrapper!

Serve immediately with salsa, sour cream or guacamole. Enjoy your Chile Relleno Bites!
Wonton wrappers come in large squares (approximately 5x5) and small squares (approximately 2x2), you can use either. If you get the large you will be cutting them into smaller fourths.
See how to easily roll your Chile Relleno Bites!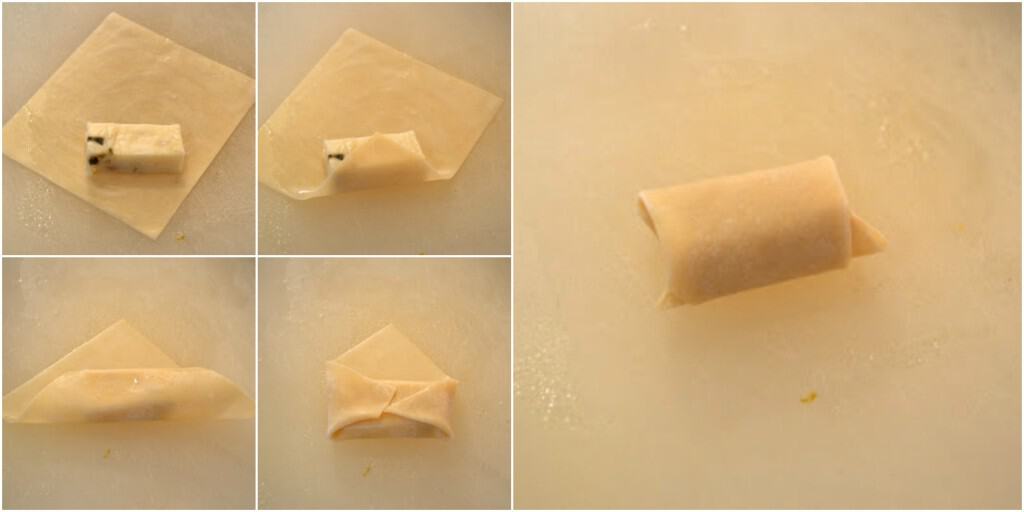 If you also like Mexican Food, check out my Mexican Food board on Pinterest!
Also check out these chile recipes:
If you like this recipe, make sure to follow me on Pinterest for even more! 
Visit Savory Experiments's profile on Pinterest.
If you liked this recipe, you'll love these!