BBQ Pulled Pork Hash is my hands down, favorite Sunday brunch recipe. Ready in only 15 minutes and easily modified, it is simple and tasty.
Have you ever gone through a food phase?  For some reason, you are drawn to, almost obsessed with a certain type of food? Right now my food phases are any type of potato hash prepared in a cast iron skillet
with drippy eggs and watermelon (on the side). What a pair, huh?
While I eat watermelon daily, I look forward to my hash creations on Sunday mornings only.  On Sundays I take off my Fitbit and don't even remotely pay attention to calories or steps (because if you don't track them, they never happened) and also clean out my fridge in preparation for the coming week's meals, taking stock of what needs to be used and what needs to be tossed. Here is my formula: what needs to be used + potatoes + 4 eggs = Sunday breakfast hash.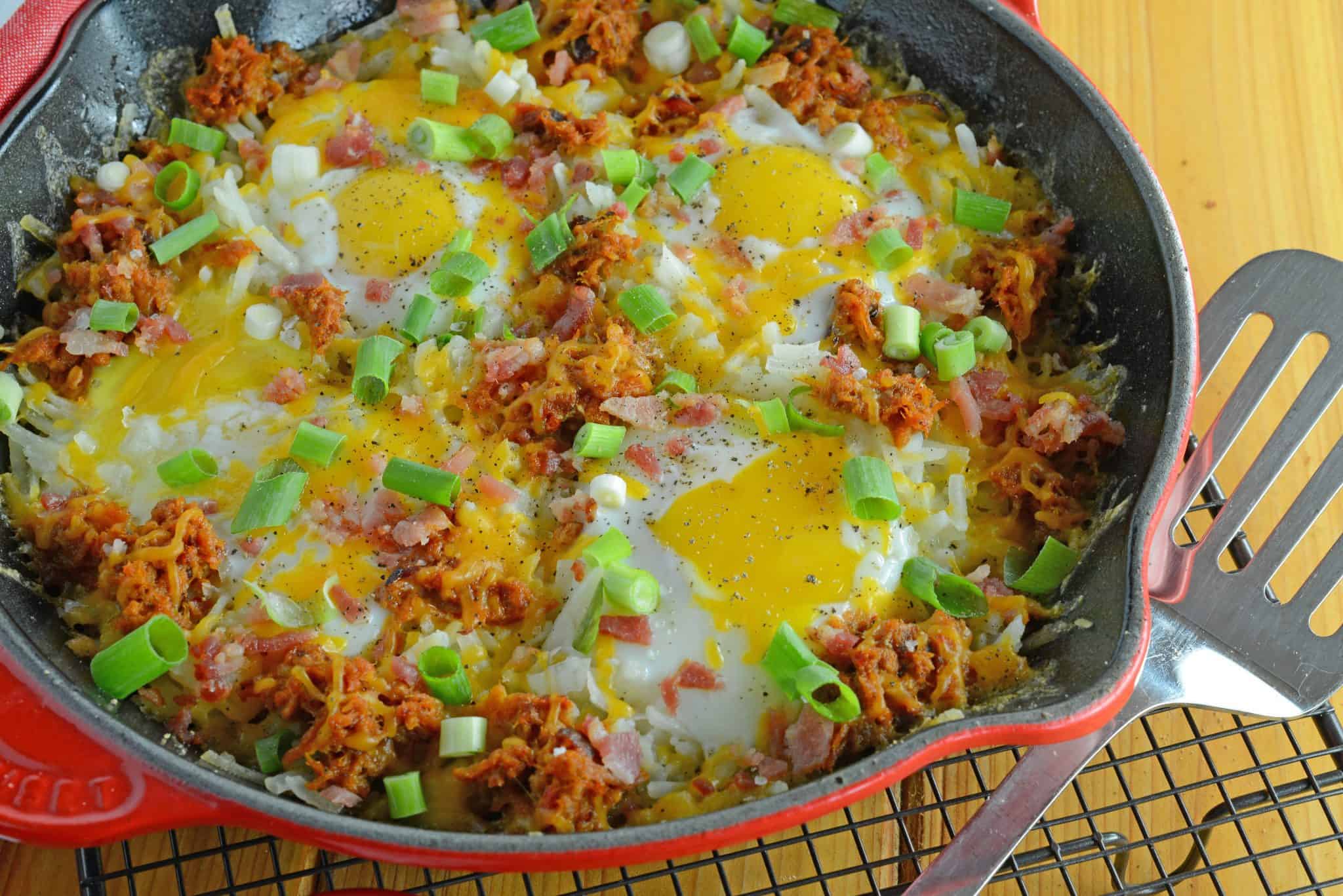 And while I enjoy most of my hashes (I've created a few without cheese, not recommended), BBQ Pulled Pork Hash seems to stick with me. I crave it throughout the week and instead of cleaning out the fridge, have been known to visit the store just for its ingredients.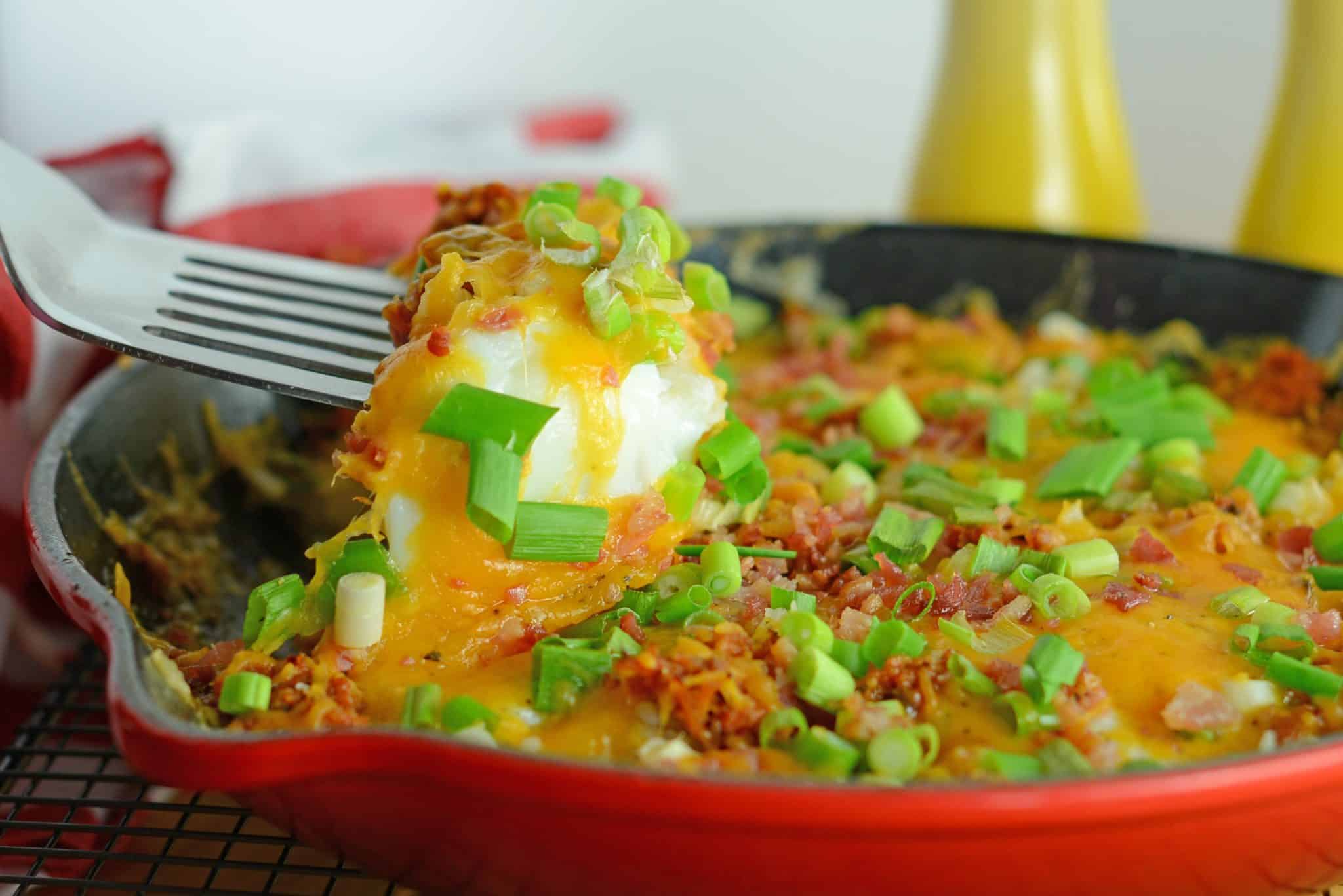 I've decided that while I do love every type of spud, for hash, I like to use shredded potatoes because the other ingredients, mainly cheese and egg, can drip through the slender shards, coating well.  You can also use diced potatoes, leftover baked potatoes, really any type you want, even sweet potatoes!  For the BBQ, you can use leftover shredded pork, chicken or beef tossed in your favorite BBQ sauce or purchase a small amount from your grocer's salad bar or pre-made packages (such as Lloyd's).  Cheese can also vary, however after careful research on this dish, I have found that sharp cheddar complements the flavors best and also adds a pop of color.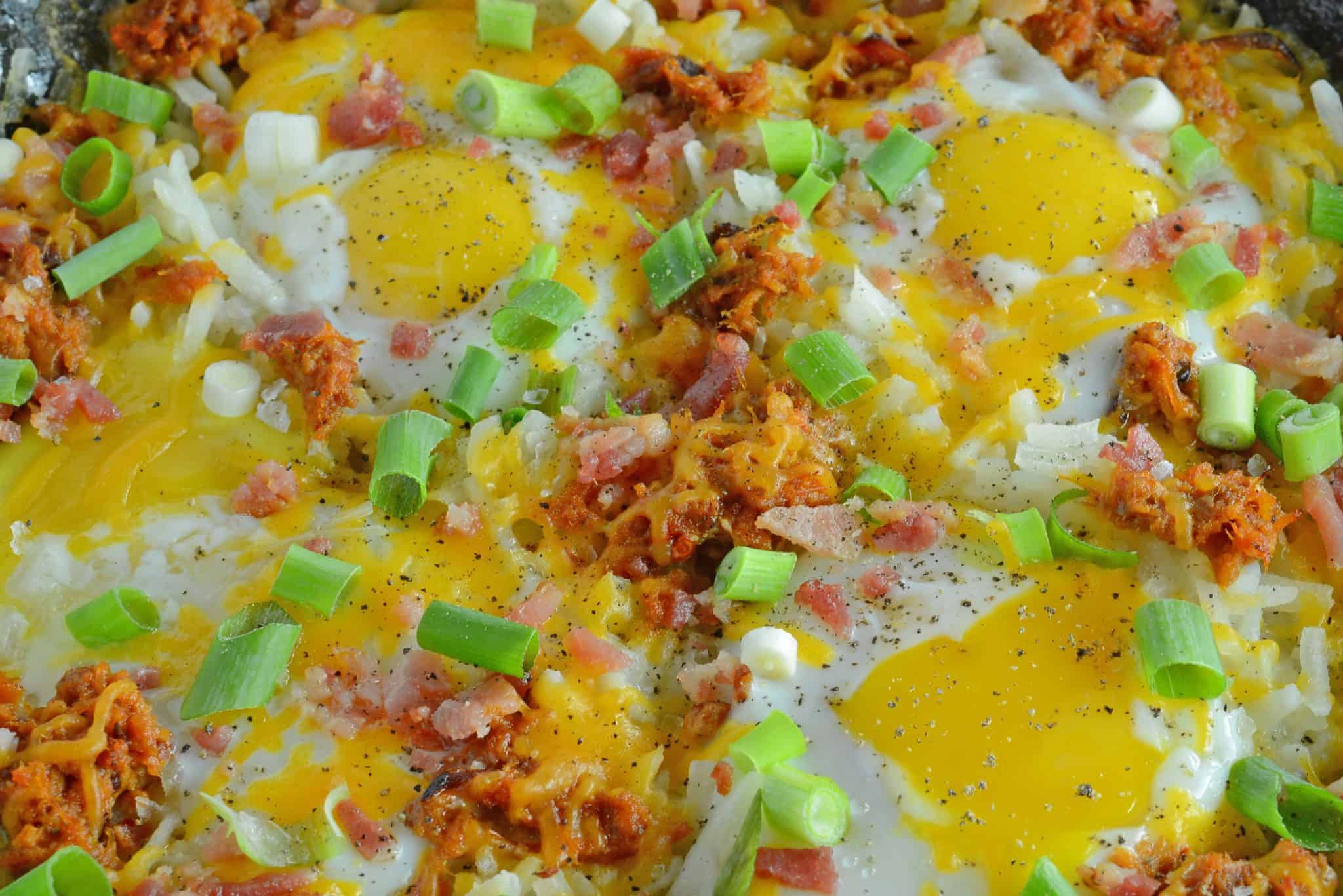 Scroll down for more tasty breakfast recipes!
Make sure you PIN BBQ Pulled Pork Hash before you leave!
Print Recipe
BBQ Pulled Pork Hash
Yum
BBQ Pulled Pork Hash is my hands down, favorite Sunday brunch recipe. Ready in only 15 minutes and easily modified, it is simple and tasty.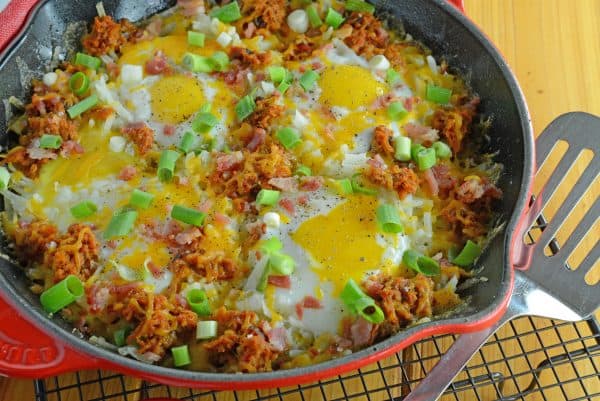 | | |
| --- | --- |
| | |
Preheat oven to 350 degrees. Heat oil in a large, oven safe (preferably cast iron) skillet.

Add hash browns and onion, cooking according to directions, minus 3 minutes.

Sprinkle with salt and toss. Using the back of a spoon, create 3 wells and crack eggs into each one. Equally divide BBQ pulled pork in dollops around eggs. Transfer to oven.

Bake until egg whites are opaque, but yolks are still shiny and runny, approximately 4-5 minutes.

Top with cheese and return to oven until melted. approximately 1 minutes.

Remove, garnish with scallions and serve!
Comments are the best! Leave us one!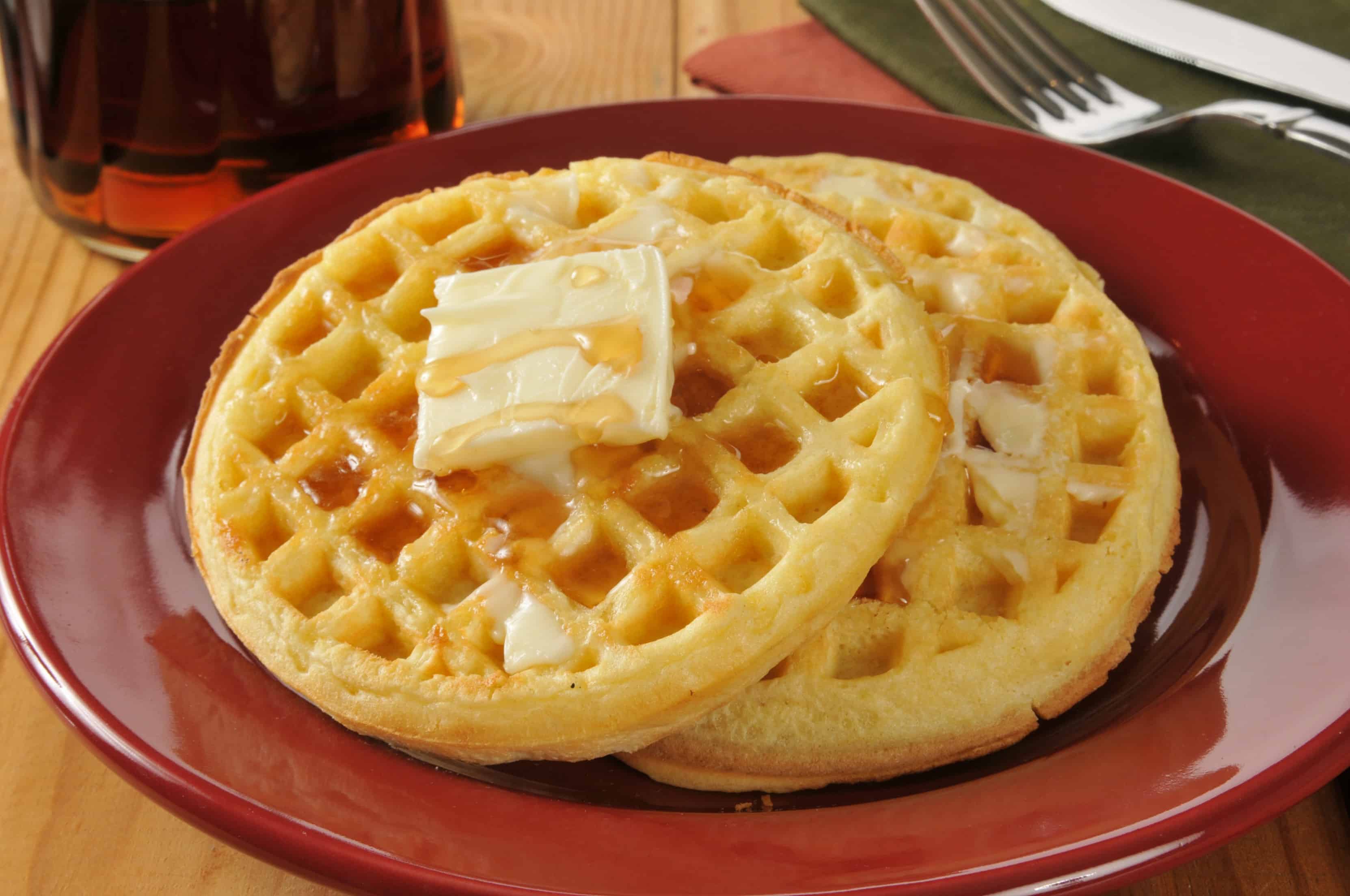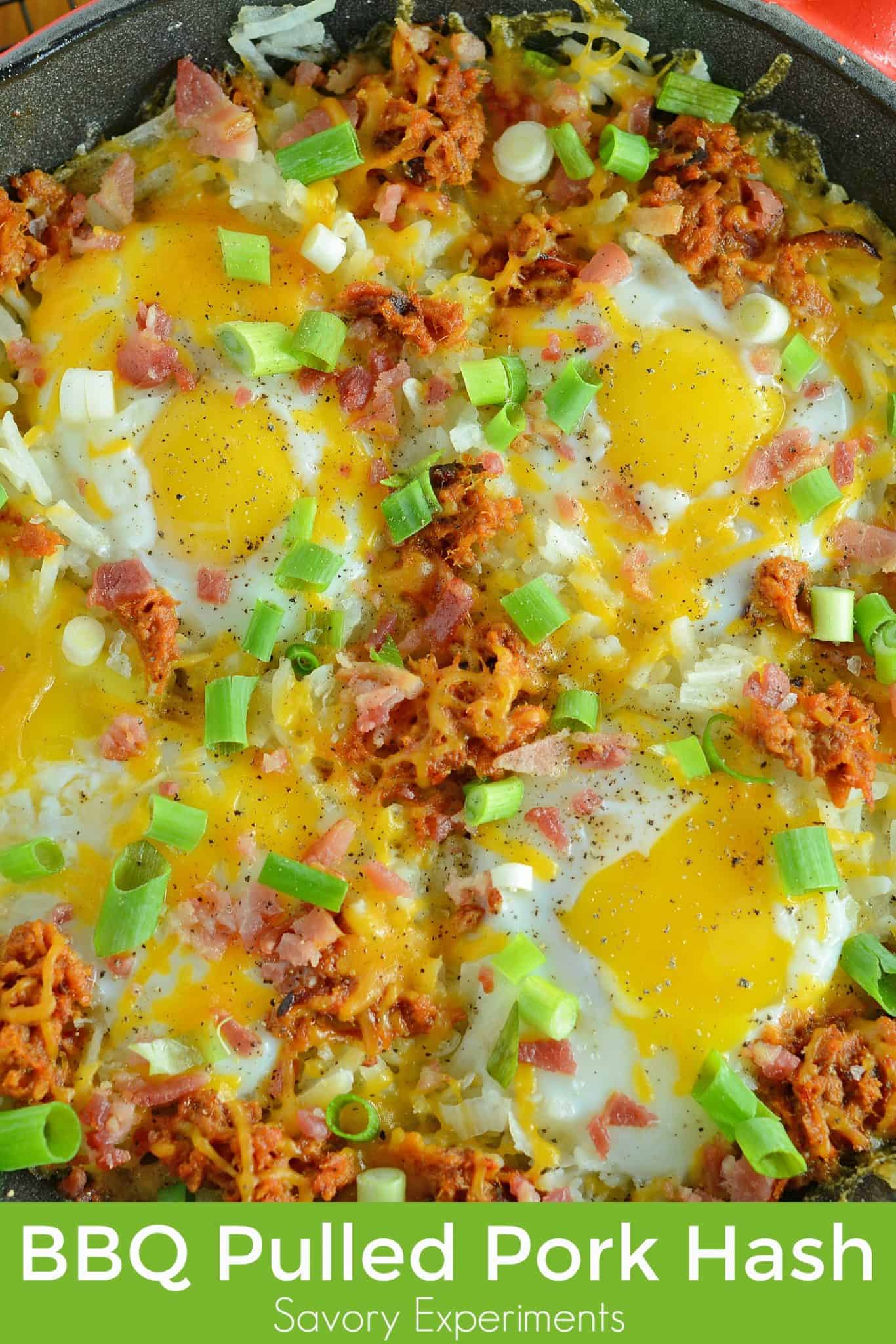 If you like this recipe, make sure to follow me on Pinterest for even more! 
Visit Savory Experiments's profile on Pinterest.
If you liked this recipe, you'll love these!