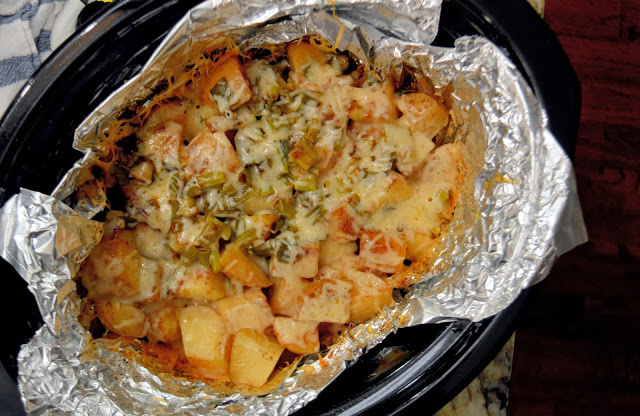 Easy peasy- and it meets all of my requirements- into the pot in 10 minutes or less and then you SET IT AND FORGET IT!!!! The crock pot is an excellent option for cooking potatoes. It prevents them from drying out because all of the moisture is kept securely in the pot, allowing for fool-proof potatoes each and every time. For this recipe, Ancho chili adds an element of kick that most Cheesy Crock Pot Potatoes lack. It is also Perfect for large get togethers and meals that involved a lot of hands on time cause this you can SET AND FORGET while you focus on the more cumbersome foods.
Ingredients for Cheesy Crock Pot Potatoes
5-6 medium baking potatoes, cut into 1 1/2 inch cubes
1 bunch scallions, whites and greens chopped
1/2 teaspoon ancho chili powder
1/2 teaspoon fine sea salt
1/2 teaspoon pepper
2 cups Swiss cheese, shredded
4 strips bacon (optional), cooked and crumbled- if you add bacon, omit salt
1/2 cup Parmesan cheese
Cooking spray
1. Line your crock pot with aluminum foil. Trust me, so much easier to clean after the fact. I did two layers just to be sure! Spray lining with cooking spray.
2. Place potatoes in the pot, followed by scallions then spices and Swiss cheese. Dot the top with diced butter.
3. Cover, SET IT AND FORGET IT! Cook on high for 4 hours or low for 8 hours.
4. 10 minutes before serving sprinkle with Parmesan cheese.
5. Scoop out and enjoy your Cheesy Crock Pot Potatoes!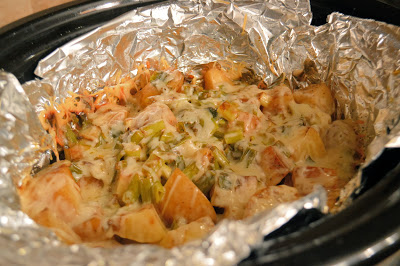 Now you want more, don't ya? Join me on
Facebook
for daily recipes and discussion, follow me on
Twitter
or see where I get some of my inspiration on
Pinterest
!